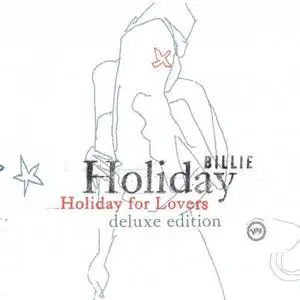 Billie Holiday - Billie Holiday For Lovers (Deluxe Edition) (2021)
FLAC tracks / MP3 320 kbps | 1:39:49 | 225 / 419 Mb
Genre: Jazz / Label: UMG
The first popular jazz singer to move audiences with the intense, personal feeling of classic blues, Billie Holiday changed the art of American pop vocals forever. More than a half-century after her death, it's difficult to believe that prior to her emergence, jazz and pop singers were tied to the Tin Pan Alley tradition and rarely personalized their songs; only blues singers like Bessie Smith and Ma Rainey actually gave the impression they had lived through what they were singing. Billie Holiday's highly stylized reading of this blues tradition revolutionized traditional pop, ripping the decades-long tradition of song plugging in two by refusing to compromise her artistry for either the song or the band. She made clear her debts to Bessie Smith and Louis Armstrong (in her autobiography she admitted, "I always wanted Bessie's big sound and Pops' feeling"), but in truth her style was virtually her own, quite a shock in an age of interchangeable crooners and band singers.
Track List:
01. Moonlight In Vermont
02. I Didn't Know What Time It Was
03. Embraceable You
04. I Wished On The Moon
05. Gee Baby, Ain't I Good To You
06. Speak Low
07. April In Paris
08. Body And Soul
09. They Can't Take That Away From Me
10. One For My Baby (And One More For The Road)
11. Stars Fell On Alabama
12. We'll Be Together Again
13. Prelude To A Kiss
14. He's Funny That Way
15. It Had To Be You
16. You Go To My Head
17. Come Rain Or Come Shine
18. A Foggy Day
19. Tenderly
20. Isn't This A Lovely Day?
21. East Of The Sun (West Of The Moon)
22. I Thought About You
23. P.S. I Love You
ANALYZER: auCDtect: CD records authenticity detector, version 0.8.2
Copyright © 2004 Oleg Berngardt. All rights reserved.
Copyright © 2004 Alexander Djourik. All rights reserved.


FILE: Billie Holiday - A Foggy Day.flac
Size: 29706722 Hash: 8EC8708AEB99D722B047B97CC1473075 Accuracy: -m40
Conclusion: MPEG 89%
Signature: 60908F503996EE6A18DC48A2E846082C50B42F84
FILE: Billie Holiday - April In Paris.flac
Size: 11442096 Hash: 9197FBAC1C1A37A57769C50696E1958E Accuracy: -m40
Conclusion: CDDA 100%
Signature: AE268EF693AB9E37DCFE9ECBA59F1FDC334AB50E
FILE: Billie Holiday - Body And Soul.flac
Size: 22171764 Hash: F677E6C49867E3873E4047288E149FE0 Accuracy: -m40
Conclusion: CDDA 99%
Signature: 6483EAE8512C9276B78A650ED3A9EAF172F987C0
FILE: Billie Holiday - Come Rain Or Come Shine.flac
Size: 23559790 Hash: 6EECBD7249CBB21B41BF5776071048FF Accuracy: -m40
Conclusion: MPEG 90%
Signature: 74BDE82CA4715FF17DDEBDF502A795C132EFB61D
FILE: Billie Holiday - East Of The Sun (West Of The Moon).flac
Size: 8756631 Hash: 85FDB8FD66C8720D53190EB55ED6CC3C Accuracy: -m40
Conclusion: CDDA 85%
Signature: 0A355F6EB515051F12BDEED4C090FE3D8BEA8BF5
FILE: Billie Holiday - Embraceable You.flac
Size: 22708605 Hash: 79065E6BBC611D1A70DEF0F761E52873 Accuracy: -m40
Conclusion: CDDA 100%
Signature: FB6A3BE014C367DE31ADB327259B9FCFCADFDEE8
FILE: Billie Holiday - Gee Baby, Ain-'t I Good To You.flac
Size: 19892283 Hash: 60C7FA9497368F8046C5A80DA56A4ACA Accuracy: -m40
Conclusion: CDDA 100%
Signature: EFA9BFD631751728450FCBC329BFD3DFB667EE10
FILE: Billie Holiday - He-'s Funny That Way.flac
Size: 9649098 Hash: 6AA3A2CD6AB165CBC7FE485AFCCD36F6 Accuracy: -m40
Conclusion: CDDA 100%
Signature: 4A53DFB87B33A20CB0958E1C3AE45B49FA00F622
FILE: Billie Holiday - I Didn-'t Know What Time It Was.flac
Size: 37893539 Hash: 1BA77E56A01FCFE08F3F88D480422A75 Accuracy: -m40
Conclusion: MPEG 97%
Signature: 954A54A969AA017DA27119E4E4F0B813493BDEF5
FILE: Billie Holiday - I Thought About You.flac
Size: 8650970 Hash: 72B557C76A8B9B183D24DD2FB37C2D18 Accuracy: -m40
Conclusion: CDDA 100%
Signature: 7AE54ABFDA26908F042134D3ACEC88FEC1A0C673
FILE: Billie Holiday - I Wished On The Moon.flac
Size: 11899329 Hash: 4395AC6BD7A03BBADBB0BCC3831C4E15 Accuracy: -m40
Conclusion: CDDA 100%
Signature: 1293F6B68002E8FF67CE313088AE7C510AA9B980
FILE: Billie Holiday - Isn-'t This A Lovely Day.flac
Size: 22171939 Hash: E6B212AD22A04A348924C2553C67C6D8 Accuracy: -m40
Conclusion: MPEG 90%
Signature: 04CF1DEEBAA14503C5B8C226C2ADB20BF93F371C
FILE: Billie Holiday - It Had To Be You.flac
Size: 21933486 Hash: 28384064D9AECC61CAF9F61FA95711DF Accuracy: -m40
Conclusion: CDDA 54%
Signature: D1E3BD7229A9A2564BC43154BEF459284378316F
FILE: Billie Holiday - Moonlight In Vermont.flac
Size: 12747039 Hash: FA987A9B59FB7951D640F3369DB1E4B2 Accuracy: -m40
Conclusion: CDDA 100%
Signature: 58A0155AC2927B22193696F546421E73178D9201
FILE: Billie Holiday - One For My Baby (And One More For The Road).flac
Size: 37035303 Hash: 2DAF2C7F895A5D5432D69404EB88D426 Accuracy: -m40
Conclusion: CDDA 54%
Signature: 7FC152AC167CA536077CD656C622EDD3019A2A76
FILE: Billie Holiday - P.S. I Love You.flac
Size: 16776594 Hash: 18E750755872DC0CF1B0A1638FA0092D Accuracy: -m40
Conclusion: CDDA 100%
Signature: 5F6CA33DC6949A7D2FF969D09614FF0070579574
FILE: Billie Holiday - Prelude To A Kiss.flac
Size: 29174010 Hash: FF842DEFF6C0E73AFE8FD8D85DC18289 Accuracy: -m40
Conclusion: CDDA 49%
Signature: 8B95DA1550C7F3A232A61EA8291CA2C138D88886
FILE: Billie Holiday - Speak Low.flac
Size: 15951683 Hash: 8A5BD173AA556B85701CDD956143ED8A Accuracy: -m40
Conclusion: CDDA 100%
Signature: 045BB69C309723736F104AFE7DDEC542CAFCC066
FILE: Billie Holiday - Stars Fell On Alabama.flac
Size: 26638954 Hash: 1A475BB4299362B3DDEAD2DEBF554DBB Accuracy: -m40
Conclusion: CDDA 100%
Signature: 9412F9BA25DA9995C29BD12F1B7F0B6DE3CF4CA8
FILE: Billie Holiday - Tenderly.flac
Size: 10563132 Hash: FF16449DB19A98308A87AA1B3E3EBB07 Accuracy: -m40
Conclusion: CDDA 100%
Signature: B19069717AB36ACEDE883CBFED50ACBB5962EBA9
FILE: Billie Holiday - They Can-'t Take That Away From Me.flac
Size: 16575568 Hash: 77CE5750CE49786D1335F2F8F51E2B23 Accuracy: -m40
Conclusion: CDDA 100%
Signature: 90B04575A473186C4BB8CB161536DAF41BB6704D
FILE: Billie Holiday - We-'ll Be Together Again.flac
Size: 15893101 Hash: 5BA4624D8F7D09A4137676707AA358CD Accuracy: -m40
Conclusion: CDDA 100%
Signature: 994D52D8E28776491DB0E5437448A523F52F392E
FILE: Billie Holiday - You Go To My Head.flac
Size: 8378452 Hash: EE50ED6CFB5EE586954EDE74B8C496BC Accuracy: -m40
Conclusion: MPEG 93%
Signature: 77584B7AE06FD7A647B8563F89B969359AE0669A