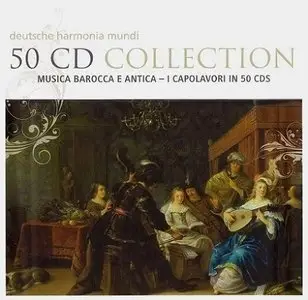 Deutsche Harmonia Mundi - 50 CD Collection
Classical | Sony Music 88875037502 | 2014 | TT: 53:41:55 | EAC (FLAC, cue, log) | Scans | 14,2 Gb
The legendary label, deutsche harmonia mundi, releases a special 50 CD boxset featuring star performers such as Hille Perl, Nikolaus Harnoncourt, Dorothee Oberlinger, Simone Kermes, and Nuria Rial and more! This collection displays the sheer variety available from the dhm archive. A perfect collection ranging Medieval, Renaissance, Baroque and Romantic music.
Contents:
CD01: Händel alla Turca "Amor Oriental"
CD02: Thomas Arne - The Masque of Alfred
CD03: C.P.E. Bach - Hamburger Sinfonien, WQ 182, 3-5; Concerti WQ 165 & 43, 4
CD04: Bach - Concerti, Ciaccona, Partita
CD05: Bach - Notenbüchlein für Anna Magdalena Bach
CD06: Bach - Orgelwerke
CD07: Baroque Trumpet Music
CD08-10: Beethoven - Sonatas for fortepiano and violin
CD11: Beethoven - Choral Fantasy; Liszt - Beethoven Cantata
CD12: Boccherini - String Quintets Op.11, Nos. 4-6
CD13: Codex Engelberg 314
CD14: Corelli - Concerti Grossi Op.6 Nos.1-6
CD15: Handel - Dixit Dominus; Caldara - Missa Dolorosa
CD16: The Eton Choirbook
CD17: Florilegium Musicale: Vivaldi, Marcello, Quantz, J.Chr. Bach, Fasch
CD18-19: Händel - Der Messias
CD20-21: Händel - Sämtliche Bläsersonaten
CD22: Händel - German Arias, HWV 202-210 'Süße Stille, sanfte quelle'
CD23: Händel "Venus & Adonis": Cantatas and Sonatas
CD24: Haydn - Große Orgelmesse; Mozart - Te Deum
CD25: Haydn "L'infedeltà costante"
CD26: Kapsbergiana: All around Libro Terzo 1626
CD27: Lava: Opera arias from 18th century Napoli
CD28: Lotti - Missa Sapientiae; Bach - Magnificat, BWV 243a
CD29: Barber, Elgar, R.Strauss "Metamorphosis"
CD30: Monteverdi - Madrigali Amorosi
CD31-32: Monteverdi - Vespro della Beata Vergine
CD33: Mozart - Flute & Oboe Quartets
CD34: Mozart - Requiem in D minor, K.626
CD35: Mozart - String Quintets K.406 & K.174
CD36: Musik in Sanssouci - Flötesonaten
CD37: Nova Cantica: Latin Songs of the High Middle Ages
CD38: H.Purcell - Instrumental music
CD39: Rameau - Les indes galantes; Dardanus
CD40: Schubert - Die schöne Müllerin, D 795
CD41-42: Heinrich Schütz - Symphoniae Sacrae III (1650)
CD43: Adrien-François Servais - Souvenirs & Caprices
CD44: Schubert, Schumann, Mendelssohn-Bartholdy: Lieder nach Gedichten von Heinrich Heine
CD45: Carl Stamiz - Sinfonies & Concertos
CD46: Telemann - Concertos for Viola da gamba
CD47: Blockflötenkonzerte: Telemann, Graupner, Schultze
CD48: Il Violino: Bach, Veracini, Westhoff
CD49: Carl Maria von Weber - Abu Hassan
CD50: Silvius Leopold Weiss - Ouverture & Suites

CD01: Händel alla Turca "Amor Oriental" [69.27]
01. Alcina - Overture
02. Rinaldo - "Augelletti che cantate" (Armida)
03. Rinaldo - "Or la tromba in suon festante" (Rinaldo)
04. Rinaldo - Battaglia
05. Rinaldo - "Fermati … Non, crudel" (Armida, Rinaldo)
06. Rinaldo - "Furie terribili" (Rinaldo)
07. Giulio Cesare - "Son nata" (Cornelia, Sesto)
08. Giulio Cesare - "Piangerò la sorte mia" (Cleopatra)
09. Rinaldo - "Venti, turbini, prestate" (Rinaldo)
10. Rinaldo - Prelude
11. "Hak selleri hayreyler" Erzurumlu Ibrahim Hakki
12. "Kanun Taksim", Turkish improvisation on Kanun
13. Serse - "Ombra mai fù di vegetabile" (Serse)
14. Rinaldo - "Ah crudel" (Armida)
15. "Güsel Âsik" Sebilci / Abdal
16. Alcina - Prelude "Dream music"
17. Rinaldo - Scherzano sul tuo volto"/" Ridono sul tuo labbro
18. Kemence improvisation
19. Giulio Cesare - "Empio, dirò, tu sei" (Giulio Cesare)
20. Ud improvisation
21. Giulio Cesare - "Se pietà di me non senti" (Cleopatra)
22. Percussion improvisation
23. Alcina - Tamburino
24. Agrippina - "No, no ch'io bon apprezzo" (Ottone, Poppea)
25. Finale: Ilahis, anonym/ Niyazi Misrî

Juanita Lascarro, soprano
Frorin Cezar Ouatu, countertenor
Ahmet Özhan, dervish, singer
Ensemble l'Arte del Mondo
Pera Ensemble
––––––––––––––––––––––––––––––––––––––––––––––––––––––––––––––––––––––––––––––––––––––––––––
CD02: Thomas Arne - The Masque of Alfred [76.10]
01. Overture - Allegro moderato
02. Overture - Andante
03. Overture - Tempo di minuetto
04. Act I. Air 'Though to a desert isle confin'd' (Corin)
05. Air 'The shepherd's plain life' (Emma)
06. Air 'Come calm content' (Prince Edward)
07. Air 'Sweet valley say where' (Eltruda)
08. Air 'Why beats my heart with such devotion' (Prince Edward)
09. Trio 'Let not those who love complain' (Alfred, Prince Edward, Eltruda)
10. Air 'If those who live in shepherd's bow'r' (Emma)
11. Act II. Air 'A youth adorn'd with ev'ry art' (Edith)
12. Air 'From the dawn of early morning' (Alfred)
13. Air 'As calms succeed when storms are past' (Prince Edward)
14. Air 'Hear, Alfred, hear' (Spirit)
15. Air 'Gracious heav'n, O hear me!' (Eltruda)
16. Air 'Vengeance, O come inspire me!' (Prince Edward)
17. Air 'Though storms awhile the sun obscure' (Alfred)
18. Dirge 'There honour comes, a pilgrim grey' (Spirit)
19. Act III. Recitative 'Ah, me! What fears oppress my throbbing heart!'
20. Air 'Guardian angels, O descend' (Eltruda)
21. Air 'Arise, sweet messenger of the morn' (Emma)
22. March with a side drum
23. Air 'See liberty, virtue and honour appearing' (Prince Edward)
24. Ode 'When Britain first at heav'ns command'

Jennifer Smith, soprano
Christine Brandes, soprano
David Daniels, countertenor
Jamie MacDougall, tenor
Philharmonia Baroque Orchestra
Philharmonia Chorale
Direction - Nicholas McGegan
––––––––––––––––––––––––––––––––––––––––––––––––––––––––––––––––––––––––––––––––––––––––––––
CD03: C.P.E. Bach - Hamburger Sinfonien, WQ 182, 3-5; Concerti WQ 165 & 43, 4 [70.34]
01. Sinfonie C-dur Wq 182,3 (H 659): I. Allegro assai
02. II. Adagio
03. III. Allegretto
04. Concerto C-moll für Cembalo, Streicher und Bc Wq 43,4 (H 474): I. Allegro assai
05. II. Poco Adagio
06. III. Tempo di Menuetto
07. IV. Allegro assai
08. Sinfonie A-dur Wq 182,4 (H 660): I. Allegro ma non troppo
09. II. Largo et Innocemente
10. III. Allegro assai
11. Concerto C-moll für Oboe, Streicher und Bc Wq 165 (H 468): I. Allegro
12. II. Adagio ma non troppo
13. III. Allegro ma non troppo
14. Sinfonie H-moll Wq 182,5 (H 661): I. Allegretto
15. II. Larghetto
16. III. Presto

Hans-Peter Westermann, oboe
Andreas Staier, harpsichord
Freiburger Barockorchester
Direction - Thomas Hengelbrock
––––––––––––––––––––––––––––––––––––––––––––––––––––––––––––––––––––––––––––––––––––––––––––
CD04: Bach - Concerti, Ciaccona, Partita [69.10]
01. Ciaccona in D, BWV 1004
02. Concerto in D Major, BWV 1054: I. []
03. Concerto in D Major, BWV 1054: II. Adagio e piano sempre
04. Concerto in D Major, BWV 1054: III. Allegro
05. Partita IV in D Major, BWV 828: I. Ouverture
06. Partita IV in D Major, BWV 828: II. Allemande
07. Partita IV in D Major, BWV 828: III. Courante
08. Partita IV in D Major, BWV 828: IV. Aria
09. Partita IV in D Major, BWV 828: V. Sarabande
10. Partita IV in D Major, BWV 828: VI. Menuet
11. Partita IV in D Major, BWV 828: VII. Gigue
12. Concerto in A Major, BWV 1055: I. Allegro
13. Concerto in A Major, BWV 1055: II. Larghetto
14. Concerto in A Major, BWV 1055: III. Allegro ma non tanto

Skip Sempé, harpsichord
Capriccio Stravagante
––––––––––––––––––––––––––––––––––––––––––––––––––––––––––––––––––––––––––––––––––––––––––––
CD05: Bach - Notenbüchlein für Anna Magdalena Bach [45.00]
01. Polonaise g-moll, BWV Anh. 119
02. Marche Es-dur, BWV Anh.127
03. Menuet G-dur & g-moll, BWV 114/115
04. Willst du dein Herz mir schenken, BWV 518
05. Rondeau B-dur (Fr.Couperin), BWV Anh. 183
06. Bist du bei mir, BWV 508
07. Aria für Clavier G-dur, BWV 988, 1
08. So oft ich meine Tobackspfeife, BWV 515a
09. Marche G-dur, (C,Ph.E.Bach), BWV Anh.124
10. Allemande d-moll, BWV 812, 1
11. Dir, dir, Jehova, will ich singen, BWV 299
12. Praeludium C-dur, BWV 846, 1
13. Menuet G-dur, BWV Anh.116
14. Marche D-dur (C.PH.E.Bach), BWV Anh. 122
15. Musette D-dur, BWV Anh.126
16. Rezitativ Ich hab genug und Arie: Schlummert ein ihr matten Augen,BWV 82, 2&3
17. Chorealbeabeitung Er nur den lieben Gott lasst walten, BWV 691
18. O Ewigkeit du Donnerwort, BWV 513 (4 stimmig)

Elly Ameling, soprano
Hans-Martin Linde, baritone
Tolzer Knabenchor
Gustav Leonhardt, harpsichord
Johannes Koch, viola da gamba
Angelica May, violoncello
Rudolf Ewerhart, positive
––––––––––––––––––––––––––––––––––––––––––––––––––––––––––––––––––––––––––––––––––––––––––––
CD06: Bach - Orgelwerke [71.56]
01. Pièce d'Orgue (Fantasia) G-Dur, BWV 572
02. Pastorale F-Dur, BWV 590
03. Vom Himmel hoch, BWV 700 & 701
04. Toccata, Adagio und Fuge C-Dur, BWV 564
05. Gelobet seist du, Jesu Christ, BWV 723 & 722
06. Wir Christenleut', BWV 710
07. In dulci jubilo, BWV 729
08. Sarabanda con Partite C-Dur, BWV 990
09. Fantasia c-moll BWV deest
10. Praeludium und Fuge g-moll, BWV 535a

Harald Vogel, organ
––––––––––––––––––––––––––––––––––––––––––––––––––––––––––––––––––––––––––––––––––––––––––––
CD07: Baroque Trumpet Music [64.10]
01. Telemann - Concerto in D major for 3 trumpets, timpani & organ
02. Anonymus - "Sinfonia à due trombe" in D major for 2 trumpets & organ
03. Bach - Three chorale preludes for trumpet & organ
04. Franceschini - Sonata in D major for 2 trumpets & organ
05. Anonymus - "Sonata à 5 Clarini" in C major for 5 trumpets & organ
06. Händel - Suite in D major for 2 trumpets, timpani & organ
07. Biber - Sonata XII in C major for 2 trumpets, timpani & organ
08. Biber - "Balletti" in C major for 2 trumpets & organ
09. Mouret - "Fanfares pour 4 trompettes, timbales et orgue" in D major

Trompeten Consort Friedemann Immer
––––––––––––––––––––––––––––––––––––––––––––––––––––––––––––––––––––––––––––––––––––––––––––
CD08-10: Beethoven - Sonatas for fortepiano and violin
CD08 [78.45]
01. Sonata No.5 in F major, Op.24 'Frühlingssonate': I. Allegro
02. II. Adagio molto espressivo
03. III. Scherzo: Allegro molto
04. IV. Rondo: Allegro ma non troppo
05. Sonata No.4 in A minor, Op.23: I. Presto
06. II. Andante scherzoso, più Allegretto
07. III. Allegro molto
08. Sonata No.3 in E-flat major, Op.12 No.3: I. Allegro con spirito
09. II. Adagio con molt'espressione
10. III. Rondo: Allegro molto
11. Sonata No.8 in G major, Op.30 No.3: I. Allegro Assai
12. II. Tempo di Minuetto, ma molto moderato e grazioso
13. IV. Allegro vivace
CD09 [78.07]
01. Sonata No.9 in A major, Op.47 'Kreutzersonate': I. Adagio sostenuto-Presto
02. II. Andante con Variazioni
03. III. Finale: Presto
04. Sonata No.1 in D major, Op.12 No.1: I. Allegro con brio
05. II. Tema con Variazioni: Andante con moto
06. III. Rondo: Allegro
07. Sonata No.2 in A major, Op.12 No.2: I. Allegro vivace
08. II. Andante più tosto Allegretto
09. III. Allegro piacèvole
CD10 [77.22]
01. Sonata No.10 in G major, Op.96: I. Allegro moderato
02. II. Adagio espressivo
03. III. Scherzo: Allegro
04. IV. Poco Allegretto
05. Sonata No.6 in A major, Op.30 No.1: I. Allegro
06. II. Adagio
07. III. Allegretto con Variazioni
08. Sonata No.7 in C major, Op 30 No.2: I. Allegro con Brio
09. II. Adagio cantabile
10. III. Scherzo: Allegro
11. IV. Finale: Allegro

Jos van Immerseel, fortepiano
Jaap Schröder, violin
––––––––––––––––––––––––––––––––––––––––––––––––––––––––––––––––––––––––––––––––––––––––––––
CD11: Beethoven - Choral Fantasy; Liszt - Beethoven Cantata [46.00]
01. Liszt - Cantate zur Inauguration des Beethoven-Monuments 1845: I. Maestoso
02. II. Allegro deciso
03. III. Andante mesto
04. IV. Andante religioso
05. Beethoven - Fantasie für Klavier, Chor und Orchester c-Moll, op. 80

Diana Damrau, soprano
Jörg Dürmüller, tenor
Georg Zeppenfeld, bass
Paul Komen, harpsichord
Kölner Kantorei
Cappella Coloniensis des WDR
Direction - Bruno Well
––––––––––––––––––––––––––––––––––––––––––––––––––––––––––––––––––––––––––––––––––––––––––––
CD12: Boccherini - String Quintets Op.11, Nos. 4-6 [66.50]
01. Quintet in E major, G.275: I. Amoroso
02. II. Allegro e con spirito
03. III. Minuetto
04. IV. Rondeau: Andante
05. Quintet in F minor, G.274: I. Larghetto
06. II. Vivace
07. III. Minuetto
08. IV. Presto
09. Quintet in D major, G.276 (dello L'uccelliera): I. Adagio assai - Allegro giusto
10. II. Pastori ed i Cacciatori
11. III. Tempo di Minuetto - Allegro giusto

Smithsonian Chamber Players:
Marilyn McDonald, violin
Jorie Garrigue, violin
Anthony Martin, viola
Anner Bylsma, violoncello
Kenneth Slowik, violoncello
––––––––––––––––––––––––––––––––––––––––––––––––––––––––––––––––––––––––––––––––––––––––––––
CD13: Codex Engelberg 314 [59.54]
01. Inter natos mulierum - O Johannes doce nos
02. Hertz vnd sinne muege dich
03. Alleluia, V. O Maria rubens rosa
04. Unicornis captivatur
05. Vrot uch alle geloubigu lute mit Schalle
06. Ad decus ecclesie - Lecto Libri apocalipsis
07. O Maria rubens rosa mater
08. Kyrie fons bonitatis
09. Veni sancte spritus illustra cecam mentem
10. Salve pater nominum - Exaudi nos
11. Procedentem sponsum de thalamo
12. Illibata virgo casta - Egregia sponsa Cristi Maria
13. Alleluia, V. Inclite dux Benedicte - Benedicte merita
14. Dominus vobiscum - Sequentia sancti ewangelii secundum Lucam - In illo tempore
15. Media vita in morte - Ach homo perpende fragilis
16. Alma redemptoris mater - Marie virginis fecundat viscera
17. Lobt all zungen des eren riches gottes
18. Congaudeat turba fidelium

Dominique Vellard, Emmanuel Bonnardot, Gerd Türk, singer
Choralensemble der Schola Cantorum Basiliensis
––––––––––––––––––––––––––––––––––––––––––––––––––––––––––––––––––––––––––––––––––––––––––––
CD14: Corelli - Concerti Grossi Op.6 Nos.1-6 [68.32]
01. Concerto grosso in D major, Op.6 No.1: I. Largo…
02. Largo
03. Allegro - Adagio
04. Allegro
05. Concerto grosso in F major, Op.6 No.2: I. Vivace…
06. Allegro - Adagio
07. Grave - Andante largo
08. Allegro
09. Concerto grosso in C minor, Op.6 No.3: I. Largo
10. Allegro - Adagio
11. Grave - Vivace
12. Allegro
13. Concerto grosso in D major, Op.6 No.4: I. Adagio - Allegro
14. Adagio - Vivace
15. Allegro - Allegro
16. Concerto grosso in B flat major, Op.6 No.5: I. Adagio - Allegro
17. Adagio
18. Allegro
19. Largo - Allegro
20. Concerto grosso in F major, Op.6 No.6: I. Adagio - Allegro
21. Largo - Vivace
22. Allegro

La Petite Bande
Direction - Sigiswald Kuijken
––––––––––––––––––––––––––––––––––––––––––––––––––––––––––––––––––––––––––––––––––––––––––––
CD15: Handel - Dixit Dominus; Caldara - Missa Dolorosa [63.07]
01. Handel - Dixit Dominus, HWV 232: I. Dixit Dominus
02. II. Virgam virtutis tuae
03. III. Tecum principium
04. IV. Juravit Dominus
05. V. Tu es sacerdos in aetertum
06. VI. Dominus a dextris tuis
07. VII. De torrente in via bibet
08. VIII. Gloria Patri, et Filio
09. Caldara - Missa dolorosa: I. Kyrie eleison
10. II. Christe eleison
11. III. Kyrie eleison
12. IV. Gloria in excelsis Deo
13. V. Domine Deus
14. VI. Domine Fili
15. VII. Qui tollis peccata mundi
16. VIII. Quoniam tu solus Sanctus
17. IX. Cum Sancto Spiritu
18. X. Credo in unum Deum
19. XI. Crucifixus
20. XII. Et resurrexit
21. XIII. Et vitam venturi saeculi
22. XIV. Sanctus
23. XV. Benedictus
24. XVI. Agnus Dei
25. XVII. Dona nobis pacem
26. Crucifixus à 16 voci

Balthasar-Neumann-Chor
Balthasar-Neumann-Ensemble
Direction - Thomas Hengelbrock
––––––––––––––––––––––––––––––––––––––––––––––––––––––––––––––––––––––––––––––––––––––––––––
CD16: The Eton Choirbook [69.25]
01. Johannes Sutton (fl. 1476-1479) - Salve Regina à 7 (ECB 22)
02. William Horewud (-1484) - Magnificat à 5 (ECB 71)
03. Edmundus Sturton (fl. beg. 16th) - Gaude Virgo Mater Christi à 6 (ECB 10)
04. Johannes Browne (fl. 1480-1505) - Stabat Mater à 6 (ECB 5)
05. Robertus Wylkynson (1475-after 1514) - Salve Regina à 9 (ECB 15)

Huelgas Ensemble
Direction - Paul Van Nevel
––––––––––––––––––––––––––––––––––––––––––––––––––––––––––––––––––––––––––––––––––––––––––––
CD17: Florilegium Musicale: Vivaldi, Marcello, Quantz, J.Chr. Bach, Fasch [68.01]
01. Vivaldi - Concerto in G minor, RV 104 'La notte'I. La notte (Largo)
02. II. Fantasmi (Presto - Largo - Presto)
03. III. Il sonno (Largo)
04. IV. Allegro
05. Marcello - Concerto in D minor: I. Andante
06. II. Adagio
07. III. Allegro
08. Quantz - Trio in C major: I. Affettuoso
09. II. Alla Breve
10. III. Larghetto
11. IV. Vivace
12. Bach J.Chr. - Quintet in D major, Op.22 No.1: I. Allegro
13. II. Andantino
14. III. Allegro Assai
15. Fasch - Quartet in D minor: I. (Largo)
16. II. Allegro
17. III. Largo
18. IV. Allegro
19. Vivaldi - Concerto in C major, RV 444: I. Allegro
20. II. Largo
21. III. Allegro

Camerata Köln
––––––––––––––––––––––––––––––––––––––––––––––––––––––––––––––––––––––––––––––––––––––––––––
CD18-19 Händel - Der Messias
CD18 [67.53]
01. Erster Teil. Sinfonie
02. Rezitativ: Tröstet, tröstet mein Zion, spricht euer Gott
03. Arie: Alle Thale werden erhaben!
04. Chor: Denn die Hoheit des Herrn wird offenbart
05. Rezitativ: So spricht der Herr, Gott Zebaoth
06. Arie: Doch wer mag ertragen den Tag, wenn er kommet?
07. Chor: Und er wird reinigen die Söhne Levi
08. Rezitativ: Sieh da! Eine Jungfrau empfängt!
09. Arie: O du, der bringet Frohlocken in Zion
10. Rezitativ: Schau umher! Dunkel bedecket die Welt
11. Arie: Die Völker, die wandeln im Dunkel
12. Chor: Denn es ist uns ein Kind gebor'n
13. Pifa
14. Rezitativ: Es waren Hirten beisammen auf der Flur
15. Rezitativ: Als schnell der Engel des Herrn zu ihnen trat
16. Rezitativ: Alsdann der Engel zu ihnen sprach: Friede!
17. Rezitativ: Und alsobald war da bei dem Engel
18. Chor: Ehre sei Gott! Ehre sei Gott in den Höhen!
19. Arie: Erfreu dich mächtig, o Tochter Zion
20. Rezitativ: Dann wird das Auge des Blinden sehend sein
21. Duett: Er wird Hirte sein seiner Schafe
22. Chor: Sein Joch ist selig, sein Ragen ist leicht
23. Zweiter Teil. Chor: Sieh da ist Gottes Lamm!
24. Arie: Er war verschmähet und verworfen, von Menschen
25. Chor: Wahrlich, wahrlich! Er trug unser Leid
CD19 [70.34]
01. Chor: Durch seine Wunden sind wir geheilet
02. Chor: Wir gingen all' in Irren umher
03. Rezitativ: Und die ihn sahen, spotteten sein, verhöhneten ihn
04. Chor: Er trauete Gott! dass der könnt' erlösen ihn
05. Rezitativ: Deine Schmach zerbrach sein Herz
06. Arioso: Schau an und sieh! ob irgend sei ein Kummer
07. Rezitativ: Man riss ihn aus dem Lande der Lebenden
08. Arie: Doch du ließest nicht seine Seel' in der Höll'
09. Chor: Hebet das Haupt, o ihr Tore! Eröffnet euch weit
10. Rezitativ: Denn zu welchem Engel sprach Gott Jehovah
11. Chor: Lasst alle Engel des Herrn feiern ihn!
12. Arie: Du bist gestiegen hoch!
13. Chor: Der Herr gab sein Wort
14. Arie: Wie lieblich ist der Boten Tritt!
15. Arioso: Ihr Ruf erging in alles Land!
16. Arie: Wie, dass die Völker so wütend ergrimmen zusammen
17. Chor: Lasst uns brechen ihre Bande. Ihre Band' entzwei!
18. Rezitativ: Er, der wohnet im Himmerl, er lachet vor Wut
19. Arie: Sie zerberechen soll dein Eisenpanzer
20. Chor: Hallelujah!
21. Dritter Teil. Arie: Ich weiß, dass mein Erlöser lebet
22. Chor: Denn durch Einen kam der Tod
23. Rezitativ: Vernehmet! Ich versprech' ein Geheimnis
24. Arie: Es schallt die Trommet'
25. Rezitativ: Dann wird erfüllet sein das Wort des Ewigen
26. Duett: O Tod, wo ist dein Pfeil?
27. Chor: Drum Dank sei Gott!
28. Arie: Wenn Gott ist mit uns, wer ist entgegen?
29. Chor: Würdig ist das Lamm, das da starb

Sharon Rostorf-Zamir, soprano
Maria Riccarda Wesseling, alto
Kobie van Rensburg, tenor
Raimund Nolte, bass
Dresdner Kammerchor
Lautten Compagney
Direction - Wolfgang Katschner
––––––––––––––––––––––––––––––––––––––––––––––––––––––––––––––––––––––––––––––––––––––––––––
CD20-21 Händel - Sämtliche Bläsersonaten
CD20 [63.05]
01-04. Sonata in D major for transverse flute
05-07. Sonata in B flat major for oboe
08-14. Sonata in B minor for transverse flute, Op.1 No.9
15-18. Sonata in G minor for oboe, Op.1 No.6
19-22. Sonata in E minor for transverse flute, Op.1 No.1b
23-26. Sonata in C minor for oboe, Op.1 No.8
27-31. Sonata in G major for transverse flute, Op.1 No.5
32-36. Sonata in F major for oboe
CD21 [67.53]
01. Sonata in D minor for recorder & b.c.
02. Sonata in B flat major for recorder & b.c.
03. Sonata in G minor for recorder & b.c., Op.1 No.2
04. Sonata in A minor for recorder & b.c., Op.1 No.4
05. Sonata in C major for recorder & b.c., Op.1 No.7
06. Sonata in F major for recorder & b.c., Op.1 No.11
07. Sonata in C major for recorder & b.c.
08. Trio in F major for 2 recorders & b.c.

Camerata Köln
––––––––––––––––––––––––––––––––––––––––––––––––––––––––––––––––––––––––––––––––––––––––––––
CD22: Händel - German Arias, HWV 202-210 'Süße Stille, sanfte quelle' [66.40]
German Arias, HWV 202-210:
01. I. Künft'Ger Zeiten eitler Kummer, HWV 202
02. II. Das zitternde Glänzen der spielenden Wellen, HWV 203
03. III. Süsser Blumen Ambraflocken, HWV 204
04. IV. Süße Stille, sanfte Quelle, HWV 205
05. V. Singe, Seele, Gott zum Preise, HWV 206
06. VI. Meine Seele hört im Sehen, HWV 207
07. VII. Die ihr aus dunklen Grüften, HWV 208
08. VIII. In den angenehmen Büschen, Hwv 209
09. IX. Flammende Rose, Zierde der Erden, HWV 210
Music for the Royal Fireworks, HWV 351:
10. I. Ouverture
11. II. Bourée
12. III. La Paix
13. IV. La Réjouissance
14. V. Menuet
15. VI. Bourée

Nuria Rial, soprano
Austrian Baroque Company
Direction - Michael Oman
––––––––––––––––––––––––––––––––––––––––––––––––––––––––––––––––––––––––––––––––––––––––––––
CD23: Händel "Venus & Adonis": Cantatas and Sonatas [75.25]
01-04. Trio sonata in B flat major, Op.2 No.3, HWV 388
05-08. Cantata "Mi palpita il cor", HWV 132b
09-12. Trio sonata in G minor, Op.2 No.5, HWV 390a
13. Aria "Meine Seele hört im Sehen", HWV 207
14-17. Trio sonata in G minor HWV 393
18-21. Cantata "Venus and Adonis", HWV 85
22-25. Trio sonata in F major, HWV 392/401

Gemma Bertagnolli, soprano
Ensemble Zefiro
––––––––––––––––––––––––––––––––––––––––––––––––––––––––––––––––––––––––––––––––––––––––––––
CD24: Haydn - Große Orgelmesse; Mozart - Te Deum [50.59]
Haydn - Große Orgelmesse Es-Dur, Hob.XXII:4:
01. Kirie
02. Gloria
03. Credo
04. Sanctus
05. Benedictus
06. Agnus Dei
Mozart - Te Deum in C-Dur, K.141:
07. Te Deum laudamus
08. Te ergo quaesumus
09. Aeterna fac
10. In te, Domine, speravi

Gerhard Kögel, soprano
Wolfgang Drasch, alto
Hartmut Quotschalla, tenor
Ulrich Streckmann, bass
Augsburger Domsingknabenn
Münchner Residenz-Orchester
Rudofl Brauckmann, organ positive
Direction - Reinhard Kammler
––––––––––––––––––––––––––––––––––––––––––––––––––––––––––––––––––––––––––––––––––––––––––––
CD25: Haydn "L'infedeltà costante" [78.05]
La fedeltà premiata, Hob. XXVIII:10
01. Sinfonia
02. Barbaro conte … è questa la mercè …
03. Dell'amor mio fedele (Amaranta)
04. Placidi ruscelletti (Celia)
Orlando paladino, Hob.XXVIII:11
05. Sinfonia - Entrada d'Alcina
06. Ad un guardo (Alcina)
07. Sono Alcina, e sono ancora (Alcina) - Haydn's insertion aria for Giuseppe Gazzaniga's "L'isola di Alcina", Hob.XXIVb:9
La vera costanza, Hob.XXVIII:8
08. Sinfonia
09. Misera, chi m'aiula … (Rosina)
10. Dove fuggo (Rosina)
L'infedeltà delusa, Hob.XXVIII:5
11. Ho un tumore in un ginocchio (Vespina)
12. Trinche vaine allegramente (Vespina)
13. D'una sposa meschinella (Donna Stella) - Haydn's insertion aria for Giovanni Paisiello's "La franscatana", Hob.XXIVb:2
L'isola disabitata, Hob.XXVIII:9
14. Overtura
15. Se non piange un infelice (Costanza)
Arianna a Naxos, Hob.XXVIb:2
16. Teseo mio ben! Ove sei? Ove sei tu?
17. Dove sei, mio bel tesoro?
18. Poco da me lontano
19. Ah! che morir vorrei in si fatal momento

Anna Bonitatibus, mezzo-soprano
Il Complesso Barocco
Direction - Alan Curtis
––––––––––––––––––––––––––––––––––––––––––––––––––––––––––––––––––––––––––––––––––––––––––––
CD26: Kapsbergiana: All around Libro Terzo 1626 [61.00]
Giovanni Girolamo Kapsberger
01. Toccata seconda
02. Corrente seconda
03. Toccata terza
04. Toccata quarta
05. Gagliarda
06. Vincenzo Bonizzi: La bella netta ignuda
07. Toccata quinta
08. Toccata sesta
09. Ballo
10. Ancidetemi pur
11. Toccata settima
12. Corrente prima
13. Toccata ottava
14. Antonio Bertali: Sonata in d
15. Come esser può

Los Otros:
Lee Santana, chitarrone
Hille Perl, viola da gamba, lirone
Steve Player, chitarrome, guitar
––––––––––––––––––––––––––––––––––––––––––––––––––––––––––––––––––––––––––––––––––––––––––––
CD27: Lava: Opera arias from 18th century Napoli [76.47]
01. Pergolesi - L'Olimpiade: Tu me da me dividi (Aristea)
02. Porpora - Lucio Papirio: Morte amara (Quinto Fabio)
03. Porpora - Flavio Anicio Olibrio: Se non dovesse il piè (Insertion aria)
04. Vinci - Artaserse: Fra sento affanni e cento (Arbace)
05. Leo - Il Demetrio: Manca sollecita (Cleonice)
06. Hasse - Viriate: Come nave in mezzo all'onde (Siface)
07. Pergolesi - Adriano In Siria: Lieto cosi alvolta (Farnaspe)
08. Hasse - Antigono: Perché, se tanti siete (Berenice)
09. Vinci - Artaserse: No che non ha la sorte … Vo solcando un mar crudele (Arbace)
10. Porpora - Lucio Papirio: Tocco il porto (Quinto Fabio)
11. Hasse - Didone Abbandonata: Tu dici ch'io non speri … L'augelletto in lacci stretto (Araspe)
12. Pergolesi - L'Olimpiade: Mentre dormi amor formenti (Licida)

Simone Kermes, soprano
Le Musiche Nove
Direction - Claudio Osele
––––––––––––––––––––––––––––––––––––––––––––––––––––––––––––––––––––––––––––––––––––––––––––
CD28: Lotti - Missa Sapientiae; Bach - Magnificat, BWV 243a [61.40]
Antonio Lotti - Missa Sapientiae g-Moll:
01. Kyrie eleison
02. Christe eleison
03. Kyrie eleison
04. Gloria in excelsis
05. Laudamus te
06. Gratias agimus tibi
07. Domine Deus, Rex coelestis
08. Domine Fili
09. Domine Deus, Agnus Dei
10. Qui tollis peccata mundi
11. Qui sedes
12. Quoniam tu solus sanctus
13. Cum Sancto Spiritu
Johann Sebastian Bach - Magnificat, BWV 243a:
14. Magnificat anima mea
15. Et exultavit
16. Von Himmel hoch
17. Quia respexit
18. Omnes generationes
19. Quia fecit
20. Freut euch und jubiliert
21. Et misericordia eius
22. Fecit potentiam
23. Gloria in excelsis
24. Deposuit potentes
25. Esurientes implevit
26. Virga Jesse floruit
27. Suscepit Israel
28. Sicut locutus est
29. Gloria Patri et Filio

Balthasar-Neumann-Chor
Balthasar-Neumann-Ensemble
Direction - Thomas Hengelbrock
––––––––––––––––––––––––––––––––––––––––––––––––––––––––––––––––––––––––––––––––––––––––––––
CD29: Barber, Elgar, R.Strauss "Metamorphosis" [68.50]
01. Samuel Barber - Adagio for String, Op.11 (1936)
Edward Elgar - Serenade for String Orchestra, Op.20 (1892):
02. I. Allegro piacevole
03. II. Larghetto
04. III. Allegretto
05. Edward Elgar - Elegy for String Orchestra, Op.58 (1909)
06. Richard Strauss - Metamorphosen (1945)

Smithsonian Chamber Players
Direction - Kenneth Slowik
––––––––––––––––––––––––––––––––––––––––––––––––––––––––––––––––––––––––––––––––––––––––––––
CD30: Monteverdi - Madrigali Amorosi [67.08]
01. Sestina - Lagrime d'Amante al Sepolcro dell'Amata
02. Ninfa che scalza il piede
03. O come sei gentile
04. Lamento della Ninfa
05. Tu dormi
06. S'el vostro cor, Madonna
07. Ohimé dov'è il mio ben
08. Alla danze
09. Ohimé il bel viso
10. Zefiro torna
11. Non è di gentil core
12. Qui rise Tirsi
13. O mio bene
14. Soave libertate

Cantus Cölln
Direction - Konrad Junghänel
––––––––––––––––––––––––––––––––––––––––––––––––––––––––––––––––––––––––––––––––––––––––––––
CD31-32: Monteverdi - Vespro della Beata Vergine
CD31 [57.23]
01. Intonatio: Deus in adiutorum - Domine ad adjuvandum
02. Antiphona et Psalmus 109 (Dixit Dominus)
03. Concerto: Nigra sum
04. Antiphona et Psalmus 112 (Laudate pueri)
05. Concerto: Pulchra es
06. Antiphona et Psalmus 121 (Laetatus sum)
07. Concerto: Duo Seraphim
08. Antiphona et Psalmus 126 (Nisi Dominus)
09. Concerto: Audi coelum
10. Antiphona et Psalmus 147 (Lauda Jerusalem)
CD32 [35.16]
01. Capitulum - Hymnus (Ave Maris stella)
02. Magnificat. Versiculus - Antiphona ad Magnificat
03. I. Magnificat anima mea
04. II. Et exultavit
05. III. Quia respexit
06. IV. Quia fecit mihi magna
07. V. Et misericordia
08. VI. Fecit potentiam
09. VII. Deposuit potentes de sede
10. VIII. Esurientis implevit bonis
11. IX. Suscepit Israel
12. X. Sicut locutus est principio
13. XI. Gloria patri
14. XII. Sicut erat in principio
15. Antiphona - Benedicamus
16. Sonata sopra "Sancta Maria, ora pro nobis"

Kammerchor Stuttgart
Choralschola der Niederalteicher Scholaren
Musica Fiata Köln
Direction - Frieder Bernius
––––––––––––––––––––––––––––––––––––––––––––––––––––––––––––––––––––––––––––––––––––––––––––
CD33: Mozart - Flute & Oboe Quartets [67.52]
01. Quartet in D major, K.285: I. Allegro
02. II. Adagio
03. III. Rondeau
04. Quartet in A major, K.298: I. Andante (4 variations)
05. II. Menuetto
06. III. Rondeau: Allegro grazioso
07. Quartet in F major, K.370: I. Allegro
08. II. Adagio
09. III. Rondeau: Allegro
10. Quartet in D major, K.285a: I. Andante
11. II. Tempo di Menuetto
12. Quartet in D major, K.285b (Anh.171): I. Allegro
13. II. Andantino (6 variations)

Les Adieux:
Wilbert Hazelzet, transverse flute
Hans Peter Westermann, oboe
Mary Utiger, violin
Hajo Bäss, viola
Nicholas Selo, violoncello
––––––––––––––––––––––––––––––––––––––––––––––––––––––––––––––––––––––––––––––––––––––––––––
CD34: Mozart - Requiem in D minor, K.626 [50.15]
01. I. Introitus: Requiem
02. II. Kyrie
03. III. Sequentia: Dies irae
04. III. Sequentia: Tuba mirum
05. III. Sequentia: Rex tremendae
06. III. Sequentia: Recordare
07. III. Sequentia: Confutatis
08. III. Sequentia: Lacrimosa
09. IV. Offertorium: Domine Jesu
10. IV. Offertorium: Hostias
11. V. Sanctus
12. VI. Benedictus
13. VII. Agnus Dei
14. VIII. Communio: Lux aeterna

Christine Schäfer, soprano
Bernarda Fink, alto
Kurt Streit, tenor
Gerald Finley, bass
Arnold Schoenberg Chor
Concentus Musicus Wien
Direction - Nikolaus Harnoncourt
––––––––––––––––––––––––––––––––––––––––––––––––––––––––––––––––––––––––––––––––––––––––––––
CD35: Mozart - String Quintets K.406 & K.174 [62.20]
01. String quintet in C minor, K.406: I. Allegro
02. II. Andante
03. III. Minuetto in Canone - Trio al roversio
04. IV. Allegro
05. String quintet in B flat major, K.174: I. Allegro moderato
06. II. Adagio
07. III. Menuetto - Allegro
08. IV. Allegro

Les Adieux:
Mary Utiger, violin
Ursula Bundies, violin
Hajo Bäss, viola
Karlheinz Steeb, viola
Nicholas Selo, violoncello
––––––––––––––––––––––––––––––––––––––––––––––––––––––––––––––––––––––––––––––––––––––––––––
CD36: Musik in Sanssouci - Flötesonaten [43.34]
01. Friedrich der Große - Sonate e-Moll für Traversföte & B.c.: I. Grave
02. II. Allegro assai
03. III. Presto
04. Carl Philipp Emanuel Bach - Sonate D-Dur für Traversföte & Cembalo obligato: I. Allegro un poco
05. II. Largo
06. III. Allegro
07. Georg Benda - Sonate G-Dur für Traversföte & Cembalo obligato: I. Allegro moderato
08. II. Andantino
09. III. Allegro
10. Johann Joachim Quantz - Sonate a-Moll für Traversföte & B.c.: I. Adagio
11. II. Presto
12. III. Gigue

Hans-Martin Linde, transverse flute
Johannes Koch, viola da gamba
Hugo Ruf, harpsichord
––––––––––––––––––––––––––––––––––––––––––––––––––––––––––––––––––––––––––––––––––––––––––––
CD37: Nova Cantica: Latin Songs of the High Middle Ages [55.08]
01. Da laudis, homo, nova cantica (Conductus)
02. Annus novus in gaudio (Versus)
03. Rex Salomon fecit templum (Versus / Sequentia)
04. Letamini plebs hodie fidelis (Benedicamus-tropus)
05. Natali regis glorie (Conductus)
06. Stirps Jesse florigeram (Benedicamus-tropus)
07. Iubilemus, exultemus (Benedicamus-tropus)
08. Letabundi iubilemus (Benedicamus-tropus)
09. Ex Ade vitio (Conductus)
10. Noster cetus (Benedicamus-tropus)
11. Natus est (Conductus)
12. Dulcis sapor novi mellis (Benedicamus-tropus)
13. Alto consilio (Conductus)

Dominique Vellard, singer
Emmanuel Bonnardot, singer
––––––––––––––––––––––––––––––––––––––––––––––––––––––––––––––––––––––––––––––––––––––––––––
CD38: H.Purcell - Instrumental music [75.52]
01. The Fairy Queen: I. Prelude & Hornpipe in g
02. II. Air & Rondeau in B
03. III. Overture in D
04. IV. Prelude & Entry Dance in C, Dance for the Fairies in G
05. V. Overture in g - Air in G - Prelude in g
06. VI. Hornpipe in D
07. VII. Symphony / Canzona-Largo-Allegro-Adagio-Allegro
08. Dido & Aeneas: I. Overture & Air in c, The Triumphing Dance in C
09. II. Ritornelle in d, Air, Dance in d
10. III. Echo Dance of Furies in F
11. IV. The Sailors' Dance in B
12. V. The Witches' Dance in B
13. VI. Chacony
14. King Arthur: I. Overture in d, Air in d, Overture in D
15. II. Symphony in g, Air in G, Hornpipe in g
16. III. Air in d, Air in a, Song tune in a
17. IV. Symphony in C, Trumpet tune in C
18. V. Frost Dance in c, Hornpipe in G
19. VI. Passacaglia in g
20. Abdelazer: I. Overture in d
21. II. Rondeau in d
22. III. Air in D, Air in G
23. IV. Minuett in G, Air in g
24. V. Jigg in g
25. VI. Hornpipe in B, Air in g

Freiburger Barockorchester
Direction - Thomas Hengelbrock
––––––––––––––––––––––––––––––––––––––––––––––––––––––––––––––––––––––––––––––––––––––––––––
CD39: Rameau - Les indes galantes; Dardanus [69.32]
Les Indes Galantes (Ballet Suite):
01. Ouverture
02. Entrée des Quatre Nations
03. Menuet I et II
04. Forlane
05. Rondeau
06. Air pour les amours
07. Contre-danse
08. Air pour les Persans
09. Air vif pour Zéphire et la Rose
10. Air pour Borée et la Rose
11. Air des Fleurs
12. Air tendre pour la Rose
13. Gavotte pour les Flers
14. Tambourin
15. Chaconne
Dardanus (Suite):
16. Ouverture
17. Marche pour les different nations
18. Menuet tendre en Rondeau
19. Tambourin I et II
20. Air vif
21. Rigadon I et II
22. Air en Rondeau
23. Entrée
24. Sommeil. Rondeau tendre
25. Tambourin I et II
26. Chaconne

Collegium Aureum
––––––––––––––––––––––––––––––––––––––––––––––––––––––––––––––––––––––––––––––––––––––––––––
CD40: Schubert - Die schöne Müllerin, D 795 [59.45]
01. Das Wandern
02. Wohin?
03. Halt!
04. Danksagung an den Bach
05. Am Feierabend
06. Der Neugierige
07. Ungeduld
08. Morgengruß
09. Des Müllers Blumen
10. Tränenregen
11. Mein!
12. Pause
13. Mit dem grünen Lautenbande
14. Der Jäger
15. Eifersucht und Stolz
16. Die liebe Farbe
17. Die böse Ferbe
18. Trockne Blumen
19. Der Müller und der Bach
20. Des Baches Wiegenlied

Christoph Prégardien, tenor
Andreas Staier, fortepiano
––––––––––––––––––––––––––––––––––––––––––––––––––––––––––––––––––––––––––––––––––––––––––––
CD41-42: Heinrich Schütz - Symphoniae Sacrae III (1650)
CD41 [56.39]
01. Der Herr ist mein Hirt, SWV 398, Op. 12 No.1
02. Ich hebe meine Augen auf zu den Bergen, SWV 398, Op. 12 No.2
03. Wo der Herr nicht das Haus bauet, SWV 400, Op. 12 No.3
04. Mein Sohn, warum hast du uns das getan?, SWV 401, Op. 12 No.4
05. O Herr, hilf, o Herr, laß wohl gelingen, SWV 402, Op. 12 No.5
06. Siehe, es erschien der Engel des Herrn, SWV 403, Op. 12 No.6
07. Feget den alten Sauerteig aus, SWV 404, Op. 12 No.7
08. O süßer Jesu Christ, SWV 405, Op. 12 No.8
09. O Jesu süß. wer dein gedenkt, SWV 406, Op. 12 No.9
10. Lasset uns doch den Herren, unseren Gott, loben, SWV 407, Op. 12 No.10
CD42 [69.05]
01. Es ging ein Sämann aus, zu säen seinen Samen, SWV 408, Op.12 No.11
02. Seid barmherzig, wie auch euer Vater barmherzig ist, SWV 409, Op.12 No.12
03. Siehe, dieser wird gesetzt zu einem Fall, SWV 410, Op.12 No.13
04. Vater unser, der du bist im Himmel, SWV 411, Op.12 No.14
05. Siehe, wie fein und lieblich ist's, SWV 412, Op.12 No.15
06. Hütet euch, daß eure Herzen nicht beschwert werden, SWV 413, Op.12 No.16
07. Meister, wir wissen, dass de wahrhaftig bist, SWV 414, Op.12 No.17
08. Saul, Saul, was verfolgst du mich? SWV 415, Op.12 No.18
09. Herr, wie lang willst du mein so gar vergessen, SWV 416, Op.12 No.19
10. Komm, Heilger Geist, Herre Gott, SWV 417, Op.12 No.20
11. Nun danket alle Gott, SWV 418, Op.12 No.21

Musica Fiata
Kammerchor Stuttgart
Direction - Frieder Bernius
––––––––––––––––––––––––––––––––––––––––––––––––––––––––––––––––––––––––––––––––––––––––––––
CD43: Adrien-François Servais - Souvenirs & Caprices [59.04]
01. Souvenir de Bade, Op.20 (1-7)
02. Caprice in A major, Op.11 No.4
03. Caprice in D major, Op.11 No.2
04. Caprice sur des motifs de l'opera 'Le Comte Ory', Op.3 (1,5)
05. Grand Duo de concert (1,5)
06. Souvenir de Spa, Op.2 (1-6)

Smithsonian Chamber Players
––––––––––––––––––––––––––––––––––––––––––––––––––––––––––––––––––––––––––––––––––––––––––––
CD44: Schubert, Schumann, Mendelssohn-Bartholdy: Lieder nach Gedichten von Heinrich Heine [56.52]
Robert Schumann - Dichterliebe Op.48:
01. Im wunderschönen Monat Mai
02. Aus meinen Tränen sprießen
03. Die Rose, die Lilie, die Taube, die Sonne
04. Wenn ich in deine Augen seh
05. Ich will meine Seele tauchen
06. Im Rhein, im heiligen Strome
07. Ich grolle nicht
08. Und wüssten's die Blumen, die kleinen
09. Dass ist ein Flöten und Geigen
10. Hör' ich das Liedchen klingen
11. Ein Jüngling liebt ein Mädchen
12. Am leuchtenden Sommermorgen
13. ich hab' im Traum geweinet
14. Allnächtlich im Traume seh' ich dich
15. Aus alten Märchen winkt es
16. Die alten bösen Lieder
Felix Mendelssohn Bartholdy:
17. Reiselied
18. Morgengruß
19. Allnächtlich im Traume
20. Auf Flügeln des Gesanges
21. Gruß
22. Neue Liebe
Franz Schubert:
23. Der Atlas
24. Ihr Bild
25. Das Fischermädchen
26. Die Stadt
27. Am Meer
28. Der Doppelgänger

Christoph Prégardien, tenor
Andreas Staier, fortepiano
––––––––––––––––––––––––––––––––––––––––––––––––––––––––––––––––––––––––––––––––––––––––––––
CD45: Carl Stamiz - Sinfonies & Concertos [58.57]
01. Concerto D-Dur for viola (1774): I. Allegro
02. II. Andante moderato
03. III. Rondo
04. Sinfonia concertante A-Dur (1775): I. Allegro moderato
05. II. Allegro non presto
06. Sinfonia Es-Dur: I. Allegro con spirito
07. II. Andante con moderato
08. III. Presto

Collegium Aureum
Franzjosef Maier, concertmaster
––––––––––––––––––––––––––––––––––––––––––––––––––––––––––––––––––––––––––––––––––––––––––––
CD46: Telemann - Concertos for Viola da gamba [71.20]
01-04. Sonata h-Moll
05-07. Sonata E-Dur
08-11. Sonata A-Dur
12-18. Suite D-Dur
19-22. Concerto G-Dur

Hille Perl, viola da gamba
Freiburger Barockorchester
––––––––––––––––––––––––––––––––––––––––––––––––––––––––––––––––––––––––––––––––––––––––––––
CD47: Blockflötenkonzerte: Telemann, Graupner, Schultze [66.48]
01-03. Telemann - Konzert g-Moll für Altblockflöte, Streicher & B.c.
04-07. Telemann - Konzert C-Dur für Altblockflöte, Streicher & B.c., Twv51:C
08-13. Graupner - Suite F-Dur für Altblockflöte, Streicher & B.c.
14-16. Schultze - Konzert G-Dur für Altblockflöte, Streicher & B.c.

Dorothee Oberlinger, recorder
Ensemble 1700
Direction - Reinhard Goebel
––––––––––––––––––––––––––––––––––––––––––––––––––––––––––––––––––––––––––––––––––––––––––––
CD48: Il Violino: Bach, Veracini, Westhoff [64.10]
01-04. Veracini - Sonate d-Moll für Violine & B.c., Op.2 No.12
05-09. Bach - Sonate G-Dur für Cembalo & Violine, BWV 1019(a)
10-14. Westhoff - Suite A-Dur für Violine solo
15-18. Bach - Sonate c-Moll für Violine & B.c., BWV 1024
19-20. Bach - Adagio & Allegro für Cembalo & Violine G-Dur, BWV 1019

Copriccio Stravagante
Manfredo Kraemer, violin
Skip Sempé, harpsichord
Michel Murgier, violoncello
––––––––––––––––––––––––––––––––––––––––––––––––––––––––––––––––––––––––––––––––––––––––––––
CD49: Carl Maria von Weber - Abu Hassan [78.25]
01. Overtura
02. Am Hofe eines Kalifen…
03. Introduzione: Liebes Weibchen, reiche Wein.
04. Hah - Eine herrliche Mahlzeit!
05. Aria: Was dann zu machen?
06. Abu Hassan? - Wer ist draussen?
07. Coro: Geld, Geld, Geld
08. Dank sey dem grossen Propheten.
09. Eure Dienerin, mein lieber Leichnam!
10. Duetto: Thränen sollst du nicht vergiessen
11. Aber lass uns jetzt nicht länger
12. Geh nur, loser Spötter
13. Aria: Wird Philomele trauren
14. Verzeih, schöne Fatime…
15. Duetto: Siehst du diese große Menge
16. O weh mir! Mein Mann!
17. Verlass dich darauf
18. Terzetto: Ich such, und such in allen Eken
19. Der Oberkämmerling Mesrur eilt unsrer Wohnung zu.
20. Abu Hassan hatte ein ordentliches Wirrwarr verursacht
21. Ist er fort?
22. (Aria): Hier liegt, - welch' martervolles Loos!
23. Zemrud, die Amme, fand Abu Hassan da liegend
24. Unter uns, Hassan
25. Terzetto e Coro: Ängstlich klopft es mir im Herzen!
26. Das Herrscherpaar fand die Sache höchst verwickelt.
27. Schlusschor: Heil ist dem Haus beschieden
28. Sinfonie C-Dur No.1, WeV M.2: Allegro con fuoco
29. Andante
30. Scherzo. Presto - Trio
31. Presto. Finale

Wolfgang Völz, narrator
Jörg Dürmüller, tenor (Abu Hassan)
Johanna Stojkovic, soprano (Fatime)
Franz-Josef Selig, bass (Omar)
Chorwerk Ruhr
Cappella Coloniensis des WDR
Direction - Bruno Well
––––––––––––––––––––––––––––––––––––––––––––––––––––––––––––––––––––––––––––––––––––––––––––
CD50: Silvius Leopold Weiss - Ouverture & Suites [68.20]
01. Ouverture B-Dur
02-07. Suite No.17 f-Moll
08-14. Suite No.21 g-Moll
15-22. Suite d-Moll

Konrad Junghänel, Laute


Exact Audio Copy V1.5 from 20. February 2020

EAC extraction logfile from 5. September 2020, 17:04

Ensembles l`arte del mondo & Pera / DHM cd1 - Handel alla turca - Amor Oriental

Used drive : PIONEER BD-RW BDR-207M Adapter: 1 ID: 1

Read mode : Secure
Utilize accurate stream : Yes
Defeat audio cache : Yes
Make use of C2 pointers : No

Read offset correction : 667
Overread into Lead-In and Lead-Out : No
Fill up missing offset samples with silence : Yes
Delete leading and trailing silent blocks : No
Null samples used in CRC calculations : Yes
Used interface : Native Win32 interface for Win NT & 2000

Used output format : User Defined Encoder
Selected bitrate : 128 kBit/s
Quality : High
Add ID3 tag : No
Command line compressor : C:\Program Files\Exact Audio Copy\Flac\flac.exe
Additional command line options : -V -8 -T "Date=%year%" -T "Genre=%genre%" %source%


TOC of the extracted CD

Track | Start | Length | Start sector | End sector
––––––––––––––––––––––––––––-
1 | 0:00.00 | 5:02.30 | 0 | 22679
2 | 5:02.30 | 3:10.09 | 22680 | 36938
3 | 8:12.39 | 3:29.33 | 36939 | 52646
4 | 11:41.72 | 1:24.45 | 52647 | 58991
5 | 13:06.42 | 1:59.33 | 58992 | 67949
6 | 15:06.00 | 1:52.21 | 67950 | 76370
7 | 16:58.21 | 4:15.05 | 76371 | 95500
8 | 21:13.26 | 2:26.49 | 95501 | 106499
9 | 23:40.00 | 3:34.47 | 106500 | 122596
10 | 27:14.47 | 0:49.51 | 122597 | 126322
11 | 28:04.23 | 4:49.15 | 126323 | 148012
12 | 32:53.38 | 1:04.19 | 148013 | 152831
13 | 33:57.57 | 2:37.10 | 152832 | 164616
14 | 36:34.67 | 5:49.12 | 164617 | 190803
15 | 42:24.04 | 2:34.08 | 190804 | 202361
16 | 44:58.12 | 1:36.30 | 202362 | 209591
17 | 46:34.42 | 3:23.40 | 209592 | 224856
18 | 49:58.07 | 1:02.74 | 224857 | 229580
19 | 51:01.06 | 3:29.30 | 229581 | 245285
20 | 54:30.36 | 1:00.02 | 245286 | 249787
21 | 55:30.38 | 4:08.61 | 249788 | 268448
22 | 59:39.24 | 0:46.58 | 268449 | 271956
23 | 60:26.07 | 1:01.11 | 271957 | 276542
24 | 61:27.18 | 3:43.26 | 276543 | 293293
25 | 65:10.44 | 4:17.35 | 293294 | 312603


Range status and errors

Selected range

Filename C:\Vilboa\DHM cd1 - Handel alla turca - Amor Oriental.wav

Peak level 97.6 %
Extraction speed 4.9 X
Range quality 100.0 %
Test CRC 7583EE46
Copy CRC 7583EE46
Copy OK

No errors occurred


AccurateRip summary

Track 1 accurately ripped (confidence 37) [314A0C2E] (AR v2)
Track 2 accurately ripped (confidence 37) [293F547E] (AR v2)
Track 3 accurately ripped (confidence 37) [33787D1C] (AR v2)
Track 4 accurately ripped (confidence 37) [0B33EA72] (AR v2)
Track 5 accurately ripped (confidence 37) [92FE4F9C] (AR v2)
Track 6 accurately ripped (confidence 37) [5281933B] (AR v2)
Track 7 accurately ripped (confidence 37) [77FB0E9D] (AR v2)
Track 8 accurately ripped (confidence 37) [3E210A28] (AR v2)
Track 9 accurately ripped (confidence 37) [76F9ED57] (AR v2)
Track 10 accurately ripped (confidence 37) [BDA87AC3] (AR v2)
Track 11 accurately ripped (confidence 37) [353DB0B6] (AR v2)
Track 12 accurately ripped (confidence 37) [B66F802F] (AR v2)
Track 13 accurately ripped (confidence 37) [37095FD0] (AR v2)
Track 14 accurately ripped (confidence 37) [5D1D9653] (AR v2)
Track 15 accurately ripped (confidence 37) [114DF5BB] (AR v2)
Track 16 accurately ripped (confidence 37) [8A0E9B4D] (AR v2)
Track 17 accurately ripped (confidence 37) [50EEE98F] (AR v2)
Track 18 accurately ripped (confidence 37) [6D38F4BD] (AR v2)
Track 19 accurately ripped (confidence 37) [96F91425] (AR v2)
Track 20 accurately ripped (confidence 37) [62A660F1] (AR v2)
Track 21 accurately ripped (confidence 37) [0A59BFB2] (AR v2)
Track 22 accurately ripped (confidence 37) [0FA3BF46] (AR v2)
Track 23 accurately ripped (confidence 37) [C1E8740E] (AR v2)
Track 24 accurately ripped (confidence 37) [9746252A] (AR v2)
Track 25 accurately ripped (confidence 38) [7D354D50] (AR v2)

All tracks accurately ripped

End of status report

–– CUETools DB Plugin V2.1.6

[CTDB TOCID: O.aYguBw.GOSS.7HrHS9Cnck7u0-] found
Submit result: O.aYguBw.GOSS.7HrHS9Cnck7u0- has been confirmed
Track | CTDB Status
1 | (76/77) Accurately ripped
2 | (77/77) Accurately ripped
3 | (77/77) Accurately ripped
4 | (77/77) Accurately ripped
5 | (77/77) Accurately ripped
6 | (77/77) Accurately ripped
7 | (77/77) Accurately ripped
8 | (77/77) Accurately ripped
9 | (77/77) Accurately ripped
10 | (77/77) Accurately ripped
11 | (77/77) Accurately ripped
12 | (77/77) Accurately ripped
13 | (77/77) Accurately ripped
14 | (77/77) Accurately ripped
15 | (77/77) Accurately ripped
16 | (77/77) Accurately ripped
17 | (77/77) Accurately ripped
18 | (77/77) Accurately ripped
19 | (77/77) Accurately ripped
20 | (77/77) Accurately ripped
21 | (77/77) Accurately ripped
22 | (77/77) Accurately ripped
23 | (77/77) Accurately ripped
24 | (77/77) Accurately ripped
25 | (75/77) Accurately ripped, or (2/77) differs in 1142 samples @04:17:18-04:17:20


==== Log checksum C9E1014EB20F503B5F0FE0586A72AAEE9BC33D3166875530F9553D54A84C45ED ====


Exact Audio Copy V1.5 from 20. February 2020

EAC extraction logfile from 5. September 2020, 17:57

Nicholas McGegan, Philharmonia Baroque Orchestra / DHM cd2 - Arne - The Masque of Alfred

Used drive : PIONEER BD-RW BDR-207M Adapter: 1 ID: 1

Read mode : Secure
Utilize accurate stream : Yes
Defeat audio cache : Yes
Make use of C2 pointers : No

Read offset correction : 667
Overread into Lead-In and Lead-Out : No
Fill up missing offset samples with silence : Yes
Delete leading and trailing silent blocks : No
Null samples used in CRC calculations : Yes
Used interface : Native Win32 interface for Win NT & 2000

Used output format : User Defined Encoder
Selected bitrate : 128 kBit/s
Quality : High
Add ID3 tag : No
Command line compressor : C:\Program Files\Exact Audio Copy\Flac\flac.exe
Additional command line options : -V -8 -T "Date=%year%" -T "Genre=%genre%" %source%


TOC of the extracted CD

Track | Start | Length | Start sector | End sector
––––––––––––––––––––––––––––-
1 | 0:00.00 | 2:46.20 | 0 | 12469
2 | 2:46.20 | 2:40.40 | 12470 | 24509
3 | 5:26.60 | 1:22.25 | 24510 | 30684
4 | 6:49.10 | 1:42.60 | 30685 | 38394
5 | 8:31.70 | 3:23.07 | 38395 | 53626
6 | 11:55.02 | 3:25.08 | 53627 | 69009
7 | 15:20.10 | 2:12.55 | 69010 | 78964
8 | 17:32.65 | 3:47.12 | 78965 | 96001
9 | 21:20.02 | 3:19.53 | 96002 | 110979
10 | 24:39.55 | 2:18.12 | 110980 | 121341
11 | 26:57.67 | 4:45.23 | 121342 | 142739
12 | 31:43.15 | 5:18.17 | 142740 | 166606
13 | 37:01.32 | 1:37.73 | 166607 | 173954
14 | 38:39.30 | 2:19.27 | 173955 | 184406
15 | 40:58.57 | 5:58.45 | 184407 | 211301
16 | 46:57.27 | 6:44.23 | 211302 | 241624
17 | 53:41.50 | 4:11.57 | 241625 | 260506
18 | 57:53.32 | 2:54.65 | 260507 | 273621
19 | 60:48.22 | 1:01.53 | 273622 | 278249
20 | 61:50.00 | 2:09.67 | 278250 | 287991
21 | 63:59.67 | 2:32.40 | 287992 | 299431
22 | 66:32.32 | 1:27.63 | 299432 | 306019
23 | 68:00.20 | 4:35.02 | 306020 | 326646
24 | 72:35.22 | 3:36.05 | 326647 | 342851


Range status and errors

Selected range

Filename C:\Vilboa\DHM cd2 - Arne - The Masque of Alfred.wav

Peak level 97.8 %
Extraction speed 7.5 X
Range quality 100.0 %
Test CRC 004688DC
Copy CRC 004688DC
Copy OK

No errors occurred


AccurateRip summary

Track 1 accurately ripped (confidence 53) [1ABCF381] (AR v2)
Track 2 accurately ripped (confidence 53) [24601341] (AR v2)
Track 3 accurately ripped (confidence 53) [86B48BE3] (AR v2)
Track 4 accurately ripped (confidence 53) [ACC0FD55] (AR v2)
Track 5 accurately ripped (confidence 53) [12BB20FE] (AR v2)
Track 6 accurately ripped (confidence 53) [89B0ADE4] (AR v2)
Track 7 accurately ripped (confidence 53) [700D0988] (AR v2)
Track 8 accurately ripped (confidence 53) [9FA0187B] (AR v2)
Track 9 accurately ripped (confidence 53) [999D41A2] (AR v2)
Track 10 accurately ripped (confidence 53) [5565B4CE] (AR v2)
Track 11 accurately ripped (confidence 53) [DA187800] (AR v2)
Track 12 accurately ripped (confidence 53) [E418AC22] (AR v2)
Track 13 accurately ripped (confidence 53) [E7256410] (AR v2)
Track 14 accurately ripped (confidence 53) [FEE139A2] (AR v2)
Track 15 accurately ripped (confidence 53) [3CD9B84A] (AR v2)
Track 16 accurately ripped (confidence 53) [9AF0D8C5] (AR v2)
Track 17 accurately ripped (confidence 53) [D475F531] (AR v2)
Track 18 accurately ripped (confidence 53) [297A64D2] (AR v2)
Track 19 accurately ripped (confidence 53) [1B09CB35] (AR v2)
Track 20 accurately ripped (confidence 53) [0B0506F2] (AR v2)
Track 21 accurately ripped (confidence 53) [C0D5A14F] (AR v2)
Track 22 accurately ripped (confidence 53) [F29463AF] (AR v2)
Track 23 accurately ripped (confidence 52) [C17CCF46] (AR v2)
Track 24 accurately ripped (confidence 52) [F68456B9] (AR v2)

All tracks accurately ripped

End of status report

–– CUETools DB Plugin V2.1.6

[CTDB TOCID: cyMIpYHhSbYH.4Zg.49aMrpEG00-] found
Submit result: cyMIpYHhSbYH.4Zg.49aMrpEG00- has been confirmed
Track | CTDB Status
1 | (93/94) Accurately ripped
2 | (93/94) Accurately ripped
3 | (93/94) Accurately ripped
4 | (93/94) Accurately ripped
5 | (93/94) Accurately ripped
6 | (93/94) Accurately ripped
7 | (92/94) Accurately ripped
8 | (93/94) Accurately ripped
9 | (93/94) Accurately ripped
10 | (93/94) Accurately ripped
11 | (93/94) Accurately ripped
12 | (92/94) Accurately ripped
13 | (93/94) Accurately ripped
14 | (93/94) Accurately ripped
15 | (92/94) Accurately ripped
16 | (91/94) Accurately ripped
17 | (92/94) Accurately ripped
18 | (93/94) Accurately ripped
19 | (93/94) Accurately ripped
20 | (93/94) Accurately ripped
21 | (93/94) Accurately ripped
22 | (92/94) Accurately ripped
23 | (92/94) Accurately ripped
24 | (92/94) Accurately ripped


==== Log checksum 66189D09CE7B10985A444092D8CFA027C54E1298802F3C35001DBFB561DB8DF4 ====


Exact Audio Copy V1.5 from 20. February 2020

EAC extraction logfile from 5. September 2020, 18:21

Freiburger Barockorchester, Thomas Hengelbrock / DHM cd3 - C.P.E.Bach - Hamburger Sinfonien, Concerti

Used drive : PIONEER BD-RW BDR-207M Adapter: 1 ID: 1

Read mode : Secure
Utilize accurate stream : Yes
Defeat audio cache : Yes
Make use of C2 pointers : No

Read offset correction : 667
Overread into Lead-In and Lead-Out : No
Fill up missing offset samples with silence : Yes
Delete leading and trailing silent blocks : No
Null samples used in CRC calculations : Yes
Used interface : Native Win32 interface for Win NT & 2000

Used output format : User Defined Encoder
Selected bitrate : 128 kBit/s
Quality : High
Add ID3 tag : No
Command line compressor : C:\Program Files\Exact Audio Copy\Flac\flac.exe
Additional command line options : -V -8 -T "Date=%year%" -T "Genre=%genre%" %source%


TOC of the extracted CD

Track | Start | Length | Start sector | End sector
––––––––––––––––––––––––––––-
1 | 0:00.00 | 2:46.50 | 0 | 12499
2 | 2:46.50 | 3:25.37 | 12500 | 27911
3 | 6:12.12 | 5:36.50 | 27912 | 53161
4 | 11:48.62 | 3:17.30 | 53162 | 67966
5 | 15:06.17 | 1:55.15 | 67967 | 76606
6 | 17:01.32 | 2:15.50 | 76607 | 86781
7 | 19:17.07 | 4:31.55 | 86782 | 107161
8 | 23:48.62 | 4:31.28 | 107162 | 127514
9 | 28:20.15 | 3:49.10 | 127515 | 144699
10 | 32:09.25 | 4:23.72 | 144700 | 164496
11 | 36:33.22 | 6:31.70 | 164497 | 193891
12 | 43:05.17 | 9:14.43 | 193892 | 235484
13 | 52:19.60 | 7:19.25 | 235485 | 268434
14 | 59:39.10 | 3:58.30 | 268435 | 286314
15 | 63:37.40 | 3:13.37 | 286315 | 300826
16 | 66:51.02 | 3:43.73 | 300827 | 317624


Range status and errors

Selected range

Filename C:\Vilboa\DHM cd3 - C.P.E.Bach - Hamburger Sinfonien, Concerti.wav

Peak level 100.0 %
Extraction speed 7.1 X
Range quality 99.9 %
Test CRC E566FB2F
Copy CRC E566FB2F
Copy OK

No errors occurred


AccurateRip summary

Track 1 accurately ripped (confidence 106) [A9169129] (AR v2)
Track 2 accurately ripped (confidence 108) [7022DE37] (AR v2)
Track 3 accurately ripped (confidence 108) [8E09EAB7] (AR v2)
Track 4 accurately ripped (confidence 108) [C48F82D5] (AR v2)
Track 5 accurately ripped (confidence 108) [58FE0B8D] (AR v2)
Track 6 accurately ripped (confidence 108) [4C5C7A7E] (AR v2)
Track 7 accurately ripped (confidence 108) [16D9AD27] (AR v2)
Track 8 accurately ripped (confidence 108) [A445137B] (AR v2)
Track 9 accurately ripped (confidence 108) [0A95F59A] (AR v2)
Track 10 accurately ripped (confidence 108) [2E1BDB2B] (AR v2)
Track 11 accurately ripped (confidence 108) [54DE7D76] (AR v2)
Track 12 accurately ripped (confidence 108) [E3BB76DB] (AR v2)
Track 13 accurately ripped (confidence 108) [0DB0AB3D] (AR v2)
Track 14 accurately ripped (confidence 108) [E72B4B92] (AR v2)
Track 15 accurately ripped (confidence 107) [332CDBD1] (AR v2)
Track 16 accurately ripped (confidence 106) [1119322C] (AR v2)

All tracks accurately ripped

End of status report

–– CUETools DB Plugin V2.1.6

[CTDB TOCID: AHP7Hqdnlb5PTwUZy0KdExCJilk-] found
Submit result: AHP7Hqdnlb5PTwUZy0KdExCJilk- has been confirmed
Track | CTDB Status
1 | (250/250) Accurately ripped
2 | (250/250) Accurately ripped
3 | (250/250) Accurately ripped
4 | (249/250) Accurately ripped
5 | (250/250) Accurately ripped
6 | (250/250) Accurately ripped
7 | (250/250) Accurately ripped
8 | (250/250) Accurately ripped
9 | (250/250) Accurately ripped
10 | (250/250) Accurately ripped
11 | (249/250) Accurately ripped
12 | (250/250) Accurately ripped
13 | (249/250) Accurately ripped
14 | (250/250) Accurately ripped
15 | (250/250) Accurately ripped
16 | (248/250) Accurately ripped


==== Log checksum BD5AB3FAE9895A68E966B4CD19080FDBD5B5D14527322C8B8480F021029321B2 ====


Exact Audio Copy V1.5 from 20. February 2020

EAC extraction logfile from 5. September 2020, 19:06

Skip Sempé, Capriccio Stravagante / DHM cd4 - J.S.Bach - Concerti, Ciaccona, Partita

Used drive : PIONEER BD-RW BDR-207M Adapter: 1 ID: 1

Read mode : Secure
Utilize accurate stream : Yes
Defeat audio cache : Yes
Make use of C2 pointers : No

Read offset correction : 667
Overread into Lead-In and Lead-Out : No
Fill up missing offset samples with silence : Yes
Delete leading and trailing silent blocks : No
Null samples used in CRC calculations : Yes
Used interface : Native Win32 interface for Win NT & 2000

Used output format : User Defined Encoder
Selected bitrate : 128 kBit/s
Quality : High
Add ID3 tag : No
Command line compressor : C:\Program Files\Exact Audio Copy\Flac\flac.exe
Additional command line options : -V -8 -T "Date=%year%" -T "Genre=%genre%" %source%


TOC of the extracted CD

Track | Start | Length | Start sector | End sector
––––––––––––––––––––––––––––-
1 | 0:00.00 | 11:06.70 | 0 | 50019
2 | 11:06.70 | 6:51.00 | 50020 | 80844
3 | 17:57.70 | 5:27.35 | 80845 | 105404
4 | 23:25.30 | 2:38.57 | 105405 | 117311
5 | 26:04.12 | 6:03.05 | 117312 | 144541
6 | 32:07.17 | 9:25.13 | 144542 | 186929
7 | 41:32.30 | 3:33.32 | 186930 | 202936
8 | 45:05.62 | 2:06.25 | 202937 | 212411
9 | 47:12.12 | 5:44.10 | 212412 | 238221
10 | 52:56.22 | 1:15.38 | 238222 | 243884
11 | 54:11.60 | 3:28.20 | 243885 | 259504
12 | 57:40.05 | 3:34.70 | 259505 | 275624
13 | 61:15.00 | 4:07.65 | 275625 | 294214
14 | 65:22.65 | 3:48.25 | 294215 | 311339


Range status and errors

Selected range

Filename C:\Vilboa\DHM cd4 - J.S.Bach - Concerti, Ciaccona, Partita.wav

Peak level 85.9 %
Extraction speed 3.8 X
Range quality 100.0 %
Test CRC 701BC190
Copy CRC 701BC190
Copy OK

No errors occurred


AccurateRip summary

Track 1 accurately ripped (confidence 39) [38C478DA] (AR v2)
Track 2 accurately ripped (confidence 40) [0CCDD4A1] (AR v2)
Track 3 accurately ripped (confidence 40) [23A335C0] (AR v2)
Track 4 accurately ripped (confidence 40) [AF6633C2] (AR v2)
Track 5 accurately ripped (confidence 40) [808DDB08] (AR v2)
Track 6 accurately ripped (confidence 40) [3AD52773] (AR v2)
Track 7 accurately ripped (confidence 40) [87204A69] (AR v2)
Track 8 accurately ripped (confidence 40) [D1552E99] (AR v2)
Track 9 accurately ripped (confidence 40) [01CBB4D4] (AR v2)
Track 10 accurately ripped (confidence 40) [321DC500] (AR v2)
Track 11 accurately ripped (confidence 40) [AE47DC65] (AR v2)
Track 12 accurately ripped (confidence 40) [FC98C924] (AR v2)
Track 13 accurately ripped (confidence 40) [BD57B5D3] (AR v2)
Track 14 accurately ripped (confidence 40) [7A31923B] (AR v2)

All tracks accurately ripped

End of status report

–– CUETools DB Plugin V2.1.6

[CTDB TOCID: j8_rZF5K6Ful4cTV8ghnGfg8z2s-] found
Submit result: j8_rZF5K6Ful4cTV8ghnGfg8z2s- has been confirmed
Track | CTDB Status
1 | (76/77) Accurately ripped
2 | (77/77) Accurately ripped
3 | (77/77) Accurately ripped
4 | (77/77) Accurately ripped
5 | (77/77) Accurately ripped
6 | (77/77) Accurately ripped
7 | (77/77) Accurately ripped
8 | (77/77) Accurately ripped
9 | (77/77) Accurately ripped
10 | (76/77) Accurately ripped
11 | (76/77) Accurately ripped
12 | (76/77) Accurately ripped
13 | (76/77) Accurately ripped
14 | (70/77) Accurately ripped


==== Log checksum 59D02760AF34E1188695046DAB3A1DB26738698D51781E44158C0684DFA51446 ====


Exact Audio Copy V1.5 from 20. February 2020

EAC extraction logfile from 5. September 2020, 19:34

Elly Ameling, Gustav Leonhardt, Hans-Martin Linde / DHM cd5 - J.S.Bach - Notenbuchlein fur Anna Magdalena Bach

Used drive : PIONEER BD-RW BDR-207M Adapter: 1 ID: 1

Read mode : Secure
Utilize accurate stream : Yes
Defeat audio cache : Yes
Make use of C2 pointers : No

Read offset correction : 667
Overread into Lead-In and Lead-Out : No
Fill up missing offset samples with silence : Yes
Delete leading and trailing silent blocks : No
Null samples used in CRC calculations : Yes
Used interface : Native Win32 interface for Win NT & 2000

Used output format : User Defined Encoder
Selected bitrate : 128 kBit/s
Quality : High
Add ID3 tag : No
Command line compressor : C:\Program Files\Exact Audio Copy\Flac\flac.exe
Additional command line options : -V -8 -T "Date=%year%" -T "Genre=%genre%" %source%


TOC of the extracted CD

Track | Start | Length | Start sector | End sector
––––––––––––––––––––––––––––-
1 | 0:00.32 | 0:54.13 | 32 | 4094
2 | 0:54.45 | 1:35.65 | 4095 | 11284
3 | 2:30.35 | 2:40.57 | 11285 | 23341
4 | 5:11.17 | 2:27.68 | 23342 | 34434
5 | 7:39.10 | 4:40.22 | 34435 | 55456
6 | 12:19.32 | 2:21.08 | 55457 | 66039
7 | 14:40.40 | 2:16.27 | 66040 | 76266
8 | 16:56.67 | 3:47.53 | 76267 | 93344
9 | 20:44.45 | 1:27.45 | 93345 | 99914
10 | 22:12.15 | 4:08.45 | 99915 | 118559
11 | 26:20.60 | 2:29.17 | 118560 | 129751
12 | 28:50.02 | 1:53.43 | 129752 | 138269
13 | 30:43.45 | 1:22.37 | 138270 | 144456
14 | 32:06.07 | 0:54.18 | 144457 | 148524
15 | 33:00.25 | 0:48.42 | 148525 | 152166
16 | 33:48.67 | 8:13.33 | 152167 | 189174
17 | 42:02.25 | 1:39.72 | 189175 | 196671
18 | 43:42.22 | 1:19.05 | 196672 | 202601


Range status and errors

Selected range

Filename C:\Vilboa\DHM cd5 - J.S.Bach - Notenbuchlein fur Anna Magdalena Bach.wav

Peak level 93.6 %
Extraction speed 5.8 X
Range quality 100.0 %
Test CRC F3902EA6
Copy CRC F3902EA6
Copy OK

No errors occurred


AccurateRip summary

Track 1 accurately ripped (confidence 48) [9157882F] (AR v2)
Track 2 accurately ripped (confidence 49) [4882DB4F] (AR v2)
Track 3 accurately ripped (confidence 49) [981BEB0D] (AR v2)
Track 4 accurately ripped (confidence 49) [C96877DE] (AR v2)
Track 5 accurately ripped (confidence 49) [1189801E] (AR v2)
Track 6 accurately ripped (confidence 49) [8FEEF46D] (AR v2)
Track 7 accurately ripped (confidence 49) [58BBC5ED] (AR v2)
Track 8 accurately ripped (confidence 49) [7E6C6689] (AR v2)
Track 9 accurately ripped (confidence 49) [95D99E73] (AR v2)
Track 10 accurately ripped (confidence 49) [22AF1CC7] (AR v2)
Track 11 accurately ripped (confidence 49) [1EB6A55A] (AR v2)
Track 12 accurately ripped (confidence 49) [CD5FE9B1] (AR v2)
Track 13 accurately ripped (confidence 49) [A5C30FB1] (AR v2)
Track 14 accurately ripped (confidence 49) [2CB32F46] (AR v2)
Track 15 accurately ripped (confidence 49) [8B80EAE1] (AR v2)
Track 16 accurately ripped (confidence 49) [EDD67169] (AR v2)
Track 17 accurately ripped (confidence 49) [DBCE2FA2] (AR v2)
Track 18 accurately ripped (confidence 49) [EC98E50F] (AR v2)

All tracks accurately ripped

End of status report

–– CUETools DB Plugin V2.1.6

[CTDB TOCID: 1onlDY1UcafLa9LPPfg0b4DRpn0-] found
Submit result: 1onlDY1UcafLa9LPPfg0b4DRpn0- has been confirmed
Track | CTDB Status
1 | (81/81) Accurately ripped
2 | (81/81) Accurately ripped
3 | (81/81) Accurately ripped
4 | (81/81) Accurately ripped
5 | (81/81) Accurately ripped
6 | (81/81) Accurately ripped
7 | (81/81) Accurately ripped
8 | (81/81) Accurately ripped
9 | (81/81) Accurately ripped
10 | (81/81) Accurately ripped
11 | (81/81) Accurately ripped
12 | (81/81) Accurately ripped
13 | (81/81) Accurately ripped
14 | (81/81) Accurately ripped
15 | (81/81) Accurately ripped
16 | (81/81) Accurately ripped
17 | (81/81) Accurately ripped
18 | (81/81) Accurately ripped


==== Log checksum E1BB2612501CF05011DABFF439020757F0B37D9FB0A32DD8E572EC47946C6B7C ====