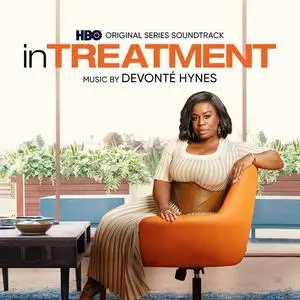 Devonte Hynes - In Treatment (HBO Original Series Soundtrack) (2021)
FLAC tracks / MP3 320 kbps | 47:50 | 190 / 110 Mb
Genre: Soundtrack / Label: Milan
From 2008 to 2010, HBO's award-winning "In Treatment" was one of the most acclaimed dramas on television, launching the careers of Mia Wasikowska, Allison Pill, and Dane DeHaan, among others. Based on the Israeli show "BeTipul," the show unfolded in real-time through revealing half-hour sessions between patient and therapist, played by Gabriel Byrne. A decade after the show went off the air, HBO unexpectedly announced it would belatedly return in 2021 with a new doctor and new patients.
The artistic development of Devonté Hynes, the singer, songwriter, multi-instrumentalist, and producer known foremost as Blood Orange, has been marked by continuous diversification and exploration. After establishing himself in the dance-punk band Test Icicles and as Lightspeed Champion, Hynes changed course again as Blood Orange. Since debuting the project with Coastal Grooves (2011), Hynes has developed a progressive mixture of several styles including soul, funk, post-punk, and chillwave, all the while incorporating lyrical themes of identity, sexuality, belonging, and spirituality, among other issues that have the shaped his existence and those of his peers. Despite enlisting extensive supporting casts on later albums Cupid Deluxe (2013), Freetown Sound (2016), and Negro Swan (2018), all of which registered on Billboard's R&B and independent charts, Hynes' output has been resolutely individualist and deeply personal. Concurrent with Blood Orange's evolution as a collaborative outlet, Hynes himself has been sought out by a varied multitude of fellow artists such as Sky Ferreira, Solange, Carly Rae Jepsen, and Philip Glass. He has also provided music for films (Palo Alto, Queen & Slim), and has branched out into classical composition (Fields, performed by Third Coast Percussion).
Track List:
01 - Blood Orange - Catch Up (0:57)
02 - Blood Orange - Brock Waits for Eladio (1:17)
03 - Blood Orange - Not Attached to an Outcome (1:06)
04 - Blood Orange - Brooke and Adam (1:19)
05 - Blood Orange - A Drawer or Two (1:26)
06 - Blood Orange - Doesn't Want to be Found (3:41)
07 - Blood Orange - Extra Time (1:40)
08 - Blood Orange - Fucking Gone (1:40)
09 - Blood Orange - Borrowed Time (2:59)
10 - Blood Orange - Precious (2:31)
11 - Blood Orange - These Hands (1:20)
12 - Blood Orange - All the Time We Have (2:26)
13 - Blood Orange - Alternative (2:09)
14 - Blood Orange - Bottom of You (2:12)
15 - Blood Orange - Bolano Endings (2:45)
16 - Blood Orange - Just an Evil Person (1:36)
17 - Blood Orange - My Permission (1:37)
18 - Blood Orange - Encouragement (1:58)
19 - Blood Orange - Seem Far Away (1:21)
20 - Blood Orange - You Listen (2:00)
21 - Blood Orange - Morning Wake Up (1:10)
22 - Blood Orange - Not Gonna Bend (1:43)
23 - Blood Orange - See You Next Week (1:51)
24 - Blood Orange - We Love Each Other (5:06)
ANALYZER: auCDtect: CD records authenticity detector, version 0.8.2
Copyright © 2004 Oleg Berngardt. All rights reserved.
Copyright © 2004 Alexander Djourik. All rights reserved.


FILE: 01 - Catch Up.flac
Size: 3462969 Hash: 8EBFD0A5945A8F0FE21568A56D1DF259 Accuracy: -m40
Conclusion: CDDA 99%
Signature: 002190BAAA956E8F055D056F9E7D0C107B628782
FILE: 02 - Brock Waits for Eladio.flac
Size: 4929263 Hash: 5BE9BCC65B9646B223F55EE1F9F06556 Accuracy: -m40
Conclusion: MPEG 91%
Signature: 53EB9B3280B9ECE4B94251B4891154B69E1E7A70
FILE: 03 - Not Attached to an Outcome.flac
Size: 5021498 Hash: FF6DB3AB29D5851C57C115E6892B10C2 Accuracy: -m40
Conclusion: MPEG 99%
Signature: B6FF5B1E5DF76AB8FC9DC51033284F060B942F24
FILE: 04 - Brooke and Adam.flac
Size: 5011682 Hash: 434B892F05EFD5C87F557EF156C8246C Accuracy: -m40
Conclusion: CDDA 100%
Signature: 7B3398938B8DA2B2D69C231A5588089D6277947E
FILE: 05 - A Drawer or Two.flac
Size: 4930939 Hash: 5CE00B381104B2FE2B07A5F79F5133BA Accuracy: -m40
Conclusion: CDDA 100%
Signature: 1DC3F53A2B524CF744AF474F1FFA50285718BDDE
FILE: 06 - Doesn't Want to be Found.flac
Size: 16981056 Hash: 76AAF1D85BEBE0D14AFAA459BEEEF712 Accuracy: -m40
Conclusion: CDDA 100%
Signature: 638D63C1212A9D8B9B4972634139ECC2FD7881BF
FILE: 07 - Extra Time.flac
Size: 6640186 Hash: B0ED3A4A0BC38947E9244FD63D6EB345 Accuracy: -m40
Conclusion: CDDA 99%
Signature: C1B8AF3DF3C62E90C70D7E3C6B9FBEB29E9F8E98
FILE: 08 - Fucking Gone.flac
Size: 7208492 Hash: 0C0E7741F472902E997D23F34B5284CB Accuracy: -m40
Conclusion: CDDA 99%
Signature: 5543B2B5FDF379F86E095EF9BD55D7153FBB28AC
FILE: 09 - Borrowed Time.flac
Size: 9361177 Hash: 0F277F9FDDF70CCDB88E161A931E90B8 Accuracy: -m40
Conclusion: CDDA 100%
Signature: 609F4C473E2C53CB80F81E994E940AD4D7D5BAE7
FILE: 10 - Precious.flac
Size: 10626052 Hash: 0D922E69AF50F21BE1B74ED1454D45C2 Accuracy: -m40
Conclusion: CDDA 100%
Signature: 2FC6076AEEFEC478C22A975CB515864852E76602
FILE: 11 - These Hands.flac
Size: 5137824 Hash: 6C7A3D9E248F61FFD1463B7867C9C467 Accuracy: -m40
Conclusion: CDDA 100%
Signature: 2435E4627A4050F1FC27AC477FF43A0C44469336
FILE: 12 - All the Time We Have.flac
Size: 12582387 Hash: 5148C4BCA1480E33A022036ED04566DD Accuracy: -m40
Conclusion: CDDA 100%
Signature: 7996F32730DAEE4672AEF429F2EB1471C5B1C5A4
FILE: 13 - Alternative.flac
Size: 9707948 Hash: B5F5C589C19F7523BB3347F4A39F1D77 Accuracy: -m40
Conclusion: CDDA 99%
Signature: 953B64849A8BC77737DB2C00F534F58344D3F61B
FILE: 14 - Bottom of You.flac
Size: 7722336 Hash: 288EA8644BC0DF4B999DFD0269F8F0BA Accuracy: -m40
Conclusion: CDDA 100%
Signature: F1DEA3FBF87C97873F5D4035D86F34F5B5B8A716
FILE: 15 - Bolano Endings.flac
Size: 13479790 Hash: 9B06433C3FF503B65C6CA619B733E890 Accuracy: -m40
Conclusion: CDDA 100%
Signature: D888FA025A2FD8D99F6D63EDFDA07950532057ED
FILE: 16 - Just an Evil Person.flac
Size: 6015606 Hash: C3C5B3C2FB8D15CE9DE0D85C15348FB8 Accuracy: -m40
Conclusion: CDDA 100%
Signature: F34C2A96E9BEE1DA4A212E660452E4286B56C2F3
FILE: 17 - My Permission.flac
Size: 8478186 Hash: 149C219E3774C0BDCDCAFE7077AC6556 Accuracy: -m40
Conclusion: CDDA 99%
Signature: 09F44814929EC2526A974EC6F530AD9ECDFB7DEB
FILE: 18 - Encouragement.flac
Size: 9083159 Hash: BECDFCB398A854B4D208A89B6607C2C1 Accuracy: -m40
Conclusion: CDDA 100%
Signature: CBFD12715FD649A19431DE48292B003E13CE29C3
FILE: 19 - Seem Far Away.flac
Size: 7674861 Hash: 86AB7899D71E22AF63A668F718A4685F Accuracy: -m40
Conclusion: CDDA 100%
Signature: 23C9DD889B35D7FDFA62E601B936A0F614D88453
FILE: 20 - You Listen.flac
Size: 7829172 Hash: 7CDDB13A5DDC2EA66FB1F8B59CDF0965 Accuracy: -m40
Conclusion: CDDA 100%
Signature: 9AC4CC93CAD6E6A9C2B7741742F0E408BFB4A65F
FILE: 21 - Morning Wake Up.flac
Size: 5129975 Hash: 821070B9D768D85AE851DB28AE1A194C Accuracy: -m40
Conclusion: CDDA 100%
Signature: ADC20311A37DC885C0DFF657A89F0164734C9E32
FILE: 22 - Not Gonna Bend.flac
Size: 6179053 Hash: 19198276B6AC520D63D293D73A7C1CF7 Accuracy: -m40
Conclusion: CDDA 100%
Signature: 05F19DDA9ADAF7C685826E691F2198286E5DE7D3
FILE: 23 - See You Next Week.flac
Size: 5827933 Hash: 3A1DEDCCC01567E7CDD4033F22792271 Accuracy: -m40
Conclusion: CDDA 100%
Signature: 0070E54628259DBCEDE1D368818CDD5395BAEC16
FILE: 24 - We Love Each Other.flac
Size: 20628024 Hash: EBD128FCC3A96E7529EA6BAF1BCE8F12 Accuracy: -m40
Conclusion: CDDA 100%
Signature: D5EFB2B68EEC3D0A8E1E6C918F0B06A350ADA3B5