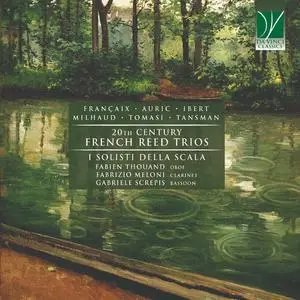 Fabien Thouand, Fabrizio Meloni - Francaix, Auric, Ibert, Milhaud, Tomasi, Tansman: 20th Century French Reed Trios (2023)
FLAC (tracks), Lossless / MP3 320 kbps | 58:23 | 135 / 233 Mb
Genre: Classical / Label: Da Vinci Classics
A reed trio combines three instruments whose timbre is similar but subtly different; this encourages gifted composers – and particularly those with a penchant for timbral finesses – to explore the variety of nuances it can produce. In this ensemble, the three woodwinds' interaction highlights their kinship as well as their unique personalities. They have in common the variety of sound, ranging from deep expressiveness to agility and virtuosity; in consequence, this ensemble expresses both an ironic, playful and good-humoured style, and one characterized by lyricism. At the same time, this ensemble requires great skill of the composer, given the absolute transparency of the counterpoint it produces.
All of these qualities – mastery of the compositional techniques, irony, agility, clarity, expressiveness, timbral exploration – are typical for all composers recorded in this programme, which offers us a fascinating itinerary through the output of French music for reed Trio in the twentieth century.
Track List:
01. Divertissement: I. Prélude - Moderato
02. Divertissement: II. Allegretto assai
03. Divertissement: III. Eleģie - Grave
04. Divertissement: IV. Scherzo
05. Trio for Oboe, Clarinet, and Bassoon: I. Décidé -Décidé
06. Trio for Oboe, Clarinet, and Bassoon: II. Romance - Très modéré
07. Trio for Oboe, Clarinet, and Bassoon: III. Final - Vif et joyeux
08. Cinq Pièces en trio: I. Allegro vivo
09. Cinq Pièces en trio: II. Andantino
10. Cinq Pièces en trio: III. Allegro assai
11. Cinq Pièces en trio: IV. Andante
12. Cinq Pièces en trio: V. Allegro quasi marziale
13. Suite d'après Corrette, Op. 161: I. Entrée et rondeau - Modéré
14. Suite d'après Corrette, Op. 161: II. Tambourin
15. Suite d'après Corrette, Op. 161: III. Musette
16. Suite d'après Corrette, Op. 161: IV. Sérénade
17. Suite d'après Corrette, Op. 161: V. Fanfare
18. Suite d'après Corrette, Op. 161: VI. Rondeau
19. Suite d'après Corrette, Op. 161: VII. Menuets
20. Suite d'après Corrette, Op. 161: VIII. Le Coucou
21. Concert Champêtre: I. Ouverture - Allegro giocoso
22. Concert Champêtre: II. Minuetto
23. Concert Champêtre: III. Bourrée – Décidé
24. Concert Champêtre: IV. Nocturne – Andante
25. Concert Champêtre: V. Tambourin – Vif
26. Suite pour trio d'anches: I. Dialogue - Andante sostenuto
27. Suite pour trio d'anches: II. Scherzino – Molto vivace
28. Suite pour trio d'anches: III. Aria - Largo
29. Suite pour trio d'anches: IV. Finale - Vivo
ANALYZER: auCDtect: CD records authenticity detector, version 0.8.2
Copyright © 2004 Oleg Berngardt. All rights reserved.
Copyright © 2004 Alexander Djourik. All rights reserved.


FILE: 01 - Divertissement_ I. Prélude - Moderato.flac
Size: 13493547 Hash: A71967C55AF15192B09DCFE4963C0F24 Accuracy: -m40
Conclusion: CDDA 43%
Signature: B40EBA880A1CCA9325EDB8619D9935B53CB50796
FILE: 02 - Divertissement_ II. Allegretto assai.flac
Size: 8009564 Hash: EA7AE90761AD6CA755A38F27371A33D7 Accuracy: -m40
Conclusion: CDDA 49%
Signature: EE00B38C33AD98F7E65FDFC6E28EE6E89BA9BBA5
FILE: 03 - Divertissement_ III. Eleģie - Grave.flac
Size: 10236686 Hash: DFF4A61C3B4C2C9AFE238FF3BB256A5C Accuracy: -m40
Conclusion: CDDA 100%
Signature: AEC31F69FB506CE2E4A051A0727B2EC11ADAB4EE
FILE: 04 - Divertissement_ IV. Scherzo.flac
Size: 10085497 Hash: 7AB4096A8546E924B8465E987290087F Accuracy: -m40
Conclusion: CDDA 43%
Signature: 3A1A1CA8925F9A341EE20370DD99B3A039066315
FILE: 05 - Trio for Oboe, Clarinet, and Bassoon_ I. Décidé -Décidé.flac
Size: 17653438 Hash: 38B5D86911F7D64C3937D92E54CB9973 Accuracy: -m40
Conclusion: CDDA 43%
Signature: BCE512BA9A39084FB7BBC3788E0CB2494A1E938F
FILE: 06 - Trio for Oboe, Clarinet, and Bassoon_ II. Romance - Très modéré.flac
Size: 11709383 Hash: E816FEDF92DCF032B5B2ADC1B069C65B Accuracy: -m40
Conclusion: CDDA 85%
Signature: 04FDF456D2DEEF700609D37BF90E68770DBD5119
FILE: 07 - Trio for Oboe, Clarinet, and Bassoon_ III. Final - Vif et joyeux.flac
Size: 20820576 Hash: 66624AD15503C1953FA32FF0416B95D3 Accuracy: -m40
Conclusion: CDDA 94%
Signature: DBE1A10419D941F4CB3895A5E2CCEE4629818299
FILE: 08 - Cinq Pièces en trio_ I. Allegro vivo.flac
Size: 4068796 Hash: 6D8D87925001D6DFC0FE1139C88E53A8 Accuracy: -m40
Conclusion: CDDA 76%
Signature: E0BB6704D4F594B9D431F5681AB0EFB06A5B597E
FILE: 09 - Cinq Pièces en trio_ II. Andantino.flac
Size: 7605180 Hash: 7CA56549B3C7C5723CD4FF97DD9D41E6 Accuracy: -m40
Conclusion: CDDA 92%
Signature: 1CDC256737B9F8FEE18C07A6346B78729A6E8021
FILE: 10 - Cinq Pièces en trio_ III. Allegro assai.flac
Size: 3268873 Hash: E093183943D30580FF5CA8B5E0A5C20D Accuracy: -m40
Conclusion: CDDA 100%
Signature: E8432043FE2BC046DD8F8820B65E85E53DB69712
FILE: 11 - Cinq Pièces en trio_ IV. Andante.flac
Size: 10046316 Hash: 2181CB9ADB530B0D87D21C1621CB58B7 Accuracy: -m40
Conclusion: CDDA 49%
Signature: 73EB21908897F9EBB7DFB05015D273B1DEFDF2CF
FILE: 12 - Cinq Pièces en trio_ V. Allegro quasi marziale.flac
Size: 5709192 Hash: 9F285FC032D2C1F2799F2A3F8744E05A Accuracy: -m40
Conclusion: MPEG 89%
Signature: A95C030008F0FCAEA5ED76AA841633AF10E77452
FILE: 13 - Suite d'après Corrette, Op. 161_ I. Entrée et rondeau - Modéré.flac
Size: 6342485 Hash: 9BD6C8C2E4934BC90957B883002A5C76 Accuracy: -m40
Conclusion: CDDA 100%
Signature: 7CE27E122C4A85EA15A31C2EFBD8BCED37322802
FILE: 14 - Suite d'après Corrette, Op. 161_ II. Tambourin.flac
Size: 1573086 Hash: 0D09C96DE1F214AF18E2A58479C2005C Accuracy: -m40
Conclusion: MPEG 100%
Signature: 5E4529B2B9751692B3AC3F50ACDA7E6CF0BA7EB6
FILE: 15 - Suite d'après Corrette, Op. 161_ III. Musette.flac
Size: 3267384 Hash: 295AA0170948447E9F9E0B3AFB0B78AC Accuracy: -m40
Conclusion: CDDA 100%
Signature: BB37F445F8CBCA049B4674ED63255C895E5D6EC7
FILE: 16 - Suite d'après Corrette, Op. 161_ IV. Sérénade.flac
Size: 4492284 Hash: FB5DF19322256030894223D5C4C87556 Accuracy: -m40
Conclusion: CDDA 100%
Signature: 10FEEF4D5394A4102B545F2A979B1E388DBD7305
FILE: 17 - Suite d'après Corrette, Op. 161_ V. Fanfare.flac
Size: 2524885 Hash: 8F04E33726298C141D81FCA1D12B3E4A Accuracy: -m40
Conclusion: CDDA 100%
Signature: 41FE2F27281D2EACDF9EBE8F75F4C90831E37C25
FILE: 18 - Suite d'après Corrette, Op. 161_ VI. Rondeau.flac
Size: 3793550 Hash: D21C969E843CD224A91D74EDE0F233C3 Accuracy: -m40
Conclusion: MPEG 100%
Signature: AF74F1CA62585E6C426AE922D50D5A62B8DB3344
FILE: 19 - Suite d'après Corrette, Op. 161_ VII. Menuets.flac
Size: 9140363 Hash: 22157579E58358A4270881B5E406B630 Accuracy: -m40
Conclusion: CDDA 100%
Signature: 86F6A5A027D0FDCBBE57ABFD442D0E0E635A83B3
FILE: 20 - Suite d'après Corrette, Op. 161_ VIII. Le Coucou.flac
Size: 4370003 Hash: 00B2E851D564459A9E2DB4EAD0625E17 Accuracy: -m40
Conclusion: CDDA 86%
Signature: 4DC5D70427ED988FC265833DC5F20AFCB2028E92
FILE: 21 - Concert Champêtre_ I. Ouverture - Allegro giocoso.flac
Size: 8672914 Hash: C6068116F7893E9CCBA452688A8DB786 Accuracy: -m40
Conclusion: CDDA 42%
Signature: 691A5A87CED4310229DFDE4540C09C936550979A
FILE: 22 - Concert Champêtre_ II. Minuetto.flac
Size: 7954911 Hash: F089CECA5E40C636F68588D63E58BF5D Accuracy: -m40
Conclusion: MPEG 91%
Signature: F559CD38B0D44A62F53582BEA85D41DDE13BF397
FILE: 23 - Concert Champêtre_ III. Bourrée – Décidé.flac
Size: 8728238 Hash: 9BA264D99E9F28D175D7C3852D2EA8AE Accuracy: -m40
Conclusion: CDDA 100%
Signature: 66A72B9A75A5F8E7D788248EBD073745D6F9C7EB
FILE: 24 - Concert Champêtre_ IV. Nocturne – Andante.flac
Size: 12612984 Hash: 58F72E91861D8F018F5898A771A3B307 Accuracy: -m40
Conclusion: CDDA 99%
Signature: 6C04DF484B3B6980CD07ACD7649403442CFD7DBB
FILE: 25 - Concert Champêtre_ V. Tambourin – Vif.flac
Size: 4197281 Hash: 53C2639709C0C9BA550C0B6759CD0C7E Accuracy: -m40
Conclusion: MPEG 93%
Signature: D927B45A9F6A69CE765A8494FAF84A234858D14F
FILE: 26 - Suite pour trio d'anches_ I. Dialogue - Andante sostenuto.flac
Size: 7338534 Hash: CF78C4BB5CD763A7CA348C940D5E93E3 Accuracy: -m40
Conclusion: CDDA 100%
Signature: BAA45552025DA88433365BEC6DE30ECDCF7067CC
FILE: 27 - Suite pour trio d'anches_ II. Scherzino – Molto vivace.flac
Size: 10877428 Hash: 77C134ACFCB213BA3F87BB23E7CC1042 Accuracy: -m40
Conclusion: CDDA 85%
Signature: 47E98B0E19A0CCE325F22DC2410946A6836E0AC1
FILE: 28 - Suite pour trio d'anches_ III. Aria - Largo.flac
Size: 12364845 Hash: D588DB014D9DDE029447B3381DB2FBB7 Accuracy: -m40
Conclusion: CDDA 100%
Signature: E8E7527A67639877A39A342385A2BC3DD04D8B6E
FILE: 29 - Suite pour trio d'anches_ IV. Finale - Vivo.flac
Size: 14834466 Hash: 61AD86456EF6F3232393130F2EA8CA47 Accuracy: -m40
Conclusion: MPEG 80%
Signature: 15903ED84DE394E8CBA87F47C4608E232D1E3FE6