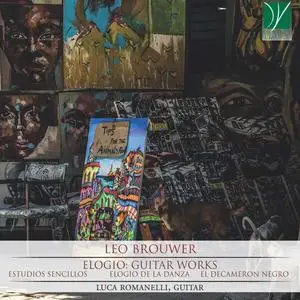 Luca Romanelli - Leo Brouwer - Elogio Guitar Works (Estudios Sencillos, Elogio de la Danza, El Decameron Negro) (2019)
FLAC (tracks), Lossless | 57:37 | 183 Mb
Genre: Classical / Label: Da Vinci Classics
All of the Estudios sencillos represent, in a few lines of music, the stylistic evolution of Leo Brouwer throughout his compositional itinerary. The first series of ten pieces, conceived as a pedagogical study of particular difficulties, was written in 1971 and still embodies the Cuban influences of the early Brouwer. Starting with the very first, which had been largely sketched in the early Sixties, and in which the study of syncopations against a bass is joined to a typical South-American rhythm, all of the Studies focus on the challenges which the students may face when confronting a style markedly different from that of the simple tunes or regular arpeggios found in the teaching methods hitherto used – and which dated back from the early nineteenth century; this does not apply, of course, to the concert etudes written for the professional performers.