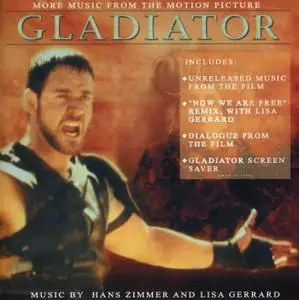 Hans Zimmer And Lisa Gerrard - Gladiator: More Music From The Motion Picture (2001)
EAC | FLAC (Tracks) + cue.+log ~ 301 Mb | Mp3, CBR320 kbps ~ 133 Mb | Scans included
Soundtrack, Score, World Fusion | Label: Universal | # 013-192-2 | 00:55:36
On February 27, 2001, nearly a year after the first soundtrack's release, Universal/Decca released Gladiator: More Music From the Motion Picture. This CD contained an additional 18 cuts from the film (including remixes of earlier scores, such as "Now We Are Free"). Many tracks also use dialogue from the movie, such as Maximus Decimus Meridius' quote "Father to a murdered son, husband to a murdered wife… and I will have my vengeance."
This second soundtrack compilation for Ridley Scott's sword and toga epic, Gladiator, hit stores nine months after the movie's initial release. It was timed to capitalize on the film's front-runner status in the 2000 Oscar horse race, but it would be shortsighted to dismiss the disc as a wholly mercenary attempt to milk the Gladiator cash cow. Perhaps such claims would be warranted if Gladiator: More Music From the Motion Picture were what its title implies: a collection of excerpts from the film's original soundtrack that were left off of the first album. The initial album, Gladiator: Music From the Motion Picture, remains more than adequate as a summary of a highly eclectic and effective score which is not only Hans Zimmer's finest composition (thanks in large part to contributions by former Dead Can Dance vocalist Lisa Gerrard) but also one of the most original facets of an otherwise overblown and overrated blockbuster action flick. Thankfully, the second Gladiator CD is not merely an accumulation of leftover scraps of music. Rather, it is a fascinating audio diary, an inside look at the process of composing a film score. Zimmer's liner notes provide detailed accounts of the stories behind each discarded outtake and incomplete draft. One track is a fabulous vodka-inspired late-night jam between Zimmer's synthesizers and strings, Djivan Gasparyan's duduk, and Heitor Periera's Spanish guitar. Another is a faster, African-influenced version of Gerrard's stirring end credit theme, "Now We Are Free," that was abandoned for being too cheerful. It is clear from listening to the CD that these recordings were not rejected because the music was of an inferior quality to the final versions. In fact, some of these pieces are more inventive and listenable than anything on the soundtrack. They were cut simply because they did not meet the requirements of the narrative. Gladiator: More Music From the Motion Picture demonstrates strikingly not only how creative but also how exacting, meticulous, practical, and utilitarian a film composer must be.



Evan Cater, All Music Guide
Gladiator just won a Golden Globe for Best Score, and recently got nominated for an Academy Award for the same category. While Hans Zimmer freely admits to being influenced by Wagner, his lack of a mention of Holst (and more specifically, "Mars: Bringer of War" from "The Planets") can be a bit frustrating at times. Enough so that I keep flipping back and forth whether or not it was Zimmer or collaborator Lisa Gerrard who wrote more "original score." In any case, in what might be an effort to capitalize off of the award season push, Decca Records is releasing a second album of music from the hit film.

It seems to be an interesting trend: a soundtrack is successful, so a few months later they release an album of "more music" from that film. Unfortunately, they always do the same thing: add new "remixes" of some of the more popular tracks, and have a few other tracks of score intermingled with dialogue. This album is no exception. It starts out with an ethnic-sounding track, "Duduk of the North." It's a nice ethereal cue didn't make it into the final film. The end title track from the first album ("Now We Are Free") is next, but with a twist. This is labeled as "Juna's Mix" (Juba is played by Djimon Hounsou in the film), and features more rhythms and even some African chanting backgrounds. Uh, okay.

Now we get two tracks ("The Protector of Rome," "Homecoming") that feature more enjoyable music—but this time they are slightly marred by the inclusion of dialogue. In some cases, mixing dialogue over music works, and in this case, it really doesn't work at all. In "Homecoming," the dialogue is used from the first confrontation between Commodus and Maximus in the colloseum ("My name is Gladiator…"). It's a powerful dramatic moment in the film, and Zimmer's score work well at underscoring the tension and power ("Father to a murdered son, husband to a murdered wife…"). Unfortunately, the music used here isn't from that scene—and the power of the words get lost in the low guitar work, which doesn't fit at all.

"The General Who Became A Slave," "Rome is the Light," and "Maximus" are noteworthy cues. The guitar work by Heitor Pereira in "Maximus" is emotional and moving. While seven of the 18 cues do feature dialogue, the remaining cues that don't aren't that bad. But they really don't add anything to the first album. (Unlike The Prince of Egypt, I didn't feel as though I were missing vital cues!) What it does do, though, is allow us a glimpse inside their working process. Many of the cues aren't in the final film, and some of them are raw takes. A very interesting track is "The Gladiator Waltz." Featuring a snipped of dialogue, but for the most part speech-free, this is Zimmer's original synth demo of the major fight sequence at the beginning of the film. It's interesting two-fold: for one, we can see how similar and different his mockup is from the final music, and secondly, we can see that Zimmer's synth mockups sound almost as good as the final product. (Guess that approach of sampling an entire orchestra really does pay off!)

The album ends with the "Maximus Mix" version of "Now We Are Free." Supposedly all the rage in dance clubs in Europe, it's certainly an upbeat way to end the album, but thoughts of Meco and his famous Star Wars quote come to mind: "Then I just got this idea that since everything then was disco, why not be able to dance to Star Wars?" Similarly, do we really need a dance-mix of a Gladiator music cue? Apparently enough people thought so, and the album ends on this note.

In total, there is really about 40-minutes of music from the film that haven't been released before. That's good, but most of those cues have some sort of dialogue. Not so good. Granted the dialogue doesn't run for very long; it's just ill-placed for the most part. The liner notes feature some very interesting comments by Hans Zimmer, and he even talks (briefly) about the Holst issue. If you have the first Gladiator album, you probably don't need to run out and get this one. But if you're a die-hard fan, and can overlook the dialogue, then I say go for it!



Dan Goldwasser, Soundtrack.Net
~
Hans Zimmer at Allmusic
~
Hans Zimmer Website
~
Hans Zimmer at Wiki
~
Film at IMDB
~
Film at Wiki
Tracklist:
01. Duduk Of The North (5:33)
02. Now We Are Free (Juba's Mix) (4:47)
03. The Protector Of Rome (feat. Russell Crowe and Richard Harris) (1:26)
04. Homecoming (feat. Joaquin Phoenix and Russell Crowe) (3:36)
05. The General Who Became A Slave (3:03)
06. The Slave Who Became a Gladiator (feat. Oliver Reed and Russell Crowe) (6:12)
07. Secrets (1:59)
08. Rome Is The Light (2:44)
09. All That Remains (0:55)
10. Maximus (1:09)
11. Marrakesh Marketplace (0:42)
12. The Gladiator Waltz (feat. Russell Crowe) (8:25)
13. Figurines (1:02)
14. The Mob (2:23)
15. Busy Little Bee (feat. Connie Nielsen and Russell Crowe) (3:48)
16. Death Smiles At Us All (feat. Russell Crowe and Joaquin Phoenix) (2:29)
17. Not Yet (1:33)
18. Now We Are Free (Maximus Mix) (3:50)
Exact Audio Copy V1.0 beta 3 from 29. August 2011

Отчёт EAC об извлечении, выполненном 6. ноября 2018, 19:43

Hans Zimmer & Lisa Gerrard / Gladiator (More Music From The Motion Picture)

Дисковод: ASUS DRW-1814BLT Adapter: 5 ID: 0

Режим чтения : Достоверность
Использование точного потока : Да
Отключение кэша аудио : Да
Использование указателей C2 : Нет

Коррекция смещения при чтении : 6
Способность читать области Lead-in и Lead-out : Нет
Заполнение пропущенных сэмплов тишиной : Да
Удаление блоков с тишиной в начале и конце : Нет
При вычислениях CRC использовались нулевые сэмплы : Да
Интерфейс : Встроенный Win32-интерфейс для Win NT/2000
Обработка зазоров : Добавлено к предыдущему треку

Выходной формат : Пользовательский кодировщик
Выбранный битрейт : 128 kBit/s
Качество : Высокий
Добавление ID3-тега : Нет
Утилита сжатия : C:\Program Files\Exact Audio Copy\Flac\flac.exe
Дополнительные параметры : -V -8 -T "Genre=%genre%" -T "Artist=%artist%" -T "Title=%title%" -T "Album=%albumtitle%" -T "Date=%year%" -T "Tracknumber=%tracknr%" -T "Comment=EAC1.0b2 FLAC -8" %source%


TOC извлечённого CD

Трек | Старт | Длительность | Начальный сектор | Конечный сектор
––––––––––––––––––––––––––––––––––-
1 | 0:00.00 | 5:33.25 | 0 | 24999
2 | 5:33.25 | 4:47.37 | 25000 | 46561
3 | 10:20.62 | 1:25.45 | 46562 | 52981
4 | 11:46.32 | 3:35.73 | 52982 | 69179
5 | 15:22.30 | 3:03.22 | 69180 | 82926
6 | 18:25.52 | 6:11.53 | 82927 | 110804
7 | 24:37.30 | 1:59.22 | 110805 | 119751
8 | 26:36.52 | 2:43.53 | 119752 | 132029
9 | 29:20.30 | 0:54.62 | 132030 | 136141
10 | 30:15.17 | 1:09.00 | 136142 | 141316
11 | 31:24.17 | 0:42.15 | 141317 | 144481
12 | 32:06.32 | 8:25.15 | 144482 | 182371
13 | 40:31.47 | 1:01.60 | 182372 | 187006
14 | 41:33.32 | 2:22.58 | 187007 | 197714
15 | 43:56.15 | 3:47.60 | 197715 | 214799
16 | 47:44.00 | 2:29.37 | 214800 | 226011
17 | 50:13.37 | 1:32.68 | 226012 | 232979
18 | 51:46.30 | 3:49.42 | 232980 | 250196


Трек 1

Имя файла R:\Раздача 80\Hans Zimmer And Lisa Gerrard - Gladiator. More Music From The Motion Picture (2000)\01 Duduk Of The North .wav

Длина предзазора 0:00:02.00

Пиковый уровень 96.1 %
Скорость извлечения 4.5 X
Качество трека 99.9 %
CRC теста 64B934C8
CRC копии 64B934C8
Точное извлечение (достоверность 3) [C9F20C14] (AR v1)
Копирование… OK

Трек 2

Имя файла R:\Раздача 80\Hans Zimmer And Lisa Gerrard - Gladiator. More Music From The Motion Picture (2000)\02 Now We Are Free (Juba's Mix) .wav

Пиковый уровень 95.9 %
Скорость извлечения 4.9 X
Качество трека 99.9 %
CRC теста 5F44A182
CRC копии 5F44A182
Точное извлечение (достоверность 2) [BC306797] (AR v1)
Копирование… OK

Трек 3

Имя файла R:\Раздача 80\Hans Zimmer And Lisa Gerrard - Gladiator. More Music From The Motion Picture (2000)\03 The Protector Of Rome (feat. Russell Crowe and Richard Harris) .wav

Пиковый уровень 74.3 %
Скорость извлечения 5.3 X
Качество трека 100.0 %
CRC теста 6B2C5A58
CRC копии 6B2C5A58
Точное извлечение (достоверность 2) [F5F53621] (AR v1)
Копирование… OK

Трек 4

Имя файла R:\Раздача 80\Hans Zimmer And Lisa Gerrard - Gladiator. More Music From The Motion Picture (2000)\04 Homecoming (feat. Joaquin Phoenix and Russell Crowe) .wav

Пиковый уровень 97.1 %
Скорость извлечения 6.8 X
Качество трека 100.0 %
CRC теста 54BBB72E
CRC копии 54BBB72E
Точное извлечение (достоверность 2) [8300B900] (AR v1)
Копирование… OK

Трек 5

Имя файла R:\Раздача 80\Hans Zimmer And Lisa Gerrard - Gladiator. More Music From The Motion Picture (2000)\05 The General Who Became A Slave .wav

Пиковый уровень 95.5 %
Скорость извлечения 6.9 X
Качество трека 100.0 %
CRC теста BF81A885
CRC копии BF81A885
Точное извлечение (достоверность 2) [AE419BD6] (AR v1)
Копирование… OK

Трек 6

Имя файла R:\Раздача 80\Hans Zimmer And Lisa Gerrard - Gladiator. More Music From The Motion Picture (2000)\06 The Slave Who Became a Gladiator (feat. Oliver Reed and Russell Crowe) .wav

Пиковый уровень 97.1 %
Скорость извлечения 8.1 X
Качество трека 100.0 %
CRC теста 18415388
CRC копии 18415388
Точное извлечение (достоверность 2) [A623654B] (AR v1)
Копирование… OK

Трек 7

Имя файла R:\Раздача 80\Hans Zimmer And Lisa Gerrard - Gladiator. More Music From The Motion Picture (2000)\07 Secrets .wav

Пиковый уровень 70.1 %
Скорость извлечения 7.1 X
Качество трека 100.0 %
CRC теста 1CBBA07E
CRC копии 1CBBA07E
Точное извлечение (достоверность 2) [D33BB7EA] (AR v1)
Копирование… OK

Трек 8

Имя файла R:\Раздача 80\Hans Zimmer And Lisa Gerrard - Gladiator. More Music From The Motion Picture (2000)\08 Rome Is The Light .wav

Пиковый уровень 95.9 %
Скорость извлечения 7.7 X
Качество трека 100.0 %
CRC теста 6E7EC983
CRC копии 6E7EC983
Точное извлечение (достоверность 2) [6E1312B4] (AR v1)
Копирование… OK

Трек 9

Имя файла R:\Раздача 80\Hans Zimmer And Lisa Gerrard - Gladiator. More Music From The Motion Picture (2000)\09 All That Remains .wav

Пиковый уровень 52.7 %
Скорость извлечения 5.7 X
Качество трека 100.0 %
CRC теста 56F3CAC5
CRC копии 56F3CAC5
Точное извлечение (достоверность 2) [5E7A1179] (AR v1)
Копирование… OK

Трек 10

Имя файла R:\Раздача 80\Hans Zimmer And Lisa Gerrard - Gladiator. More Music From The Motion Picture (2000)\10 Maximus .wav

Пиковый уровень 40.0 %
Скорость извлечения 6.2 X
Качество трека 100.0 %
CRC теста 86B6EC8F
CRC копии 86B6EC8F
Точное извлечение (достоверность 2) [88B2ABB6] (AR v1)
Копирование… OK

Трек 11

Имя файла R:\Раздача 80\Hans Zimmer And Lisa Gerrard - Gladiator. More Music From The Motion Picture (2000)\11 Marrakesh Marketplace .wav

Пиковый уровень 95.7 %
Скорость извлечения 5.2 X
Качество трека 100.0 %
CRC теста CE8F997E
CRC копии CE8F997E
Точное извлечение (достоверность 2) [84BFCE42] (AR v1)
Копирование… OK

Трек 12

Имя файла R:\Раздача 80\Hans Zimmer And Lisa Gerrard - Gladiator. More Music From The Motion Picture (2000)\12 The Gladiator Waltz (feat. Russell Crowe) .wav

Пиковый уровень 97.4 %
Скорость извлечения 9.6 X
Качество трека 100.0 %
CRC теста F3984EF8
CRC копии F3984EF8
Точное извлечение (достоверность 2) [7A882D01] (AR v1)
Копирование… OK

Трек 13

Имя файла R:\Раздача 80\Hans Zimmer And Lisa Gerrard - Gladiator. More Music From The Motion Picture (2000)\13 Figurines .wav

Пиковый уровень 42.6 %
Скорость извлечения 6.5 X
Качество трека 100.0 %
CRC теста 3B132BA4
CRC копии 3B132BA4
Точное извлечение (достоверность 2) [EC1ED881] (AR v1)
Копирование… OK

Трек 14

Имя файла R:\Раздача 80\Hans Zimmer And Lisa Gerrard - Gladiator. More Music From The Motion Picture (2000)\14 The Mob .wav

Пиковый уровень 96.6 %
Скорость извлечения 5.9 X
Качество трека 99.9 %
CRC теста 226A142A
CRC копии 226A142A
Точное извлечение (достоверность 2) [8B8BB4E0] (AR v1)
Копирование… OK

Трек 15

Имя файла R:\Раздача 80\Hans Zimmer And Lisa Gerrard - Gladiator. More Music From The Motion Picture (2000)\15 Busy Little Bee (feat. Connie Nielsen and Russell Crowe) .wav

Пиковый уровень 96.0 %
Скорость извлечения 9.5 X
Качество трека 100.0 %
CRC теста A7EEB19A
CRC копии A7EEB19A
Точное извлечение (достоверность 2) [5270AFA6] (AR v1)
Копирование… OK

Трек 16

Имя файла R:\Раздача 80\Hans Zimmer And Lisa Gerrard - Gladiator. More Music From The Motion Picture (2000)\16 Death Smiles At Us All (feat. Russell Crowe and Joaquin Phoenix) .wav

Пиковый уровень 96.2 %
Скорость извлечения 8.9 X
Качество трека 100.0 %
CRC теста 2A5068AB
CRC копии 2A5068AB
Точное извлечение (достоверность 2) [A850A0DF] (AR v1)
Копирование… OK

Трек 17

Имя файла R:\Раздача 80\Hans Zimmer And Lisa Gerrard - Gladiator. More Music From The Motion Picture (2000)\17 Not Yet .wav

Пиковый уровень 25.4 %
Скорость извлечения 8.0 X
Качество трека 100.0 %
CRC теста E7236E8C
CRC копии E7236E8C
Точное извлечение (достоверность 2) [F9B34F5A] (AR v1)
Копирование… OK

Трек 18

Имя файла R:\Раздача 80\Hans Zimmer And Lisa Gerrard - Gladiator. More Music From The Motion Picture (2000)\18 Now We Are Free (Maximus Mix) .wav

Пиковый уровень 95.0 %
Скорость извлечения 10.0 X
Качество трека 100.0 %
CRC теста 8AF7F6A3
CRC копии 8AF7F6A3
Точное извлечение (достоверность 2) [912BA262] (AR v1)
Копирование… OK


Все треки извлечены точно

Ошибок не произошло

Конец отчёта

==== Контрольная сумма отчёта 4AF69DC238CB875F870A5BEFE1C2035F7A7753DE02EC34A4EFF65AC0CED50A45 ====
[CUETools log; Date: 11.11.2018 4:09:44; Version: 2.1.4]
[CTDB TOCID: tSdL_VPZXT82ETXUAAC66eOHJjc-] found.
Track | CTDB Status
1 | (419/425) Accurately ripped
2 | (420/425) Accurately ripped
3 | (422/425) Accurately ripped
4 | (420/425) Accurately ripped
5 | (421/425) Accurately ripped
6 | (420/425) Accurately ripped
7 | (421/425) Accurately ripped
8 | (420/425) Accurately ripped
9 | (422/425) Accurately ripped
10 | (421/425) Accurately ripped
11 | (421/425) Accurately ripped
12 | (419/425) Accurately ripped
13 | (423/425) Accurately ripped
14 | (419/425) Accurately ripped
15 | (421/425) Accurately ripped
16 | (420/425) Accurately ripped
17 | (420/425) Accurately ripped
18 | (421/425) Accurately ripped
[AccurateRip ID: 0026f1c6-01f78167-150d0712] found.
Track [ CRC | V2 ] Status
01 [c9f20c14|3ea44d7a] (03+00/21) Accurately ripped
02 [bc306797|b9cfff66] (02+00/21) Accurately ripped
03 [f5f53621|06640103] (02+00/21) Accurately ripped
04 [8300b900|5b73ffac] (02+00/21) Accurately ripped
05 [ae419bd6|8fbaedf8] (02+00/21) Accurately ripped
06 [a623654b|e1569391] (02+00/21) Accurately ripped
07 [d33bb7ea|a6033edd] (02+00/21) Accurately ripped
08 [6e1312b4|da0ee109] (02+00/21) Accurately ripped
09 [5e7a1179|398b9ddc] (02+00/21) Accurately ripped
10 [88b2abb6|cf25d534] (02+00/21) Accurately ripped
11 [84bfce42|a1128921] (02+00/21) Accurately ripped
12 [7a882d01|aed0d256] (02+00/21) Accurately ripped
13 [ec1ed881|12b2e01e] (02+00/21) Accurately ripped
14 [8b8bb4e0|d40193d3] (02+00/21) Accurately ripped
15 [5270afa6|bf9e2002] (02+00/21) Accurately ripped
16 [a850a0df|ecd50d36] (02+00/21) Accurately ripped
17 [f9b34f5a|7a2569cd] (02+00/21) Accurately ripped
18 [912ba262|479c4adf] (02+00/21) Accurately ripped
Offsetted by 147:
01 [9dc08a37] (03/21) Accurately ripped
02 [2605af5e] (04/21) Accurately ripped
03 [1466b827] (04/21) Accurately ripped
04 [c6e4900d] (04/21) Accurately ripped
05 [d4f36688] (04/21) Accurately ripped
06 [33271f04] (04/21) Accurately ripped
07 [4dd40242] (04/21) Accurately ripped
08 [07d5ef7e] (04/21) Accurately ripped
09 [d45b176b] (04/21) Accurately ripped
10 [40049b3e] (04/21) Accurately ripped
11 [cdbdd5fb] (04/21) Accurately ripped
12 [9b50e5a8] (04/21) Accurately ripped
13 [909957fe] (04/21) Accurately ripped
14 [9645f047] (04/21) Accurately ripped
15 [ec1356ce] (04/21) Accurately ripped
16 [b0325776] (04/21) Accurately ripped
17 [5413e7a3] (04/21) Accurately ripped
18 [864c8f94] (04/21) Accurately ripped
Offsetted by -517:
01 [3a497f77] (00/21) No match (V2 was not tested)
02 [2fcde364] (00/21) No match (V2 was not tested)
03 [3ccadc06] (00/21) No match (V2 was not tested)
04 [4be83bf1] (00/21) No match (V2 was not tested)
05 [c2ef9343] (00/21) No match (V2 was not tested)
06 [224edc02] (00/21) No match (V2 was not tested)
07 [ef20f39c] (00/21) No match (V2 was not tested)
08 [18406d5e] (00/21) No match (V2 was not tested)
09 [5e6e4239] (00/21) No match (V2 was not tested)
10 [273a7bb9] (00/21) No match (V2 was not tested)
11 [e2814a9e] (00/21) No match (V2 was not tested)
12 [d66d169f] (00/21) No match (V2 was not tested)
13 [8b240a0b] (00/21) No match (V2 was not tested)
14 [f727a755] (00/21) No match (V2 was not tested)
15 [8b2390a6] (00/21) No match (V2 was not tested)
16 [92e0e6c4] (00/21) No match (V2 was not tested)
17 [7d3e816f] (00/21) No match (V2 was not tested)
18 [246b7e92] (00/21) No match (V2 was not tested)
Offsetted by 811:
01 [d97a4444] (00/21) No match (V2 was not tested)
02 [26e39475] (00/21) No match (V2 was not tested)
03 [15e209ea] (00/21) No match (V2 was not tested)
04 [6f9c9801] (00/21) No match (V2 was not tested)
05 [dfc07383] (00/21) No match (V2 was not tested)
06 [74931b7a] (00/21) No match (V2 was not tested)
07 [13a6aed6] (00/21) No match (V2 was not tested)
08 [2d7324b4] (00/21) No match (V2 was not tested)
09 [c68cac21] (00/21) No match (V2 was not tested)
10 [49346900] (00/21) No match (V2 was not tested)
11 [a69f4158] (00/21) No match (V2 was not tested)
12 [1e5ab59b] (00/21) No match (V2 was not tested)
13 [a7a187c6] (00/21) No match (V2 was not tested)
14 [35ec5052] (00/21) No match (V2 was not tested)
15 [e132d1b2] (00/21) No match (V2 was not tested)
16 [9c86911d] (00/21) No match (V2 was not tested)
17 [24faecb2] (00/21) No match (V2 was not tested)
18 [a3ee0db8] (00/21) No match (V2 was not tested)
Offsetted by 1460:
01 [677302a1] (03/21) Accurately ripped
02 [f66ea775] (03/21) Accurately ripped
03 [b84f9d33] (03/21) Accurately ripped
04 [dda19836] (03/21) Accurately ripped
05 [35fe14ca] (03/21) Accurately ripped
06 [8c825ce2] (03/21) Accurately ripped
07 [3525240d] (03/21) Accurately ripped
08 [6c94deb0] (03/21) Accurately ripped
09 [6a0da844] (03/21) Accurately ripped
10 [a3e885a9] (03/21) Accurately ripped
11 [183cc58a] (03/21) Accurately ripped
12 [038403c3] (03/21) Accurately ripped
13 [c38d8331] (03/21) Accurately ripped
14 [aa6528f8] (03/21) Accurately ripped
15 [dd1a2b52] (03/21) Accurately ripped
16 [d63dd22b] (03/21) Accurately ripped
17 [6977cea1] (03/21) Accurately ripped
18 [bf380e73] (00/21) No match (V2 was not tested)

Track Peak [ CRC32 ] [W/O NULL] [ LOG ]
– 97,4 [3781E4AD] [F653FDD7]
01 96,1 [64B934C8] [465125A0] CRC32
02 95,9 [5F44A182] [54543CD7] CRC32
03 74,3 [6B2C5A58] [161F9F5C] CRC32
04 97,1 [54BBB72E] [D0CAE8AB] CRC32
05 95,5 [BF81A885] [83A2937C] CRC32
06 97,1 [18415388] [14635056] CRC32
07 70,1 [1CBBA07E] [F48441BB] CRC32
08 95,9 [6E7EC983] [82E595B6] CRC32
09 52,7 [56F3CAC5] [A7FC2C8F] CRC32
10 40,0 [86B6EC8F] [DAB64A7D] CRC32
11 95,7 [CE8F997E] [C6E674F7] CRC32
12 97,4 [F3984EF8] [D0CF2281] CRC32
13 42,6 [3B132BA4] [ED2A6B60] CRC32
14 96,6 [226A142A] [991B1439] CRC32
15 96,0 [A7EEB19A] [FA1CD50B] CRC32
16 96,2 [2A5068AB] [45C4D1E1] CRC32
17 25,4 [E7236E8C] [5DE6DF01] CRC32
18 95,0 [8AF7F6A3] [2962B892] CRC32
foobar2000 1.2 / Dynamic Range Meter 1.1.1
log date: 2018-11-12 00:44:47

––––––––––––––––––––––––––––––––––––––––
Analyzed: Hans Zimmer & Lisa Gerrard / Gladiator (More Music From The Motion Picture)
––––––––––––––––––––––––––––––––––––––––

DR Peak RMS Duration Track
––––––––––––––––––––––––––––––––––––––––
DR10 -0.34 dB -16.17 dB 5:33 01-Duduk Of The North
DR10 -0.36 dB -14.15 dB 4:47 02-Now We Are Free (Juba's Mix)
DR11 -2.58 dB -18.82 dB 1:26 03-The Protector Of Rome (feat. Russell Crowe and Richard Harris)
DR10 -0.25 dB -15.22 dB 3:36 04-Homecoming (feat. Joaquin Phoenix and Russell Crowe)
DR12 -0.39 dB -18.26 dB 3:03 05-The General Who Became A Slave
DR8 -0.26 dB -12.48 dB 6:12 06-The Slave Who Became a Gladiator (feat. Oliver Reed and Russell Crowe)
DR12 -3.08 dB -22.45 dB 1:59 07-Secrets
DR10 -0.36 dB -13.83 dB 2:44 08-Rome Is The Light
DR9 -5.56 dB -21.11 dB 0:55 09-All That Remains
DR11 -7.95 dB -26.50 dB 1:09 10-Maximus
DR12 -0.38 dB -14.75 dB 0:42 11-Marrakesh Marketplace
DR9 -0.22 dB -13.11 dB 8:25 12-The Gladiator Waltz (feat. Russell Crowe)
DR12 -7.40 dB -25.09 dB 1:02 13-Figurines
DR10 -0.30 dB -13.82 dB 2:23 14-The Mob
DR12 -0.35 dB -20.03 dB 3:48 15-Busy Little Bee (feat. Connie Nielsen and Russell Crowe)
DR11 -0.33 dB -16.80 dB 2:29 16-Death Smiles At Us All (feat. Russell Crowe and Joaquin Phoenix)
DR10 -11.88 dB -25.94 dB 1:33 17-Not Yet
DR9 -0.45 dB -11.32 dB 3:50 18-Now We Are Free (Maximus Mix)
––––––––––––––––––––––––––––––––––––––––

Number of tracks: 18
Official DR value: DR10

Samplerate: 44100 Hz
Channels: 2
Bits per sample: 16
Bitrate: 954 kbps
Codec: FLAC
================================================================================