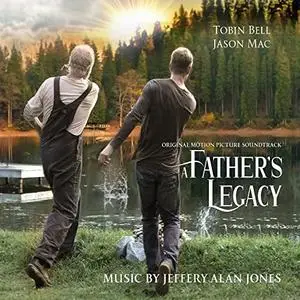 Jeffery Alan Jones - A Father's Legacy Soundtrack (2021)
FLAC tracks / MP3 320 kbps | 53:40 | 239 / 131 Mb
Genre: Soundtrack / Label: Plaza Mayor Company, Ltd.
Jeffrey Alan Jones
is a multi-talented media producer and communications professional with experience creating compelling communications content and project/campaign management. He is always looking for a better way to tell the story.
Jeff has worked in theatre, radio, music, film, education, and non-profit organizations. He holds a MFA in Sound Design from Boston University and designed for theaters across the US. He attended the Salt Institute of Documentary Studies in Portland Maine for documentary radio production and has created work for National Public Radio, Public Radio International, World Radio Switzerland, the Canadian Broadcasting Corporation, among others. He has worked as audio, camera, editor, and producer on multiple short films and documentaries including directing, editing and producing the documentary feature For the Love of Meat . As a teacher, Jeff has taught audio, radio production, stage management, and music theory in schools including Southwestern University, Boston University, and Borough of Manhattan Community College. Today Jeff works primarily in advocacy communications and media production for non-profits such as the Texas Association of Community Health Centers, the Fortune Society, and the Community Service Society of New York.
Track List:
01. Jeffery Alan Jones - Are You Alone? (02:55)
02. Jeffery Alan Jones - Have A Good One (02:08)
03. Jeffery Alan Jones - I'll Find Home (03:20)
04. Jeffery Alan Jones - Put It Down! (01:26)
05. Jeffery Alan Jones - Who Is He? (01:47)
06. Jeffery Alan Jones - A Painful Past (04:14)
07. Jeffery Alan Jones - The Pond (05:22)
08. Jeffery Alan Jones - What's For Breakfast? (00:54)
09. Jeffery Alan Jones - Gone Fishing (01:10)
10. Jeffery Alan Jones - Trouble (01:11)
11. Jeffery Alan Jones - I'm Watching (04:48)
12. Jeffery Alan Jones - I Miss You (01:55)
13. Jeffery Alan Jones - Trees (03:03)
14. Jeffery Alan Jones - The Porch (02:12)
15. Jeffery Alan Jones - Faith (00:54)
16. Jeffery Alan Jones - Simple Self Defense (04:08)
17. Jeffery Alan Jones - Answer For Your Past (01:33)
18. Jeffery Alan Jones - Life's Too Short (00:33)
19. Jeffery Alan Jones - A Father's Legacy (02:23)
20. Jeffery Alan Jones - Old Man And The Pond (05:36)
21. Jeffery Alan Jones - The Son I Never Knew (01:58)
ANALYZER: auCDtect: CD records authenticity detector, version 0.8.2
Copyright © 2004 Oleg Berngardt. All rights reserved.
Copyright © 2004 Alexander Djourik. All rights reserved.


FILE: 01 - Are You Alone.flac
Size: 14009786 Hash: F8C6213F48EAE43BE711FB380FAEF731 Accuracy: -m40
Conclusion: CDDA 100%
Signature: 047D8EFE5405CF6A0E1CE2F514105BD24B57DE94
FILE: 02 - Have A Good One.flac
Size: 10420209 Hash: 11E6E2C1BDC82982A4A996B9C4FC8B33 Accuracy: -m40
Conclusion: CDDA 100%
Signature: 3FF2417906A2FAC05EF8B4388A4103015A6A7508
FILE: 03 - I'll Find Home.flac
Size: 15995609 Hash: 5145C9AB266338DE3B692A8945ACBDCB Accuracy: -m40
Conclusion: CDDA 100%
Signature: DC4A21BEDC78E3D70B642386402DEF7975A67AD0
FILE: 04 - Put It Down!.flac
Size: 6879501 Hash: E673CCE0C402ABDAE6914E67111FCEB9 Accuracy: -m40
Conclusion: CDDA 100%
Signature: E41EB02833D42EE48FE583D4AAA0C4245BD80988
FILE: 05 - Who Is He.flac
Size: 8168832 Hash: F31E47E97E187A77B4F57D0276ACB576 Accuracy: -m40
Conclusion: CDDA 100%
Signature: BD044AB1C82682587C48DFB2D1ACB8A2B53D02A7
FILE: 06 - A Painful Past.flac
Size: 19071450 Hash: DCAFDCA2147EA3177EC253315EC8348C Accuracy: -m40
Conclusion: CDDA 100%
Signature: 27C192C0F32663EAED66E4342D5C502FD1EC4342
FILE: 07 - The Pond.flac
Size: 25837117 Hash: 70442DF112022A57FA0AC013E6B2A0F3 Accuracy: -m40
Conclusion: CDDA 100%
Signature: 6A62C12055C2D95ABDBCAA1194978E31A906B6F1
FILE: 08 - What's For Breakfast.flac
Size: 3491676 Hash: 34C052EF97E2063CB0DC12BF27DD5E48 Accuracy: -m40
Conclusion: CDDA 100%
Signature: 7E08E680C32A8ACAC2EDBE762EBACC51EA39861D
FILE: 09 - Gone Fishing.flac
Size: 4291150 Hash: 8E80A737A589304CC8F6BBFF9A59E039 Accuracy: -m40
Conclusion: CDDA 100%
Signature: FBF6542880A24915488C6918B2F89AE408B4EFE7
FILE: 10 - Trouble.flac
Size: 6553654 Hash: 9B706943DC3DF0E382F123204C536049 Accuracy: -m40
Conclusion: CDDA 100%
Signature: ED52565FDE2CF80D2A8B2B30C049A5242AAE36C8
FILE: 11 - I'm Watching.flac
Size: 20742675 Hash: C5D102C1AD6575100253F75E248323D9 Accuracy: -m40
Conclusion: CDDA 100%
Signature: 848A5C8A3A31D88465C6E501AD7D0A1E1DA175C6
FILE: 12 - I Miss You.flac
Size: 8171528 Hash: B4AC2AE6F7F928D42CAB347149A15F01 Accuracy: -m40
Conclusion: CDDA 100%
Signature: 39E2D29480A4BA4A90D623DB5267178E9429ECF8
FILE: 13 - Trees.flac
Size: 13513029 Hash: 5CCDBF6E5AC4FC1395A403E0D6D48AF7 Accuracy: -m40
Conclusion: CDDA 100%
Signature: 636AE29353A53FC145FA1C3971185519A1CA8F81
FILE: 14 - The Porch.flac
Size: 11346454 Hash: 349CD08C91F93D466DD8B7CBB3D1D3BA Accuracy: -m40
Conclusion: CDDA 99%
Signature: 51BC62F7E12393F7FB4FC45CA7B8D0B1AEA5597B
FILE: 15 - Faith.flac
Size: 4394433 Hash: B140CEF6BAF3B06F8B0098E618EC3E80 Accuracy: -m40
Conclusion: CDDA 99%
Signature: BD28F28B8DD1706C87407CDCA38202284439CF9D
FILE: 16 - Simple Self Defense.flac
Size: 20591408 Hash: 421E59DAB4DD09A6AB536A9867544CFA Accuracy: -m40
Conclusion: CDDA 100%
Signature: 67FE369520A2F2E1CD18F7B4D2B7309B081E453F
FILE: 17 - Answer For Your Past.flac
Size: 6361918 Hash: 1268BEC757EF479DB4BFD2A42AE0B53F Accuracy: -m40
Conclusion: CDDA 100%
Signature: 3BD8C1B0B73BF161912109A2A6519898C8E0E58B
FILE: 18 - Life's Too Short.flac
Size: 3004355 Hash: 970888A6BC471984E85B5B027ABAF287 Accuracy: -m40
Conclusion: CDDA 100%
Signature: 97F703865900DCE536E91E06213881A24B43C4A3
FILE: 19 - A Father's Legacy.flac
Size: 11129691 Hash: 17F2597545E933C18295169E6213B209 Accuracy: -m40
Conclusion: CDDA 100%
Signature: 74692591C7EEE896724EC8A973C3498755320E2D
FILE: 20 - Old Man And The Pond.flac
Size: 28208042 Hash: 9D980AE99EC29AFA81530A063931F628 Accuracy: -m40
Conclusion: CDDA 99%
Signature: D2BE10250BD30FBAC1FBDD288D0DC6510C1E1FDA
FILE: 21 - The Son I Never Knew.flac
Size: 9304087 Hash: 0349E6FCB923F2E97452C69E1D56F1AA Accuracy: -m40
Conclusion: CDDA 99%
Signature: 8F15B0764F987D6BDD0FD16147F9B950A768D42A