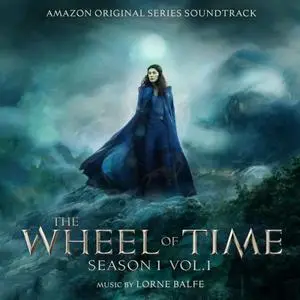 Lorne Balfe - The Wheel of Time: Season 1, Vol. 1 (Amazon Original Series Soundtrack) (2021)
FLAC tracks | 46:44 | 272 Mb
Genre: Soundtrack Folk / Label: Milan
GRAMMY-winning, and EMMY & BAFTA-nominated composer Lorne Balfe has created music in virtually all genres and for all visual media with projects ranging from major studio to independent films, tent pole video game franchises, beloved animated feature films, critically acclaimed television series, and documentary features.The Wheel of Time is an upcoming American epic fantasy television series set to premiere on Amazon Prime Video. The series is based on Robert Jordan's novel series of the same name and is produced by Sony Pictures Television and Amazon Studios, with Rafe Judkins serving as showrunner.
Track List:
1.01 - Lorne Balfe - The Wheel of Time (1:35)
1.02 - Lorne Balfe - The Hunt (3:29)
1.03 - Lorne Balfe - Trust the River (2:42)
1.04 - Lorne Balfe - Innocence (2:11)
1.05 - Lorne Balfe - Lanterns (3:03)
1.06 - Lorne Balfe - Trollocs Attack (2:56)
1.07 - Lorne Balfe - The Battle at Bel Tine (4:12)
1.08 - Lorne Balfe - The Aftermath (3:28)
1.09 - Lorne Balfe - Leaving Home (2:59)
1.10 - Lorne Balfe - Pyre for Light (2:54)
1.11 - Lorne Balfe - Closer to You (2:15)
1.12 - Lorne Balfe - Shadar Lagoth (3:43)
1.13 - Lorne Balfe - The Wisdom (2:46)
1.14 - Lorne Balfe - Traversing Planes (2:08)
1.15 - Lorne Balfe - Healing (3:02)
1.16 - Lorne Balfe - The Choices We're Given (3:21)
ANALYZER: auCDtect: CD records authenticity detector, version 0.8.2
Copyright © 2004 Oleg Berngardt. All rights reserved.
Copyright © 2004 Alexander Djourik. All rights reserved.


FILE: 01. Lorne Balfe - The Wheel of Time.flac
Size: 9288628 Hash: 761E49C54C02FCAD288F0A24B2BE1528 Accuracy: -m40
Conclusion: CDDA 100%
Signature: A8D4E1E8111084688B69EED6D718A69DC76E4845
FILE: 02. Lorne Balfe - The Hunt.flac
Size: 21323671 Hash: 9EACE0DE5970892AAADFE534521C7C09 Accuracy: -m40
Conclusion: CDDA 100%
Signature: EE4176445D44C0AD1A80F25E22869F7F43505062
FILE: 03. Lorne Balfe - Trust the River.flac
Size: 16556377 Hash: 8D7E1A1E922DE067A92FF9C39F77AC9A Accuracy: -m40
Conclusion: CDDA 100%
Signature: 8895F96C0A6A045C9962021B636AD3E8599281C5
FILE: 04. Lorne Balfe - Innocence.flac
Size: 11942387 Hash: 63B52FF941863067EDB20BFCB9A16ED4 Accuracy: -m40
Conclusion: CDDA 100%
Signature: 3BB4BE684EE99DB9B6F1E589C7DA20636C07734D
FILE: 05. Lorne Balfe - Lanterns.flac
Size: 16919405 Hash: 2B8738B63F715A8F45B051CE84E2F252 Accuracy: -m40
Conclusion: CDDA 100%
Signature: B26174940B953DA581F7FF412BAE1BDA5A678549
FILE: 06. Lorne Balfe - Trollocs Attack.flac
Size: 20776530 Hash: D7B37B3DB9DDAA8385C41245FB03EDA9 Accuracy: -m40
Conclusion: CDDA 85%
Signature: 26D7356AAA7DFC42CF88501678B3B3E832F3BB71
FILE: 07. Lorne Balfe - The Battle at Bel Tine.flac
Size: 29924097 Hash: 12F8A640D5875DC0259768A92C26A773 Accuracy: -m40
Conclusion: CDDA 100%
Signature: 7740DF2192C681742709432BDA1CB02603F41829
FILE: 08. Lorne Balfe - The Aftermath.flac
Size: 21170755 Hash: 8A99C4EF3D6B5545EB150B9E98734CC1 Accuracy: -m40
Conclusion: CDDA 100%
Signature: 6DDBD65EE94AFA7BEF3CCA3322CDCD128467D3D1
FILE: 09. Lorne Balfe - Leaving Home.flac
Size: 18368806 Hash: E9765CCFD30E8D5A4B864C8A7D5B5EEC Accuracy: -m40
Conclusion: CDDA 100%
Signature: 09E2017EC4C4EDC0B56ED79484059E7F321D8A05
FILE: 10. Lorne Balfe - Pyre for Light.flac
Size: 16118737 Hash: 6E78FE9448742BD12ECDCB8AE202781E Accuracy: -m40
Conclusion: CDDA 100%
Signature: 43D932E97041DC4C6D433B12CEC7D229304084CA
FILE: 11. Lorne Balfe - Closer to You.flac
Size: 12694990 Hash: A946A3337F5E29C1A8789A443382831F Accuracy: -m40
Conclusion: CDDA 100%
Signature: EB5FABF3EABE466299EC8205AD0B894FDABD1BDD
FILE: 12. Lorne Balfe - Shadar Lagoth.flac
Size: 24550033 Hash: 430A911EE0569A276637219D9E507A09 Accuracy: -m40
Conclusion: CDDA 100%
Signature: 5FB87B6D09F715E4C801945B8A79C4A09EE61BDD
FILE: 13. Lorne Balfe - The Wisdom.flac
Size: 17502130 Hash: 788CE49084F20DE1832DBA3A6BBDAA3E Accuracy: -m40
Conclusion: CDDA 100%
Signature: B9E7CB1FE0E5F95AE4998E1150C6E50A95FE7AC5
FILE: 14. Lorne Balfe - Traversing Planes.flac
Size: 11685682 Hash: 5701E21355E6095A372DB8B6856E0681 Accuracy: -m40
Conclusion: CDDA 99%
Signature: A2D40A49B07CD49578CE68472CFC1F5C0E0560B2
FILE: 15. Lorne Balfe - Healing.flac
Size: 17935598 Hash: 6C4CA350EFC988F71911D75D70C14256 Accuracy: -m40
Conclusion: CDDA 99%
Signature: 0370304416F4499023FCB8EA50DB952316C8F912
FILE: 16. Lorne Balfe - The Choices We're Given.flac
Size: 19623895 Hash: F9F038B1BB84FAA577FB071161EC9ADE Accuracy: -m40
Conclusion: CDDA 100%
Signature: 2E00820BFED6CA34552FFBB50F24B1F65580AB01