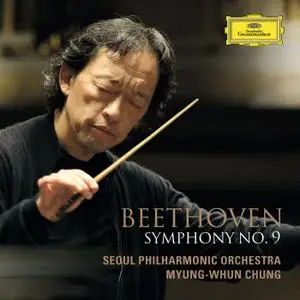 Seoul Philharmonic Orchestra, Myung-Whun Chung - Beethoven Symphony No. 9 Choral (2013)
WEB | FLAC (tracks) - 305 MB | 01:08:07
Genre: Classical | Label: Deutsche Grammophon
For this 2013 Deutsche Grammophon release, Myung-Whun Chung and the Seoul Philharmonic Orchestra present Ludwig van Beethoven's Symphony No. 9 in D minor, "Choral," in a mainstream performance that traditionalists will heartily endorse. This is somewhat surprising, considering the music world's increasing adoption of authentic Classical and early Romantic practices in Beethoven performances, and even the most conservative conductors and orchestras have made concessions to period research. Yet Chung's version is almost indistinguishable from mid-20th century renditions, because the orchestra is full-sized, the instrumentation is modern, the tempos are generally moderate, and the textures are homogenized and well-blended, all of which make the symphony sound weighty and a bit too reverent. (The tenor solo in the Finale, "Froh! wie seine Sonnen fliegen," is taken at a faster clip, but that's the only nod to the authenticist camp.) One may think of Karajan and Böhm when hearing this recording, and even Furtwängler and Walter, so tied is it to the past century, and fans of that older style of interpretation may feel that Chung's adds little to it. However, consider that this is part of the Seoul Philharmonic's projected series of recordings for Deutsche Grammophon, which so far has yielded Mahler's First, Tchaikovsky's "Pathétique," and Beethoven's "Emperor" Piano Concerto. If the label's contract with the orchestra calls for warhorses of the concert hall, it's unsurprising that a conventional performance of the Ninth would be required, and that it has been delivered here, for better or worse.
Track List:Symphony No.9 in D minor, Op.125 - "Choral" (Ludwig van Beethoven)
1. 1. Allegro ma non troppo, un poco maestoso 16:16
2. 2. Scherzo: Molto vivace - Presto 12:38
3. 3. Adagio molto e cantabile 14:25
4. 4. Presto - Allegro assai 24:46
Performers:
Seoul Philharmonic Orchestra
Myung-Whun Chung
–––––––––––-
DON'T MODIFY THIS FILE
–––––––––––-
PERFORMER: auCDtect Task Manager, ver. 1.6.0 RC1 build 1.6.0.1
Copyright © 2008-2010 y-soft. All rights reserved
http://y-soft.org
ANALYZER: auCDtect: CD records authenticity detector, version 0.8.2
Copyright © 2004 Oleg Berngardt. All rights reserved.
Copyright © 2004 Alexander Djourik. All rights reserved.
FILE: 01 - 1. Allegro ma non troppo, un po.flac
Size: 68632051 Hash: 51AE3CDB8672AF8F6564BCABDE522AC3 Accuracy: -m0
Conclusion: CDDA 100%
Signature: 0786AAEBF38EBC529AD8792E060954936B2D6C20
FILE: 02 - 2. Scherzo_ Molto vivace - Pres.flac
Size: 50140636 Hash: D2EFE24967E02DBA308BA82557207AFB Accuracy: -m0
Conclusion: CDDA 100%
Signature: C373C0C2CBAA61D2A7C2A15C4341610E6BD1BA54
FILE: 03 - 3. Adagio molto e cantabile.flac
Size: 52292019 Hash: DBE26D76C44410C4DBD8B35A179429EA Accuracy: -m0
Conclusion: CDDA 100%
Signature: DBF0F28A3FD2D3667FC29FA3347143444E9AEBF1
FILE: 04 - 4. Presto - Allegro assai.flac
Size: 119004288 Hash: 327C2567F3B6DDBBB201CAEE9A7A314D Accuracy: -m0
Conclusion: CDDA 100%
Signature: 6B8CF5D9BBFF0E0288B432CD8E1837C5692B86FB