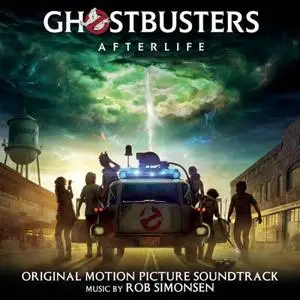 Rob Simonsen - Ghostbusters: Afterlife (Original Motion Picture Soundtrack) (2021)
FLAC tracks | 1:10:09 | 328 Mb
Genre: Soundtrack / Label: Sony Classical
2021 sees the release of Rob Simonsen's latest collaboration with director Jason Reitman, with his score for Ghostbusters: Afterlife following their previous films together: The Front Runner and Tully. Other recent film scores include The Friend, The Way Back, and Love, Simon. Based in Los Angeles and ever with his finger on the pulse of contemporary music, he co-founded the influential collective The Echo Society with the mission 'to inspire, challenge, enrich and connect the community through the creation and performance of new sonic and visual art'. Simonsen's debut artist album Reveries was released in 2019 on Sony Masterworks.
Track List:
1.01 - Rob Simonsen - Trapped (4:56)
1.02 - Rob Simonsen - Dirt Farm (3:28)
1.03 - Rob Simonsen - Chess (1:18)
1.04 - Rob Simonsen - Summerville (1:41)
1.05 - Rob Simonsen - Research (1:53)
1.06 - Rob Simonsen - Under the Floor (3:11)
1.07 - Rob Simonsen - Nice Replica (0:43)
1.08 - Rob Simonsen - Culpable (1:53)
1.09 - Rob Simonsen - Laboratory (3:59)
1.10 - Rob Simonsen - Lab Partners (2:02)
1.11 - Rob Simonsen - Definitely Class Five (2:06)
1.12 - Rob Simonsen - Go Go Go (0:39)
1.13 - Rob Simonsen - Trap Him (3:54)
1.14 - Rob Simonsen - Don't Go Chasing Ghosts (2:42)
1.15 - Rob Simonsen - Mini-Pufts (3:45)
1.16 - Rob Simonsen - Down the Well (4:13)
1.17 - Rob Simonsen - The Temple Resurrected (2:03)
1.18 - Rob Simonsen - The Plan (2:59)
1.19 - Rob Simonsen - Suit Up (2:08)
1.20 - Rob Simonsen - No, I'm Twelve (2:26)
1.21 - Rob Simonsen - Getaway (2:54)
1.22 - Rob Simonsen - Callie (2:31)
1.23 - Rob Simonsen - Protecting the Farm (5:40)
1.24 - Rob Simonsen - Showdown (2:30)
1.25 - Rob Simonsen - Reconciliation (4:36)
ANALYZER: auCDtect: CD records authenticity detector, version 0.8.2
Copyright © 2004 Oleg Berngardt. All rights reserved.
Copyright © 2004 Alexander Djourik. All rights reserved.


FILE: 01. Rob Simonsen - Trapped.flac
Size: 24483934 Hash: BD1FA3070CF22F3A3E58D02D4797AA5B Accuracy: -m40
Conclusion: CDDA 100%
Signature: 2974A805A78CF0C0A440F100AB234ED2E78B87E0
FILE: 02. Rob Simonsen - Dirt Farm.flac
Size: 14967356 Hash: 0FF608BDB319FE111B2A1041F1708EB7 Accuracy: -m40
Conclusion: CDDA 100%
Signature: 1A6B57DE03BE87159921F025AF8EC7343ABECDA8
FILE: 03. Rob Simonsen - Chess.flac
Size: 5345341 Hash: E00E07B86272D5F9B45616B858175CDA Accuracy: -m40
Conclusion: CDDA 100%
Signature: D42C31CBA13F5212F2E58A6A9C5ED87A02B6C15A
FILE: 04. Rob Simonsen - Summerville.flac
Size: 7266655 Hash: 91E287F5F103B0EBF3B29A32C64D9CC9 Accuracy: -m40
Conclusion: CDDA 100%
Signature: C9E5E774D5E2953B144B2778E1A7159DB0ED3267
FILE: 05. Rob Simonsen - Research.flac
Size: 9400779 Hash: 8F09AEC310A61DB0C45C2E4FA826BD8B Accuracy: -m40
Conclusion: CDDA 100%
Signature: F4BD0BC37626831472F15FD6DC9C38BEAEBF0F5A
FILE: 06. Rob Simonsen - Under the Floor.flac
Size: 12916274 Hash: F015F2E6117910FBEE83A90D4200E3D0 Accuracy: -m40
Conclusion: CDDA 99%
Signature: 5287A1A3A91A81E5FBE7518578205782E0BCA0CF
FILE: 07. Rob Simonsen - Nice Replica.flac
Size: 2375511 Hash: E09A0E675179FB2831937F2F6C98C925 Accuracy: -m40
Conclusion: CDDA 76%
Signature: E38DFB375EDD5A6EE3D27875779F9FC74DB1AD2E
FILE: 08. Rob Simonsen - Culpable.flac
Size: 8172403 Hash: F99546B1CC4C14EBC284B8A41513F355 Accuracy: -m40
Conclusion: CDDA 100%
Signature: 69D40372C506DEBA5FF62685E124B90436816F8A
FILE: 09. Rob Simonsen - Laboratory.flac
Size: 17246008 Hash: 5D530835178FA6BC3FD0C7AE7F87538B Accuracy: -m40
Conclusion: CDDA 99%
Signature: D10CD283878FD0CFB9714E470E49E05776B4645F
FILE: 10. Rob Simonsen - Lab Partners.flac
Size: 8740901 Hash: 5FF98F59260DE82BD25D4A3D6592ACA6 Accuracy: -m40
Conclusion: CDDA 100%
Signature: D2FF4B58AF94DDED730A6E55BA4B3FA39CC8935C
FILE: 11. Rob Simonsen - Definitely Class Five.flac
Size: 9396429 Hash: F2F8498EFA143C982F57775C37C5979E Accuracy: -m40
Conclusion: CDDA 100%
Signature: CF2B7E9F0730F8FCFB8834527EACDD573EC5C2A2
FILE: 12. Rob Simonsen - Go Go Go.flac
Size: 3952581 Hash: E284B82DADC8E802087E22309A7ABAD0 Accuracy: -m40
Conclusion: CDDA 99%
Signature: 01CD0575E4D1A846A18CFDD875606EC9F94DB8D6
FILE: 13. Rob Simonsen - Trap Him.flac
Size: 24181040 Hash: 54C16D3893CF771A1D643EBD38537AE8 Accuracy: -m40
Conclusion: CDDA 100%
Signature: 2307786FE22B38317F6DE47D8BEE9CAC0A025204
FILE: 14. Rob Simonsen - Don't Go Chasing Ghosts.flac
Size: 11105909 Hash: 3160A10CFDAEC1BDAA7E288920CB393A Accuracy: -m40
Conclusion: CDDA 99%
Signature: D6F9CCBDF78426C0E9ADB2D01125C1DEF523AE39
FILE: 15. Rob Simonsen - Mini-Pufts.flac
Size: 19202525 Hash: 70626F4D7C3C8535D8849E10DF374804 Accuracy: -m40
Conclusion: CDDA 100%
Signature: D4B4BE301BEC9AE8E58BDA2039158D056313BB5B
FILE: 16. Rob Simonsen - Down the Well.flac
Size: 19887672 Hash: 56E450D4681478FD0AFACE306E38AA50 Accuracy: -m40
Conclusion: CDDA 100%
Signature: 0BA54C9D72EA2A5F25A918556B7616ACE1E5E8DC
FILE: 17. Rob Simonsen - The Temple Resurrected.flac
Size: 9410773 Hash: 218957175930E9544C729BE185C2719F Accuracy: -m40
Conclusion: CDDA 100%
Signature: 9E1A28853B33F72C0F6670F2B8A4467DA649F7EE
FILE: 18. Rob Simonsen - The Plan.flac
Size: 14427300 Hash: 55B7936E5440CC30126655B6307BA59F Accuracy: -m40
Conclusion: CDDA 100%
Signature: 1EDB3A4C6FBE3BB388AF98EB347D25C415432264
FILE: 19. Rob Simonsen - Suit Up.flac
Size: 12168319 Hash: 9AEEA8F74544A2F1180D550D72E99B9D Accuracy: -m40
Conclusion: CDDA 100%
Signature: 193379F5D0F51D046C3B07F68F7A9A931C1F3580
FILE: 20. Rob Simonsen - No, I'm Twelve.flac
Size: 14222061 Hash: D3460E736820E9976FDC61DD2BE6031A Accuracy: -m40
Conclusion: CDDA 100%
Signature: F42A0C0D04F2AFDFE4F2BC0B7945E65B1359A835
FILE: 21. Rob Simonsen - Getaway.flac
Size: 15583925 Hash: 61D13479111287A3DCF61625DDB038C1 Accuracy: -m40
Conclusion: CDDA 100%
Signature: 8617849F82A3DE735D6E39090E099AACC1AC5257
FILE: 22. Rob Simonsen - Callie.flac
Size: 11854838 Hash: A1B5BC16A6B4EE272F073E015D30FBDC Accuracy: -m40
Conclusion: CDDA 99%
Signature: A017D686C37AF877747EF7BE34865657E6309B9D
FILE: 23. Rob Simonsen - Protecting the Farm.flac
Size: 32280432 Hash: F8F2FE859196E2AB198D417FB6A4CAFE Accuracy: -m40
Conclusion: CDDA 100%
Signature: 1E91820BA683843AFADAF2663219BBE09B7B95CC
FILE: 24. Rob Simonsen - Showdown.flac
Size: 14702471 Hash: 569793A962958A3F5FF4609FFF58DE7D Accuracy: -m40
Conclusion: CDDA 100%
Signature: 82269E5F8DBCAF741DBF58FC1C757CBE0ACC1863
FILE: 25. Rob Simonsen - Reconciliation.flac
Size: 21806605 Hash: B0E16ABB4618D4B763FBDFC2C7AF6133 Accuracy: -m40
Conclusion: CDDA 100%
Signature: B7670CDC9E366A5B67DA0019204A90664F5B1099