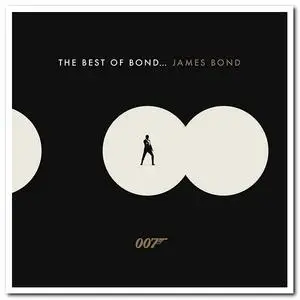 VA - The Best Of Bond… James Bond (2021)
FLAC tracks | 1:30:54 | 575 Mb
Genre: Soundtrack / Label: UMe
The Best Of Bond…James Bond is a compilation featuring celebrated theme songs from the longest-running franchise in the history of cinema. The new collection will include "No Time To Die" by Billie Eilish from No Time To Die, the highly anticipated 25th film in the Bond series. Also now included will be Adele's "Skyfall" from Skyfall, the highest-grossing Bond film to date, and Sam Smith's Spectre theme, "Writing's On the Wall," – Oscar® winners for Best Song in 2013 and 2016, respectively.
Track List:
[01:47] 01. The John Barry Orchestra - The James Bond Theme
[02:32] 02. Matt Monro - From Russia With Love
[02:47] 03. Shirley Bassey - Goldfinger
[03:01] 04. Tom Jones - Thunderball
[02:46] 05. Nancy Sinatra - You Only Live Twice
[02:35] 06. The John Barry Orchestra - On Her Majesty's Secret Service
[03:12] 07. Louis Armstrong - We Have All the Time in the World
[02:40] 08. Shirley Bassey - Diamonds Are Forever
[03:11] 09. Paul McCartney & Wings - Live and Let Die
[02:34] 10. Lulu - The Man With the Golden Gun
[03:28] 11. Carly Simon - Nobody Does It Better
[03:08] 12. Shirley Bassey - Moonraker
[03:02] 13. Sheena Easton - For Your Eyes Only
[03:03] 14. Rita Coolidge - All Time High
[03:35] 15. Duran Duran - A View to a Kill
[04:12] 16. a‐ha - The Living Daylights
[04:10] 17. Gladys Knight - License to Kill
[03:29] 18. Tina Turner - GoldenEye
[04:52] 19. Sheryl Crow - Tomorrow Never Dies
[03:56] 20. Garbage - The World Is Not Enough
[04:36] 21. Madonna - Die Another Day
[04:05] 22. Chris Cornell - You Know My Name
[04:24] 23. Jack White & Alicia Keys - Another Way to Die
[04:45] 24. Adele - Skyfall
[04:39] 25. Sam Smith - Writing's on the Wall
[04:06] 26. Billie Eilish - No Time to Die
ANALYZER: auCDtect: CD records authenticity detector, version 0.8.2
Copyright © 2004 Oleg Berngardt. All rights reserved.
Copyright © 2004 Alexander Djourik. All rights reserved.


FILE: A1 - The John Barry Orchestra - James Bond Theme.flac
Size: 11751854 Hash: B36A984CA4EEAA30A08ED464F7C46EC1 Accuracy: -m40
Conclusion: CDDA 100%
Signature: 67DC0BE03777EF1A2AF372894E80FDED4C47A1ED
FILE: A2 - Matt Monro - From Russia With Love.flac
Size: 16694682 Hash: AA820D201FBBD1A255A2CBE34A5ACEE4 Accuracy: -m40
Conclusion: CDDA 100%
Signature: 024FC11DB948973A8C3F1FB139B633980CCF8A57
FILE: A3 - Shirley Bassey - Goldfinger.flac
Size: 19698959 Hash: DA2FCA2673820423A3B8B672A039A474 Accuracy: -m40
Conclusion: CDDA 100%
Signature: 2A062F255CC4D613C0EA854F4B05E4ADFB996D1A
FILE: A4 - Tom Jones - Thunderball.flac
Size: 20825492 Hash: 2C0795C08D868C6702A7596D22A65DE1 Accuracy: -m40
Conclusion: CDDA 100%
Signature: A5F93093C7F31EB2AC327BBE2D63B459732815B9
FILE: A5 - Nancy Sinatra - You Only Live Twice.flac
Size: 17565720 Hash: 7E32D63A16E22E3EFA9061D10C9678DE Accuracy: -m40
Conclusion: CDDA 99%
Signature: 2D6C825A490C4DD2BDCDE24FC8ED1484C2340615
FILE: B1 - The John Barry Orchestra - On Her Majesty's Secret Service.flac
Size: 18724057 Hash: 879BF7968212CED20AD978F15221FBD1 Accuracy: -m40
Conclusion: CDDA 100%
Signature: 80033B3B1BB0266EAABC258AD45FD394E68E4011
FILE: B2 - Louis Armstrong - We Have All The Time In The World.flac
Size: 22588643 Hash: D4C4EF48F91E46897895D9DF28D8E365 Accuracy: -m40
Conclusion: CDDA 100%
Signature: 18610EAE51B37DAA63A1364E5B7E1870DFA93E8E
FILE: B3 - Shirley Bassey - Diamonds Are Forever.flac
Size: 17426811 Hash: 8E7142A7D29EEE29CDCA81F28C4C9959 Accuracy: -m40
Conclusion: CDDA 100%
Signature: 3FD3253C4764CBBAE70610FEF84AA327246D33FB
FILE: B4 - Paul McCartney and Wings - Live And Let Die.flac
Size: 21507206 Hash: C111FBAABC2CA67B8DDBF7D62B46A23A Accuracy: -m40
Conclusion: CDDA 100%
Signature: 3865226981E492F69C85F707D6085EA2009185FB
FILE: B5 - Lulu - The Man With The Golden Gun.flac
Size: 16882143 Hash: 957267134BE86DD9630336726B84A899 Accuracy: -m40
Conclusion: CDDA 100%
Signature: D1E0C406047DB78772DC9A713EA448FCF7399CA7
FILE: C1 - Carly Simon - Nobody Does It Better.flac
Size: 23432765 Hash: 4F1C47396C2F639D0CBDAFF87CC66501 Accuracy: -m40
Conclusion: CDDA 100%
Signature: B842AE0D1704E519D4EB4D1B1F780BC266FA1F38
FILE: C2 - Shirley Bassey - Moonraker.flac
Size: 21377175 Hash: 8EE8662ED990EF4910CF994584C0375B Accuracy: -m40
Conclusion: CDDA 100%
Signature: D5A38FE47AB103F7DED971F84AE7DFB7259DD024
FILE: C3 - Sheena Easton - For Your Eyes Only.flac
Size: 18095230 Hash: 290090B8F517717BCBD2FC1B463D30C7 Accuracy: -m40
Conclusion: CDDA 100%
Signature: A399CE8741EF0060D086D2835C2E253AF322F9E2
FILE: C4 - Rita Coolidge - All Time High.flac
Size: 18503915 Hash: 494E77EED231EA83D51E0D54CFC25CE8 Accuracy: -m40
Conclusion: CDDA 100%
Signature: 4972DC2A662B32FF15BB2B3295380E5717DB05B4
FILE: D1 - Duran Duran - A View To A Kill.flac
Size: 25664787 Hash: 9C65A45CF41B0E02BA051A3AFA0F63EE Accuracy: -m40
Conclusion: CDDA 100%
Signature: 96727878732A34E20FD3292A0F58E3E889DB858C
FILE: D2 - a-ha - The Living Daylights.flac
Size: 31651792 Hash: 56AE233674B07BA2053A4E94AD520E49 Accuracy: -m40
Conclusion: CDDA 100%
Signature: B30ECFE5A0D8E2360E418B54CC38D0CA79632247
FILE: D3 - Gladys Knight - Licence To Kill.flac
Size: 31059227 Hash: 15F8667DB2FC2F06C1019AC61113487F Accuracy: -m40
Conclusion: CDDA 100%
Signature: 5FE64D3CCBA0C1DD6246659BDC11753DBA9897CB
FILE: D4 - Tina Turner - Goldeneye.flac
Size: 22530107 Hash: DB712A5BE1E9BDDD401BE8492817EBA5 Accuracy: -m40
Conclusion: CDDA 100%
Signature: 579030E0E0A7E1E8A22B4D9DC876F8EF62183AAE
FILE: E1 - Sheryl Crow - Tomorrow Never Dies.flac
Size: 33813594 Hash: 03D70981ECCE61780797B81908CD9834 Accuracy: -m40
Conclusion: CDDA 100%
Signature: 61B1BDC2963516929DFB34E7F762922D6FD895BF
FILE: E2 - Garbage - The World Is Not Enough.flac
Size: 27027224 Hash: 45FF738CCCED2304824EE9A4913744F0 Accuracy: -m40
Conclusion: CDDA 100%
Signature: 2FAF22EEA150F8FBC7B40DD52526684D9E20F612
FILE: E3 - Madonna - Die Another Day.flac
Size: 29704365 Hash: 2B3AB3570021A5A36F8DBC70F225CF9D Accuracy: -m40
Conclusion: CDDA 100%
Signature: 2A9D8B598853C6B664B41CAA6C0AC56DB4F3B4D9
FILE: E4 - Chris Cornell - You Know My Name.flac
Size: 29793385 Hash: CC64833A7F08B865751855A0A98DBAE3 Accuracy: -m40
Conclusion: CDDA 100%
Signature: 22C8EA45B9D7CC444CF6BC6BE392C45ABC7A1B9F
FILE: F1 - Jack White and Alicia Keys - Another Way To Die.flac
Size: 28661290 Hash: 2EDCDEF94F0DD308D9788E18A6CDD0D2 Accuracy: -m40
Conclusion: CDDA 100%
Signature: 8E413D52ABBB742CF409761F8A0CF0D899701CA0
FILE: F2 - Adele - Skyfall.flac
Size: 29588589 Hash: 01BA399C187DF94F1060F6D6750EA5A2 Accuracy: -m40
Conclusion: CDDA 100%
Signature: 1BF09F46E83E17C0F987CC0F71D556A1BB8282E6
FILE: F3 - Sam Smith - Writing's On The Wall.flac
Size: 27992550 Hash: C733511D48DEB710C15A605AAB44CC50 Accuracy: -m40
Conclusion: CDDA 100%
Signature: 4609B2947BA88BED9886C395A59DDAA6004E9AC5
FILE: F4 - Billie Eilish - No Time To Die.flac
Size: 20896138 Hash: 0662D1068EC54D6CD938B130E52D494C Accuracy: -m40
Conclusion: CDDA 100%
Signature: 3BE09E4FC4F50E4C41E797603CAA9EEE93F27BE2