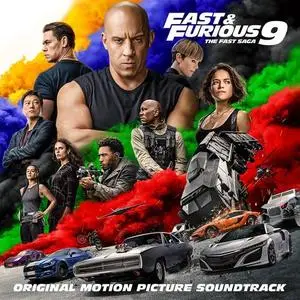 Various Artists - Fast & Furious 9: The Fast Saga Soundtrack (2021)
FLAC tracks | 39:11 | 259 Mb
Genre: Soundtrack / Label: Atlantic Mod
The star-studded musical companion to the long awaited ninth chapter in one of the most popular motion picture series of all time. It includes all brand-new songs from a truly epic line-up of rising stars and chart-topping Latin and hip-hop / R&B luminaries. Among the artists featured are Don Toliver, Lil Durk, Skepta, Pop Smoke, Offset, Trippie Redd, Kevin Gates, King Von, Ty Dolla $ign, Jack Harlow, RZA, The Prodigy, Anitta, Rico Nasty, and NLE Choppa, to name but a few.
Track List:
1.01 - Don Toliver, Lil Durk, Latto - Fast Lane (2:53)
1.02 - Skepta, Pop Smoke, A$AP Rocky, Juicy J, Project Pat - Lane Switcha (feat. A$AP Rocky, Juicy J & Project Pat) (2:49)
1.03 - Offset, Lil Durk, Trippie Redd, Kevin Gates, King Von - Hit Em Hard (2:43)
1.04 - Ty Dolla $ign, Jack Harlow, 24kgoldn - I Won (2:56)
1.05 - Amenazzy, Farruko, Myke Towers, Rochy RD - Rapido (2:34)
1.06 - The Prodigy, RZA - Breathe (feat. RZA) [Liam H and Rene LaVice Re-Amp] (2:29)
1.07 - Justin Quiles, Dalex, Konshens - Real (3:47)
1.08 - Lil Tecca - Bussin Bussin (2:21)
1.09 - Anitta - Furiosa (2:34)
1.10 - Kevin Gates, POLO G, Teejay3k - Ride Da Night (feat. Polo G & TeeJay3k) (2:48)
1.11 - Good Gas, JP THE WAVY - Bushido (3:13)
1.12 - NLE Choppa, Rico Nasty - Speed It Up (feat. Rico Nasty) (2:23)
1.13 - Jarina De Marco - Mala (2:21)
1.14 - Murci, Dixson Waz, Sean Paul - Exotic Race (feat. Sean Paul & Dixson Waz) (3:21)
ANALYZER: auCDtect: CD records authenticity detector, version 0.8.2
Copyright © 2004 Oleg Berngardt. All rights reserved.
Copyright © 2004 Alexander Djourik. All rights reserved.


FILE: 01 - Fast Lane.flac
Size: 18915844 Hash: 6BB68C6E3B5F8627E5E9F29B65845A0A Accuracy: -m40
Conclusion: CDDA 100%
Signature: 7321353F25E7107D90AD07831BCFCBF555151E4F
FILE: 02 - Lane Switcha (feat. A$AP Rocky, Juicy J & Project Pat).flac
Size: 18773036 Hash: BDCF1BBD5E09F2E4AAAD8F165F49C908 Accuracy: -m40
Conclusion: CDDA 86%
Signature: F15489726631376A427F276AC42BCB3FB93D0346
FILE: 03 - Hit Em Hard.flac
Size: 18191409 Hash: 8AD1619CA3DC84B857C061EBB37EC6FF Accuracy: -m40
Conclusion: CDDA 85%
Signature: 1F8833A7D9D63F62126C433E64D16F98EB828C2B
FILE: 04 - I Won.flac
Size: 19608566 Hash: EAE650A7A3545A797F2CCC522165D10E Accuracy: -m40
Conclusion: CDDA 86%
Signature: DBDA1994B4C849488390EC5C0A72082761BCF020
FILE: 05 - Rapido.flac
Size: 19242225 Hash: E124022AF422E8A58DAB72FD36ECF254 Accuracy: -m40
Conclusion: CDDA 100%
Signature: FFAAC147DE1AC6E234C5DC637429AD881BF623A4
FILE: 06 - Breathe (feat. RZA) [Liam H and Rene LaVice Re-Amp].flac
Size: 20146441 Hash: 0230F074045994050E296EF6CF888AE5 Accuracy: -m40
Conclusion: CDDA 100%
Signature: 5DB6E685B8E0FE45FCD1DC02656B72B51EE157E2
FILE: 07 - Real.flac
Size: 28329751 Hash: 39E5F78D7FCE90C7B44B0FFBE4B982F5 Accuracy: -m40
Conclusion: CDDA 94%
Signature: B593CF32F49607F56A71771EFEFD92C18D05286E
FILE: 08 - Bussin Bussin.flac
Size: 14785634 Hash: 1C8AA2E24761823ECAA67928205A2203 Accuracy: -m40
Conclusion: CDDA 43%
Signature: E45DD0B1BE07B63BE9045B24ABAC8BF8F55DEE07
FILE: 09 - Furiosa.flac
Size: 17346216 Hash: 1C7A45CD4D7E8A4C03EA051B26BAF78E Accuracy: -m40
Conclusion: CDDA 100%
Signature: 3357DC981E5412502A99FD03A1559BD198B009B3
FILE: 10 - Ride Da Night (feat. Polo G & TeeJay3k).flac
Size: 17919454 Hash: 1A8383C71B424CF7B1D3829E7B762A27 Accuracy: -m40
Conclusion: CDDA 100%
Signature: 028B011C4063517B0EF8AEFB2185F885C485F7FB
FILE: 11 - Bushido.flac
Size: 19382976 Hash: BBB0E4DB485B6C541854C0976378B4FE Accuracy: -m40
Conclusion: CDDA 94%
Signature: 97D426C186DB7356E55B96A17007F411E321FDDD
FILE: 12 - Speed It Up (feat. Rico Nasty).flac
Size: 15838271 Hash: 9DBF388FB38F199548EE82A6FB7E50CC Accuracy: -m40
Conclusion: CDDA 100%
Signature: CF6553A4DAAF781B6991F49EF7C8649FE2C49516
FILE: 13 - Mala.flac
Size: 16018750 Hash: 4A8AF522E1B5DF52E628856BEE7B8365 Accuracy: -m40
Conclusion: CDDA 100%
Signature: 2F9281D5AEBBA12C8B458A1C8E5E3E9182CD87A2
FILE: 14 - Exotic Race (feat. Sean Paul & Dixson Waz).flac
Size: 26195500 Hash: 89948FCA43B02902974576AFBBD353D1 Accuracy: -m40
Conclusion: CDDA 100%
Signature: 483740F94929C4214A98E86DE1D941F5EA88ED43