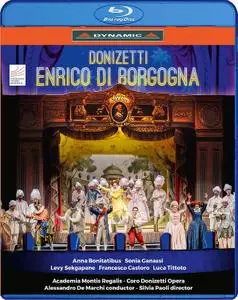 Alessandro De Marchi, Academia Montis Regalis - Donizetti: Enrico di Borgogna (2019) [BDRip]
BluRay-rip | AVC | MKV 1920x1080 / 6215 kbps / 29,970 fps | 152 min | 7,34 Gb
Audio: Italiano / AC3 / 6ch / 48.0 KHz / 640 Kbps
Classical | Dynamic | Sub: Italian, English, French, German, Japanese, Korean
Enrico di Borgogna is a melodramma per musica that was premiered in Venice in 1818, marking Donizettis stage debut. The plot of this rarely performed opera follows a rather traditional scheme: Enrico wants to defeat the son of the villain who usurped his fathers throne and is about to marry his beloved Elisa. Fortunately, he succeeds in stopping the marriage and regaining his inheritance. This release is a world première video recording of the 2018 Donizetti Opera Festival performance, which received excellent reviews for its brilliant staging.