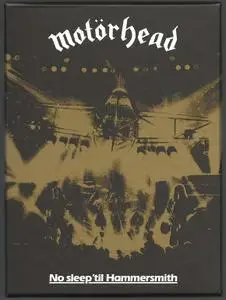 Motörhead - No Sleep 'Til Hammersmith (1981) [2021 4CD]
EAC Rip | FLAC (Tracks) +CUE, LOG | 2.29 GB | Scans
Genre: Rock, Hard Rock, Heavy Metal | Label: BMG Records | Catalog Number: BMGCAT476QCD
Motörhead in 1981 was a band of extremes; a flammable mix of non-stop celebration over their rising success and punishing graft, underscored by an inter-band powder-keg dynamic. Afterrecording Ace Of Spades, it had shot to number four in the UK; the killer breakthrough after Overkill and Bomber had done essential groundwork, late 1980's Ace Up Your Sleeve UK tour was a triumphant lap of honour that spilled into the recording of No Sleep 'Til Hammersmith. The album took its title from an inscription painted on one of the trucks, referencing the 32 gigs they were playing with only two days off. The track listing ended up featuring three tracks from Ace Of Spades, five from Overkill, Bomber'stitle track and two from their self-titled debut. Originally released on 27th June 1981, Lemmy is quoted as saying of it "I knew it'd be the live one that went best, because we're really a live band. You can't listen to a record and find out what we're about.You've got to see us." Upon release No Sleep 'Til Hammersmith went straight to number one, their first and only in the UK and is still the most necessary live album of all time.