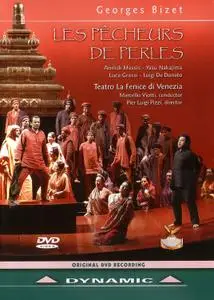 Marcello Viotti, Orchestra del Teatro la Fenice di Venice - Bizet: Les Pecheurs de Perles (2004)
NTSC 16:9 (720x480) | Français (LinearPCM, 2 ch) | (Dolby AC3, 6 ch) | 5.98 Gb (DVD9) | 122 min
Classical | Dynamic | Sub.: Français, English, Italiano, Deutsch, Español, Chinese, Japanese
Les pêcheurs de perles dates from 1863 and represents much more than a mere operatic exercise written by a twenty-five-year-old composer. Pêcheurs is, as a matter of fact, the only other Bizet opera, beside Carmen, to have remained in the repertoire. This opera contains memorable passages, which have ensured its long-lasting success and which many great singers (beginning with Caruso) have recorded and performed: for example the aria of Nadir Je crois entendre encore; the beautiful aria of Léïla Comme autrefois, dans la nuit sombre and, above all, the superb duet between Léïla and Nadir Ton cour n'a pas compris le mien.