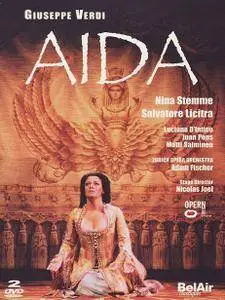 Adam Fischer, Orchester der Oper Zürich, Nina Stemme, Luciana D'Intino, Salvatore Licitra - Verdi: Aida (2007)
NTSC 16:9 (720x480) | Italiano | LinearPCM, 2 ch | Dolby AC3, 6 ch | DTS, 6 ch | 5.83 Gb+6.75 Gb (2xDVD9) | 217 min
Classical | BelAir | Sub: Italiano, Francais, English, Deutsch, Espanol
This 2006 production from the Zurich Opera is a traditional one by Nicolas Joël in veteran Ezio Frigerio's wonderfully evocative, highly coloured sets. Then Adám Fischer in the pit leads a remarkably strong yet subtle account of the score, which – when played and sung like this – is once more revealed as one of Verdi's greatest masterpieces. Four of the principals easily surpass their DVD rivals. Stemme offers a deeply considered, expressive and superbly sung Aida, one for whom the work's vocal perils do not seem to exist. Add to that acting that goes to the heart of the matter, and one is left breathless in admiration after so many sopranos not truly fitted to the part. Licitra has done nothing better than his Radames here. At last fulfilling his potential, he sings the role with an open-hearted sincerity and a heroic voice up to the part's exigent demands.