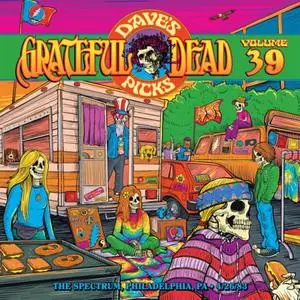 Grateful Dead - Dave's Picks Volume 39: Philadelphia Spectrum, Philadelphia, PA 4/26/83 (2021)
FLAC tracks / MP3 320 kbps | 3:51:23 | 532 Mb / 1,39 Gb
Genre: Psychedelic Rock / Label: Rhino Records
We're feelin' Philly 4/26/83 and its '80s highs. See what we're on about when you pick up DAVE'S PICKS VOLUME 39: THE SPECTRUM, PHILADELPHIA, PA, 4/26/83, the final show of a three-week tour, played at the venue that the Dead played more than Madison Square Garden (there's your daily dose of Dead trivia). This one fires on all cylinders, with extremely well-played, high-energy tight sets featuring newbies "West L.A. Fadeway," "My Brother Esau," rarities like Brent's tune "Maybe You Know," precise medleys "Help>Slip>Franklin's," an inspired new pairing "Throwing Stones>Not Fade Away," and the Dave's Picks debut of "Shakedown Street." And before you come down, we've got a prime slice of bonus material from the previous Spectrum show 4/25/83 and an extra dollop of '83 from the War Memorial Auditorium, Rochester, NY 4/15/83 (featuring the Bobby rarity "Little Star").
Track List:
Set 1
1. Shakedown Street
2. New Minglewood Blues
3. They Love Each Other
4. Me And My Uncle >
5. Mexicali Blues
6. Maybe You Know
7. West L.A. Fadeaway
8. My Brother Esau
9. It Must Have Been The Roses
10. Let It Grow
Set 2
11. Help On The Way >
12. Slipknot! >
13. Franklin's Tower >
14. Man Smart (Woman Smarter) >
15. Drums >
16. Space >
17. Truckin' >
18. Morning Dew >
19. Throwing Stones >
20. Not Fade Away
Encore:
21. U.S. Blues
(Bonus Material) The Spectrum, Philadelphia, PA April 25, 1983
22. Space >
23. The Wheel >
24. Playing In The Band >
25. Goin' Down The Road Feeling Bad >
26. Sugar Magnolia
27. (I Can't Get No) Satisfaction
War Memorial Auditorium, Rochester, NY April 15, 1983
28. He's Gone >
29. Little Star
ANALYZER: auCDtect: CD records authenticity detector, version 0.8.2
Copyright © 2004 Oleg Berngardt. All rights reserved.
Copyright © 2004 Alexander Djourik. All rights reserved.


FILE: 01. Help On The Way _.flac
Size: 28891453 Hash: 5ACA79F5C1FEE8C778909650EA0D10F7 Accuracy: -m40
Conclusion: CDDA 100%
Signature: 6EC79F4E3B3DEFF337CA777D031F6AC1AB941934
FILE: 02. Slipknot! _.flac
Size: 31097941 Hash: 71667118385BD998752717A2B0D3672C Accuracy: -m40
Conclusion: CDDA 100%
Signature: 535E1B6282F1CC8D8460067FA854F706968ADDE3
FILE: 03. Franklin's Tower _.flac
Size: 66154619 Hash: 9A7EEBC9B9CBAC1C92077CBFD126670C Accuracy: -m40
Conclusion: CDDA 100%
Signature: 766124A2387E9405D60EE33AFF7B8BFB2D81DC57
FILE: 04. Man Smart, Woman Smarter _.flac
Size: 46135070 Hash: F862AD3BD579F78D14E4A4BEA8847E3D Accuracy: -m40
Conclusion: CDDA 100%
Signature: A902F24C8996000A6C6B284D4B2A0BFACAA2107F
FILE: 05. Drums _.flac
Size: 63590349 Hash: 3BA19DAAA4EC78EBCB679A58E44896EE Accuracy: -m40
Conclusion: CDDA 99%
Signature: E347B7328B9534DEDA00AAB0C1375FD698B85975
FILE: 06. Space _.flac
Size: 55739528 Hash: 65044888608F9BE92868FB1B84207660 Accuracy: -m40
Conclusion: CDDA 100%
Signature: 626661B5825267E1666E2254CFDE8B335F6B55EF
FILE: 07. The Wheel _.flac
Size: 38916063 Hash: DC34C10D085F604F7C0D61912D1E8A83 Accuracy: -m40
Conclusion: CDDA 100%
Signature: AE733A82C42BA54BB1C408F6E37FB84B834AC80B
FILE: 08. Playing In The Band _.flac
Size: 20687620 Hash: 628C13D09B94EAC3528516DD598D62EC Accuracy: -m40
Conclusion: CDDA 100%
Signature: 05C1F2D44BA28C825CC805244B5E07194607D5D8
FILE: 09. Goin' Down The Road Feelin' Bad _.flac
Size: 50897842 Hash: 8148CB148FACDA9183F84BA014201C42 Accuracy: -m40
Conclusion: CDDA 100%
Signature: 1AA90E85FDEDD2D9683ABCD05FCA516A05383286
FILE: 10. Sugar Magnolia.flac
Size: 57811165 Hash: 2816A09C3A33D1A33A3CCB09D0AB8FF9 Accuracy: -m40
Conclusion: CDDA 100%
Signature: 6E3F4B3CC50F1F9EDD4F022E2FBEEEC2D3156988
FILE: 11. (I Can't Get No) Satisfaction.flac
Size: 42784353 Hash: 409FC4E2906BD6939D3930E356351EEE Accuracy: -m40
Conclusion: CDDA 100%
Signature: 9E5A72BEEBCE4D335BF5793303D0FA9564C49867
FILE: 01. Space _.flac
Size: 67723808 Hash: 7BB71CC04E1DD6230B3C604B58411EB3 Accuracy: -m40
Conclusion: CDDA 100%
Signature: 516B1031AA6DE26273BD3D9CF679E5F6C6BC63E0
FILE: 02. Truckin' _.flac
Size: 51655081 Hash: C6B5B24140F383D72F30B3F1BF3BD672 Accuracy: -m40
Conclusion: CDDA 100%
Signature: 0349DD5D183CA18270CA54CDA247A0E77B83AB53
FILE: 03. Morning Dew _.flac
Size: 67829216 Hash: 923F60BA5CB27926806712EADF7BFD1D Accuracy: -m40
Conclusion: CDDA 100%
Signature: FA60F86AE763796B22C9BD1357F734295FC64DFE
FILE: 04. Throwing Stones _.flac
Size: 63423448 Hash: 6A6535B5D51CA1B30206BB79D77E40DA Accuracy: -m40
Conclusion: CDDA 100%
Signature: EDB6A982F2D965ADC9C319A620CEED20D1EE87DE
FILE: 05. Not Fade Away.flac
Size: 56019883 Hash: 2471E34B844B0A287235862A1B996423 Accuracy: -m40
Conclusion: CDDA 100%
Signature: F5629483A4BA9D0AA165F5BE62947063570F8DF9
FILE: 06. Encore_ U.S. Blues.flac
Size: 33151466 Hash: D703F87F87B741756F5919D179991A86 Accuracy: -m40
Conclusion: CDDA 100%
Signature: AFA0C7BC5D0AFACE584955903A83BB8A5F8696B3
FILE: 07. He's Gone _.flac
Size: 76032952 Hash: 204671EC5328B1527A73DF35928BE5EE Accuracy: -m40
Conclusion: CDDA 99%
Signature: FB7BA9B3710F158DEB5CB5A3799DF4D0016D7175
FILE: 08. Little Star.flac
Size: 49918921 Hash: 9A4C1E81C049D4FFFF7EB38710210B59 Accuracy: -m40
Conclusion: CDDA 100%
Signature: D81330C854D6079F4D84901C31671B164C903F28
FILE: 01. Shakedown Street.flac
Size: 97415431 Hash: 8B59FE7532A4871BAF750F093F8B6346 Accuracy: -m40
Conclusion: CDDA 99%
Signature: B02D3EB326AF5BA845D5E41666105E7584ED9CB3
FILE: 02. New Minglewood Blues.flac
Size: 56490278 Hash: D2ED77C2B7436211CA4319BC65E39486 Accuracy: -m40
Conclusion: CDDA 100%
Signature: 224A6CFD5742FCA7F103C2FD4836F665114F7690
FILE: 03. They Love Each Other.flac
Size: 56284988 Hash: 9B90947F739E63A3E6DDE42F885FB228 Accuracy: -m40
Conclusion: CDDA 100%
Signature: 1219CA8CE0E3C865AF36D8C9DA3A4B95290E195E
FILE: 04. Me And My Uncle _.flac
Size: 21004103 Hash: BD63DEAD7D2BA4B1C8D1B877B00F8022 Accuracy: -m40
Conclusion: CDDA 100%
Signature: A8C92E595741DF19BA1C79B3347B1E3CD3AC84BF
FILE: 05. Mexicali Blues.flac
Size: 36133308 Hash: 64B8BA3DF2F58CAD38A8D2DEE2BE0245 Accuracy: -m40
Conclusion: CDDA 100%
Signature: 5126DB8A9081CBFA00FE0A25E2CF2729A662289C
FILE: 06. Maybe You Know.flac
Size: 36257708 Hash: B538A6E02088E639F14318C5B9A54997 Accuracy: -m40
Conclusion: CDDA 100%
Signature: 561E1AE8CDC2C8A81C1706CEC8507160D60D23A9
FILE: 07. West L.A. Fadeaway.flac
Size: 50786269 Hash: 104BFB8A1BC0A2D928A585D27A037E18 Accuracy: -m40
Conclusion: CDDA 100%
Signature: 9C24E5DEB433C68CA833FE34728F359CD6B80657
FILE: 08. My Brother Esau.flac
Size: 35722563 Hash: D257F4BFDCE1F80EC7026F93A13DB0AE Accuracy: -m40
Conclusion: CDDA 100%
Signature: EAA5C0807CC1EE9D00A8DA9A64EE34CB52C64EA1
FILE: 09. It Must Have Been The Roses.flac
Size: 35511565 Hash: 47905CBDE1BE6CF7EB4DC95174167585 Accuracy: -m40
Conclusion: CDDA 100%
Signature: 335E614EFF79FF6B7F1A623C00EB00D5747B98E8
FILE: 10. Let It Grow.flac
Size: 83362192 Hash: C9B8D75A405DC3C67868D1BD5B94D4F9 Accuracy: -m40
Conclusion: CDDA 100%
Signature: D40FE60688DD8D927C70489D100B740056A6CB02