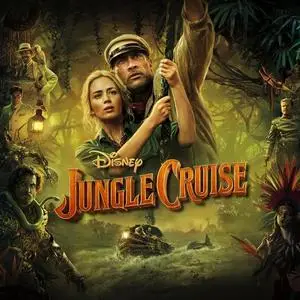 James Newton Howard, Metallica - Jungle Cruise (Original Motion Picture Soundtrack) (2021)
FLAC tracks / MP3 320 kbps | 1:12:53 | 367 / 168 Mb
Genre: Soundtrack / Label: Walt Disney Records
Metallica re-recorded their blockbuster power ballad "Nothing Else Matters" for the new Disney blockbuster, Jungle Cruise. The band teamed up with film composer James Newton Howard (News of the World, Maleficent), who dreamt up a new orchestral arrangement of the song as an instrumental; the group then recorded their parts for the tune, which will appear twice in the newly released film. Jungle Cruise is both in theaters and available on Disney+ Premiere Access now.
Track List:
1 01. - Jungle Cruise Suite (08:20)
1 02. - Nothing Else Matters (Jungle Cruise Version Part 1) [feat. Metallica] (01:26)
1 03. - Breaking Into the Archives (04:02)
1 04. - Stop Her! (02:33)
1 05. - A Steamer to Brazil (01:56)
1 06. - Jungle Cruise (01:53)
1 07. - Nilo (01:12)
1 08. - Frank Breaks In (01:18)
1 09. - Preparing to Set Sail (02:53)
1 10. - Market Chase (02:45)
1 11. - Sub Attack (02:14)
1 12. - Encantado (01:18)
1 13. - The Rapids (03:42)
1 14. - Lily Snoops (02:29)
1 15. - Trader Sam (01:24)
1 16. - The Tree Fight (05:56)
1 17. - Lily Finds Frank (01:17)
1 18. - Joachim and the Bees (01:10)
1 19. - Nothing Else Matters (Jungle Cruise Version Part 2) [feat. Metallica] (04:29)
1 20. - I Built a Boat (02:00)
1 21. - La Luna Rota (01:23)
1 22. - Underwater Puzzle (04:35)
1 23. - Petal Negotiations (03:43)
1 24. - Conquistadors Arrive (02:38)
1 25. - One Last Cruise (01:19)
1 26. - I Want You to Rest Now (03:46)
1 27. - Absolutely Exhausting (01:00)
ANALYZER: auCDtect: CD records authenticity detector, version 0.8.2
Copyright © 2004 Oleg Berngardt. All rights reserved.
Copyright © 2004 Alexander Djourik. All rights reserved.


FILE: 1.01. Jungle Cruise Suite.flac
Size: 46993377 Hash: 23F87720631B8CF321DF007A7BD11164 Accuracy: -m40
Conclusion: CDDA 100%
Signature: 6AB92F4E8A053D1254E9BEA655926992038999D3
FILE: 1.02. Nothing Else Matters.flac
Size: 7538197 Hash: 2C9D4834872DC80A2E3B3C4EA4545BEF Accuracy: -m40
Conclusion: CDDA 100%
Signature: E22E35BD62A9C49F11DD0800D527CC068D1BB3FA
FILE: 1.03. Breaking Into the Archives.flac
Size: 18869148 Hash: 2773984D94EA74547D4D0BA693860465 Accuracy: -m40
Conclusion: CDDA 100%
Signature: 0EBF034F4708964A9736E6DE930819DD872B605B
FILE: 1.04. Stop Her!.flac
Size: 14022557 Hash: 4C99853A7526CBA603FC2615FB54C9B4 Accuracy: -m40
Conclusion: CDDA 100%
Signature: 8A9BFDE63EBDF16DD71A74D75187AE8D550F4057
FILE: 1.05. A Steamer to Brazil.flac
Size: 10128955 Hash: E93F0792621AA45B100D6F1FE827325E Accuracy: -m40
Conclusion: CDDA 100%
Signature: 9FC9073A250E53F6A4EC28A88A1D586372DE7119
FILE: 1.06. Jungle Cruise.flac
Size: 10594636 Hash: 14C8A77F71D1C3AE314E477F0F2A06F6 Accuracy: -m40
Conclusion: CDDA 99%
Signature: BF2908150C3EF85C177372D10AF287F753286606
FILE: 1.07. Nilo.flac
Size: 5155387 Hash: FED15BADF9822E72AABFC671C803A925 Accuracy: -m40
Conclusion: CDDA 100%
Signature: 637C9DF1CA6452D44128A30AD766D9A86EC9A502
FILE: 1.08. Frank Breaks In.flac
Size: 6698408 Hash: A93CDDC6FB67E88E778A24D6084F3F92 Accuracy: -m40
Conclusion: CDDA 100%
Signature: 44D8894BA5CC2FB813CDCB54C6797CF41654268D
FILE: 1.09. Preparing to Set Sail.flac
Size: 13545863 Hash: 3DFDA20144107B1A789F07707C8C1A95 Accuracy: -m40
Conclusion: CDDA 99%
Signature: F8B070B242E774A46B69C2523A3DD1BC4553BABD
FILE: 1.10. Market Chase.flac
Size: 16858922 Hash: 7631A7063EB5E580E3569375BAB15B99 Accuracy: -m40
Conclusion: CDDA 99%
Signature: E7187FE98F4E46FF3F578B3E93D638F1546BECAF
FILE: 1.11. Sub Attack.flac
Size: 13991919 Hash: C6557392E60340326379E051B76CB868 Accuracy: -m40
Conclusion: CDDA 100%
Signature: FE724AAA00ADCE462CF52CF7214D31E31DE47FB1
FILE: 1.12. Encantado.flac
Size: 6294141 Hash: B406E9781D037AAF438D7E051407DFDA Accuracy: -m40
Conclusion: CDDA 99%
Signature: C3495A3981EB3190018A2AEF99E9E0FB5913D3F0
FILE: 1.13. The Rapids.flac
Size: 20675597 Hash: 06A5D9BE3CB77DF8E1617B2948C90E54 Accuracy: -m40
Conclusion: CDDA 100%
Signature: 597C3C4D5E130068F41E5A5BFA3C93559BCFC6AE
FILE: 1.14. Lily Snoops.flac
Size: 10496464 Hash: E9A240FC986CD2141A3B83637A232BFA Accuracy: -m40
Conclusion: CDDA 100%
Signature: 5486BD1A135407EB68D40430A03536E872636EDC
FILE: 1.15. Trader Sam.flac
Size: 5902183 Hash: A66507E8E9607AE771BECD9F2A424EC7 Accuracy: -m40
Conclusion: CDDA 100%
Signature: ED00F08D70330D8E25DF699A9995DF314E2078A6
FILE: 1.16. The Tree Fight.flac
Size: 36885344 Hash: 1A872125EE939241F460CA2AE9E58EF1 Accuracy: -m40
Conclusion: CDDA 100%
Signature: 59FBD60E990880C641BFF81B77FD9EC85DF37714
FILE: 1.17. Lily Finds Frank.flac
Size: 5140415 Hash: 00E2D4DC778A5729E51C20C2DCDFB9D3 Accuracy: -m40
Conclusion: CDDA 100%
Signature: EDF0BF26582894A1EB29EA064E2BD551EBBFA421
FILE: 1.18. Joachim and the Bees.flac
Size: 5222329 Hash: 14676E77E9D43A3CF414CF5F34569029 Accuracy: -m40
Conclusion: CDDA 99%
Signature: 4E21361D157C5E837E058CA2F0881945ED4CB66E
FILE: 1.19. Nothing Else Matters.flac
Size: 23155753 Hash: B624822F31E3BC29B65B839D43D6DDB8 Accuracy: -m40
Conclusion: CDDA 100%
Signature: 26678249D6DC8326590B2F2D33A5EA66384097C5
FILE: 1.20. I Built a Boat.flac
Size: 8755069 Hash: 22A0DEF0FE8D033A3F137C87BBBD15B7 Accuracy: -m40
Conclusion: CDDA 100%
Signature: F751CB75E5FE3EA7C26FF9627E4D84A954D57FAC
FILE: 1.21. La Luna Rota.flac
Size: 7303043 Hash: 4077F8EB3EEA80AFDECCE7ADAB3FC564 Accuracy: -m40
Conclusion: CDDA 100%
Signature: B0623C2A6C83B43E8DFC1E7E144AE4823D9778B3
FILE: 1.22. Underwater Puzzle.flac
Size: 23494715 Hash: CFFEE6C6E3A771399B4EFF5042B9B654 Accuracy: -m40
Conclusion: CDDA 100%
Signature: 1442B08B4A5FEB6404D06A708A9D2C8CDBF9A4CB
FILE: 1.23. Petal Negotiations.flac
Size: 20096581 Hash: E27A75D931A250A8ECB1FEC8F235BE53 Accuracy: -m40
Conclusion: CDDA 100%
Signature: BD3386C9DE6FEC9455B02C99C89ECE2825D09A5A
FILE: 1.24. Conquistadors Arrive.flac
Size: 16013161 Hash: CDD7BDDE13E0145D2801A6CB04C38139 Accuracy: -m40
Conclusion: CDDA 100%
Signature: 85BE38EB4C959E7000B5E342EC194077F087710D
FILE: 1.25. One Last Cruise.flac
Size: 8623295 Hash: C1DB730103B571012F7FA7559FAFFDCF Accuracy: -m40
Conclusion: CDDA 100%
Signature: ED5CF6E3074B91DF8B62DA69AD11F0D9270628AD
FILE: 1.26. I Want You to Rest Now.flac
Size: 17721968 Hash: 222948DD97A36E30BE8A260E996770B5 Accuracy: -m40
Conclusion: CDDA 100%
Signature: C1D99E108F30BDBA9270C24A48F804CB95CF5214
FILE: 1.27. Absolutely Exhausting.flac
Size: 5257205 Hash: 6853A726E1817AA1C535D3D814A20E7A Accuracy: -m40
Conclusion: CDDA 100%
Signature: 07CD0755C214F795639673283707430155C07703