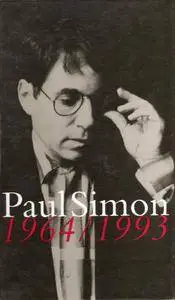 Paul Simon - 1964/1993 (3CD box set) (1993) {Warner Bros.}
EAC Rip | FLAC with CUE and log | scans | 1.16 gb
MP3 CBR 320kbps | RAR | 474 mb
Genre: folk, modern pop, Afropop, African, reggae
1964/1993
is a 3CD box set by Paul Simon. Released in 1993 and mastered with No Noise, this focuses on Simon's solo career but also touches on his roots with Simon & Garfunkel, including two songs when they were still Tom & Jerry. It features many of the hits between 1964 and 1993 plus choice album cuts. This was released on 28 September, 1993 by Warner Bros. Records.
(NOTE: This does not have scans of the booklet, just the discs, inlays, and the box itself.)
"Hey, Schoolgirl" is a little-known pop gem from early in Paul Simon's long, hit-filled career. Whether it's hidden nuggets from early efforts in bands like Tom & Jerry, classic tracks from the amazing Simon & Garfunkel era, or excellent tunes from his 30+ years of solo albums, Paul Simon's work as a songwriter and musician is legendary. This 3-disc, 54-track box set spans the entire magical musical tour. The great songs are far too numerous to mention, but here's a sampling: "The Sound Of Silence," "America," "Mrs. Robinson," "Bridge Over Troubled Water," "Me And Julio Down By The School Yard," "Mother And Child Reunion," "American Tune," "Loves Me Like A Rock," "Kodachrome," "Take Me To The Mardi Gras," "Still Crazy After All These Years," "Late In The Evening," "You Can Call Me Al"… Many of the original Simon & Garfunkel albums are good in their entirety and worth owning, as are some of the Paul Simon solo albums. But for those who appreciate a good overview without having to become a savvy collector, this box set is a great way to go.
In contrast to the single-CD Negotiations and Love Songs, which skates swiftly across his solo canon, this three-disc box follows Paul Simon's evolution from the folk-rock of Simon & Garfunkel toward a highly personalized synthesis of pop, vintage rock, folk, and world music. Laid out in chronological order, 1964-1993 reminds us that the Queens, New York, troubadour was dabbling in hymn-lined melodies, Third World accents, and doo-wop melisma long before Graceland or Songs from the Capeman. While Simon's painstaking craft produced little in the way of shelf material (consisting here of a long unreleased track, "Thelma," a solo demo for "Bridge over Troubled Water," and live versions of six other classics), the set does make room for sturdy gems, including "Slip Slidin' Away" and a satisfying array of his enduring album tracks.
Artist-designed box-set retrospectives tend to be idiosyncratic, and this one is no exception. Take the title, which describes a 52-track, 200+-minute, three-disc set, the earliest recording from which actually was released in 1957 (that's Tom and Jerry's chart single, "Hey, Schoolgirl") and which contains no recordings from 1964 or from later than 1991. While Simon has included all of his biggest solo hits and most of those by Simon and Garfunkel (excepting "Homeward Bound" and "I Am a Rock") and has grouped the songs into three roughly chronological sections (1957-1973, 1973-1983, and 1986-1991), he has made song choices and sequencing decisions within each section more reflective of his own taste than any historical or audience-based consideration. The music is so good it almost doesn't matter, but with only one previously unreleased song (a 1991 outtake from The Rhythm of the Saints), Paul Simon 1964/1993 is little more than an abridged reshuffling of Simon's existing catalog, and one hopes for more from box sets than that. (Note also that Simon's tendency to edit his songs for use on compilations continues: "Loves Me Like a Rock" is 13 seconds shorter than the version on There Goes Rhymin' Simon, while "50 Ways to Leave Your Lover" has lost 29 seconds from the Still Crazy After All These Years version.)

DISC 1
01. Paul Simon - Leaves That Are Green
02. Simon & Garfunkel - The Sound Of Silence
03. Simon & Garfunkel - Kathy's Song
04. Simon & Garfunkel - America
05. Simon & Garfunkel - Cecilia
06. Simon & Garfunkel - El Condor Pasa
07. Simon & Garfunkel - The Boxer
08. Simon & Garfunkel - Mrs. Robinson
09. Paul Simon - Bridge Over Troubled Water (Demo)
10. Simon & Garfunkel - Bridge Over Troubled Water
11. Simon & Garfunkel - The Breakup
12. Tom & Jerry - Hey. Schoolgirl
13. Simon & Garfunkel - My Little Town
14. Paul Simon - Me And Julio Down By The School Yard
15. Paul Simon - Peace Like A River
16. Paul Simon - Mother And Child Reunion
17. Paul Simon - Congratulations
18. Paul Simon - Duncan (Live)
19. Paul Simon - American Tune
DISC 2
01. Loves Me Like A Rock
02. Tenderness
03. Kodachrome
04. Gone At Last
05. Take Me To The Mardi Gras
06. St. Judy's Comet
07. Something So Right
08. Still Crazy After All These Years (Live)
09. Have A Good Time
10. Jonah
11. How The Heart Approaches What It Yearns
12. 50 Ways To Leave Your Lover
13. Slip Slidin' Away
14. Late In The Evening
15. Hearts And Bones
16. Rene And Georgette Magritte
17. The Late Great Johnny Ace
DISC 3
01. The Boy In The Bubble
02. Graceland
03. Under African Skies
04. That Was Your Mother
05. Diamonds On The Soles Of Her Shoes
06. You Can Call Me Al
07. Homeless
08. Spirit Voices
09. The Obvious Child
10. Can't Run But
11. Thelma
12. Further To Fly
13. She Moves On
14. Born At The Right Time (Live)
15. The Cool, Cool River (Live)
16. The Sound Of Silence (Live)
–-
Producer:
Paul Simon
Engineer:
Roy Halee
Assistant engineers:
Andy Smith
,
Rich Travali
Project coordinator:
Dolores Lusitana
Special consultant:
Gregg Geller
Assembled and remixed at The Hit Factory, New York
Remastered by
Greg Galbi
at Sterling SOund, New York
EAC extraction logfile from 5. September 2007, 9:44 for CD
Paul Simon / 1964/1993 (Disc 1)

Used drive : LITE-ON DVDRW SOHW-1633S Adapter: 0 ID: 0
Read mode : Secure with NO C2, accurate stream, disable cache
Read offset correction : 12
Overread into Lead-In and Lead-Out : No

Used output format : Internal WAV Routines
44.100 Hz; 16 Bit; Stereo

Other options :
Fill up missing offset samples with silence : Yes
Delete leading and trailing silent blocks : No
Installed external ASPI interface


Track 1
Filename D:\FLAC\Paul Simon - 1964-1993 (3CD) (1993) [FLAC] {Warner Bros.}\Disc 1\01 - Leaves That Are Green.wav

Pre-gap length 0:00:02.42

Peak level 76.6 %
Track quality 100.0 %
Test CRC D5AA56D7
Copy CRC D5AA56D7
Copy OK

Track 2
Filename D:\FLAC\Paul Simon - 1964-1993 (3CD) (1993) [FLAC] {Warner Bros.}\Disc 1\02 - The Sound Of Silence.wav

Pre-gap length 0:00:00.02

Peak level 87.3 %
Track quality 100.0 %
Test CRC D4288F28
Copy CRC D4288F28
Copy OK

Track 3
Filename D:\FLAC\Paul Simon - 1964-1993 (3CD) (1993) [FLAC] {Warner Bros.}\Disc 1\03 - Kathy's Song.wav

Pre-gap length 0:00:00.04

Peak level 62.7 %
Track quality 100.0 %
Test CRC 7895CF73
Copy CRC 7895CF73
Copy OK

Track 4
Filename D:\FLAC\Paul Simon - 1964-1993 (3CD) (1993) [FLAC] {Warner Bros.}\Disc 1\04 - America.wav

Pre-gap length 0:00:00.04

Peak level 99.9 %
Track quality 100.0 %
Test CRC 2A555474
Copy CRC 2A555474
Copy OK

Track 5
Filename D:\FLAC\Paul Simon - 1964-1993 (3CD) (1993) [FLAC] {Warner Bros.}\Disc 1\05 - Cecilia.wav

Pre-gap length 0:00:00.02

Peak level 99.9 %
Track quality 100.0 %
Test CRC BCB7C079
Copy CRC BCB7C079
Copy OK

Track 6
Filename D:\FLAC\Paul Simon - 1964-1993 (3CD) (1993) [FLAC] {Warner Bros.}\Disc 1\06 - El Condor Pasa.wav

Pre-gap length 0:00:00.02

Peak level 99.2 %
Track quality 100.0 %
Test CRC 618CCA07
Copy CRC 618CCA07
Copy OK

Track 7
Filename D:\FLAC\Paul Simon - 1964-1993 (3CD) (1993) [FLAC] {Warner Bros.}\Disc 1\07 - The Boxer.wav

Pre-gap length 0:00:00.02

Peak level 99.9 %
Track quality 100.0 %
Test CRC A3441AA2
Copy CRC A3441AA2
Copy OK

Track 8
Filename D:\FLAC\Paul Simon - 1964-1993 (3CD) (1993) [FLAC] {Warner Bros.}\Disc 1\08 - Mrs. Robinson.wav

Pre-gap length 0:00:00.02

Peak level 100.0 %
Track quality 100.0 %
Test CRC 73195B70
Copy CRC 73195B70
Copy OK

Track 9
Filename D:\FLAC\Paul Simon - 1964-1993 (3CD) (1993) [FLAC] {Warner Bros.}\Disc 1\09 - Bridge Over Troubled Water (Demo).wav

Pre-gap length 0:00:00.60

Peak level 65.4 %
Track quality 99.9 %
Test CRC E92F5F0E
Copy CRC E92F5F0E
Copy OK

Track 10
Filename D:\FLAC\Paul Simon - 1964-1993 (3CD) (1993) [FLAC] {Warner Bros.}\Disc 1\10 - Bridge Over Troubled Water.wav

Pre-gap length 0:00:00.04

Peak level 99.9 %
Track quality 100.0 %
Test CRC 3245450F
Copy CRC 3245450F
Copy OK

Track 11
Filename D:\FLAC\Paul Simon - 1964-1993 (3CD) (1993) [FLAC] {Warner Bros.}\Disc 1\11 - The Breakup.wav

Pre-gap length 0:00:00.02

Peak level 94.3 %
Track quality 99.9 %
Test CRC 466DC5EB
Copy CRC 466DC5EB
Copy OK

Track 12
Filename D:\FLAC\Paul Simon - 1964-1993 (3CD) (1993) [FLAC] {Warner Bros.}\Disc 1\12 - Hey, Schoolgirl.wav

Pre-gap length 0:00:00.02

Peak level 81.2 %
Track quality 100.0 %
Test CRC 1FE84105
Copy CRC 1FE84105
Copy OK

Track 13
Filename D:\FLAC\Paul Simon - 1964-1993 (3CD) (1993) [FLAC] {Warner Bros.}\Disc 1\13 - My Little Town.wav

Pre-gap length 0:00:00.33

Peak level 100.0 %
Track quality 100.0 %
Test CRC AC92B58B
Copy CRC AC92B58B
Copy OK

Track 14
Filename D:\FLAC\Paul Simon - 1964-1993 (3CD) (1993) [FLAC] {Warner Bros.}\Disc 1\14 - Me And Julio Down By The School Yard.wav

Pre-gap length 0:00:00.02

Peak level 100.0 %
Track quality 100.0 %
Test CRC 00427495
Copy CRC 00427495
Copy OK

Track 15
Filename D:\FLAC\Paul Simon - 1964-1993 (3CD) (1993) [FLAC] {Warner Bros.}\Disc 1\15 - Peace Like A River.wav

Pre-gap length 0:00:00.04

Peak level 98.5 %
Track quality 100.0 %
Test CRC 5ADE5F4A
Copy CRC 5ADE5F4A
Copy OK

Track 16
Filename D:\FLAC\Paul Simon - 1964-1993 (3CD) (1993) [FLAC] {Warner Bros.}\Disc 1\16 - Mother And Child Reunion.wav

Pre-gap length 0:00:00.02

Peak level 100.0 %
Track quality 100.0 %
Test CRC 253856E9
Copy CRC 253856E9
Copy OK

Track 17
Filename D:\FLAC\Paul Simon - 1964-1993 (3CD) (1993) [FLAC] {Warner Bros.}\Disc 1\17 - Congratulations.wav

Pre-gap length 0:00:01.09

Peak level 98.9 %
Track quality 100.0 %
Test CRC 547ED7A0
Copy CRC 547ED7A0
Copy OK

Track 18
Filename D:\FLAC\Paul Simon - 1964-1993 (3CD) (1993) [FLAC] {Warner Bros.}\Disc 1\18 - Duncan (Live).wav

Pre-gap length 0:00:00.02

Peak level 96.1 %
Track quality 99.9 %
Test CRC 218719AB
Copy CRC 218719AB
Copy OK

Track 19
Filename D:\FLAC\Paul Simon - 1964-1993 (3CD) (1993) [FLAC] {Warner Bros.}\Disc 1\19 - American Tune.wav

Pre-gap length 0:00:00.02

Peak level 93.1 %
Track quality 99.9 %
Test CRC 621FFE8D
Copy CRC 621FFE8D
Copy OK

No errors occured


End of status report





EAC extraction logfile from 5. September 2007, 14:33 for CD
Paul Simon / 1964/1993 (Disc 2)

Used drive : LITE-ON DVDRW SOHW-1633S Adapter: 0 ID: 0
Read mode : Secure with NO C2, accurate stream, disable cache
Read offset correction : 12
Overread into Lead-In and Lead-Out : No

Used output format : Internal WAV Routines
44.100 Hz; 16 Bit; Stereo

Other options :
Fill up missing offset samples with silence : Yes
Delete leading and trailing silent blocks : No
Installed external ASPI interface


Track 1
Filename D:\FLAC\Paul Simon - 1964-1993 (3CD) (1993) [FLAC] {Warner Bros.}\Disc 2\01 - Loves Me Like A Rock.wav

Pre-gap length 0:00:02.42

Peak level 100.0 %
Track quality 100.0 %
Test CRC 347D68A0
Copy CRC 347D68A0
Copy OK

Track 2
Filename D:\FLAC\Paul Simon - 1964-1993 (3CD) (1993) [FLAC] {Warner Bros.}\Disc 2\02 - Tenderness.wav

Pre-gap length 0:00:00.02

Peak level 99.9 %
Track quality 100.0 %
Test CRC 033C1A2B
Copy CRC 033C1A2B
Copy OK

Track 3
Filename D:\FLAC\Paul Simon - 1964-1993 (3CD) (1993) [FLAC] {Warner Bros.}\Disc 2\03 - Kodachrome.wav

Pre-gap length 0:00:00.02

Peak level 100.0 %
Track quality 100.0 %
Test CRC 98D4BA6B
Copy CRC 98D4BA6B
Copy OK

Track 4
Filename D:\FLAC\Paul Simon - 1964-1993 (3CD) (1993) [FLAC] {Warner Bros.}\Disc 2\04 - Gone At Last.wav

Pre-gap length 0:00:00.02

Peak level 100.0 %
Track quality 100.0 %
Test CRC DE85CD75
Copy CRC DE85CD75
Copy OK

Track 5
Filename D:\FLAC\Paul Simon - 1964-1993 (3CD) (1993) [FLAC] {Warner Bros.}\Disc 2\05 - Take Me To The Mardi Gras.wav

Pre-gap length 0:00:00.02

Peak level 100.0 %
Track quality 100.0 %
Test CRC E508002C
Copy CRC E508002C
Copy OK

Track 6
Filename D:\FLAC\Paul Simon - 1964-1993 (3CD) (1993) [FLAC] {Warner Bros.}\Disc 2\06 - St. Judy's Comet.wav

Pre-gap length 0:00:00.02

Peak level 99.9 %
Track quality 100.0 %
Test CRC DE6BC123
Copy CRC DE6BC123
Copy OK

Track 7
Filename D:\FLAC\Paul Simon - 1964-1993 (3CD) (1993) [FLAC] {Warner Bros.}\Disc 2\07 - Something So Right.wav

Pre-gap length 0:00:00.02

Peak level 99.9 %
Track quality 100.0 %
Test CRC 61B6DFCD
Copy CRC 61B6DFCD
Copy OK

Track 8
Filename D:\FLAC\Paul Simon - 1964-1993 (3CD) (1993) [FLAC] {Warner Bros.}\Disc 2\08 - Still Crazy After All These Years (Live).wav

Pre-gap length 0:00:00.02

Peak level 100.0 %
Track quality 99.9 %
Test CRC FD96E5B2
Copy CRC FD96E5B2
Copy OK

Track 9
Filename D:\FLAC\Paul Simon - 1964-1993 (3CD) (1993) [FLAC] {Warner Bros.}\Disc 2\09 - Have A Good Time.wav

Pre-gap length 0:00:00.02

Peak level 100.0 %
Track quality 100.0 %
Test CRC 506EF09C
Copy CRC 506EF09C
Copy OK

Track 10
Filename D:\FLAC\Paul Simon - 1964-1993 (3CD) (1993) [FLAC] {Warner Bros.}\Disc 2\10 - Jonah.wav

Pre-gap length 0:00:00.02

Peak level 99.9 %
Track quality 100.0 %
Test CRC 17E93928
Copy CRC 17E93928
Copy OK

Track 11
Filename D:\FLAC\Paul Simon - 1964-1993 (3CD) (1993) [FLAC] {Warner Bros.}\Disc 2\11 - How The Heart Approaches What It Yearns.wav

Pre-gap length 0:00:00.02

Peak level 99.9 %
Track quality 100.0 %
Test CRC CC26F614
Copy CRC CC26F614
Copy OK

Track 12
Filename D:\FLAC\Paul Simon - 1964-1993 (3CD) (1993) [FLAC] {Warner Bros.}\Disc 2\12 - 50 Ways To Leave Your Lover.wav

Pre-gap length 0:00:00.02

Peak level 100.0 %
Track quality 100.0 %
Test CRC 84B51C08
Copy CRC 84B51C08
Copy OK

Track 13
Filename D:\FLAC\Paul Simon - 1964-1993 (3CD) (1993) [FLAC] {Warner Bros.}\Disc 2\13 - Slip Slidin' Away.wav

Pre-gap length 0:00:00.02

Peak level 100.0 %
Track quality 100.0 %
Test CRC 58638989
Copy CRC 58638989
Copy OK

Track 14
Filename D:\FLAC\Paul Simon - 1964-1993 (3CD) (1993) [FLAC] {Warner Bros.}\Disc 2\14 - Late In The Evening.wav

Pre-gap length 0:00:00.02

Peak level 100.0 %
Track quality 100.0 %
Test CRC 074C1702
Copy CRC 074C1702
Copy OK

Track 15
Filename D:\FLAC\Paul Simon - 1964-1993 (3CD) (1993) [FLAC] {Warner Bros.}\Disc 2\15 - Hearts And Bones.wav

Pre-gap length 0:00:00.02

Peak level 100.0 %
Track quality 99.9 %
Test CRC AE788074
Copy CRC AE788074
Copy OK

Track 16
Filename D:\FLAC\Paul Simon - 1964-1993 (3CD) (1993) [FLAC] {Warner Bros.}\Disc 2\16 - Rene And Georgette Magritte.wav

Pre-gap length 0:00:00.02

Peak level 100.0 %
Track quality 100.0 %
Test CRC F13AB0BC
Copy CRC F13AB0BC
Copy OK

Track 17
Filename D:\FLAC\Paul Simon - 1964-1993 (3CD) (1993) [FLAC] {Warner Bros.}\Disc 2\17 - The Late Great Johnny Ace.wav

Pre-gap length 0:00:00.02

Peak level 100.0 %
Track quality 100.0 %
Test CRC 180164C4
Copy CRC 180164C4
Copy OK

No errors occured


End of status report





EAC extraction logfile from 6. September 2007, 4:41 for CD
Paul Simon / 1964/1993 (Disc 3)

Used drive : LITE-ON DVDRW SOHW-1633S Adapter: 0 ID: 0
Read mode : Secure with NO C2, accurate stream, disable cache
Read offset correction : 12
Overread into Lead-In and Lead-Out : No

Used output format : Internal WAV Routines
44.100 Hz; 16 Bit; Stereo

Other options :
Fill up missing offset samples with silence : Yes
Delete leading and trailing silent blocks : No
Installed external ASPI interface


Track 1
Filename D:\FLAC\Paul Simon - 1964-1993 (3CD) (1993) [FLAC] {Warner Bros.}\Disc 3\01 - The Boy In The Bubble.wav

Pre-gap length 0:00:02.42

Peak level 100.0 %
Track quality 100.0 %
Test CRC AC9F9E7A
Copy CRC AC9F9E7A
Copy OK

Track 2
Filename D:\FLAC\Paul Simon - 1964-1993 (3CD) (1993) [FLAC] {Warner Bros.}\Disc 3\02 - Graceland.wav

Pre-gap length 0:00:00.06

Peak level 100.0 %
Track quality 100.0 %
Test CRC 49CBE84F
Copy CRC 49CBE84F
Copy OK

Track 3
Filename D:\FLAC\Paul Simon - 1964-1993 (3CD) (1993) [FLAC] {Warner Bros.}\Disc 3\03 - Under African Skies.wav

Peak level 100.0 %
Track quality 100.0 %
Test CRC 0BBC4795
Copy CRC 0BBC4795
Copy OK

Track 4
Filename D:\FLAC\Paul Simon - 1964-1993 (3CD) (1993) [FLAC] {Warner Bros.}\Disc 3\04 - That Was Your Mother.wav

Peak level 99.9 %
Track quality 100.0 %
Test CRC 4229C45B
Copy CRC 4229C45B
Copy OK

Track 5
Filename D:\FLAC\Paul Simon - 1964-1993 (3CD) (1993) [FLAC] {Warner Bros.}\Disc 3\05 - Diamonds On The Soles Of Her Shoes.wav

Pre-gap length 0:00:00.66

Peak level 100.0 %
Track quality 99.9 %
Test CRC FF3B7311
Copy CRC FF3B7311
Copy OK

Track 6
Filename D:\FLAC\Paul Simon - 1964-1993 (3CD) (1993) [FLAC] {Warner Bros.}\Disc 3\06 - You Can Call Me Al.wav

Peak level 100.0 %
Track quality 100.0 %
Test CRC 77D94A67
Copy CRC 77D94A67
Copy OK

Track 7
Filename D:\FLAC\Paul Simon - 1964-1993 (3CD) (1993) [FLAC] {Warner Bros.}\Disc 3\07 - Homeless.wav

Pre-gap length 0:00:01.96

Peak level 99.9 %
Track quality 100.0 %
Test CRC B01DEB53
Copy CRC B01DEB53
Copy OK

Track 8
Filename D:\FLAC\Paul Simon - 1964-1993 (3CD) (1993) [FLAC] {Warner Bros.}\Disc 3\08 - Spirit Voices.wav

Pre-gap length 0:00:01.17

Peak level 99.9 %
Track quality 100.0 %
Test CRC 60346C8B
Copy CRC 60346C8B
Copy OK

Track 9
Filename D:\FLAC\Paul Simon - 1964-1993 (3CD) (1993) [FLAC] {Warner Bros.}\Disc 3\09 - The Obvious Child.wav

Pre-gap length 0:00:01.46

Peak level 100.0 %
Track quality 100.0 %
Test CRC 6BE71179
Copy CRC 6BE71179
Copy OK

Track 10
Filename D:\FLAC\Paul Simon - 1964-1993 (3CD) (1993) [FLAC] {Warner Bros.}\Disc 3\10 - Can't Run But.wav

Pre-gap length 0:00:00.17

Peak level 100.0 %
Track quality 99.9 %
Test CRC 0D8D5A61
Copy CRC 0D8D5A61
Copy OK

Track 11
Filename D:\FLAC\Paul Simon - 1964-1993 (3CD) (1993) [FLAC] {Warner Bros.}\Disc 3\11 - Thelma.wav

Peak level 98.9 %
Track quality 100.0 %
Test CRC BFAF1A4B
Copy CRC BFAF1A4B
Copy OK

Track 12
Filename D:\FLAC\Paul Simon - 1964-1993 (3CD) (1993) [FLAC] {Warner Bros.}\Disc 3\12 - Further To Fly.wav

Pre-gap length 0:00:01.20

Peak level 100.0 %
Track quality 100.0 %
Test CRC 5A45ABCD
Copy CRC 5A45ABCD
Copy OK

Track 13
Filename D:\FLAC\Paul Simon - 1964-1993 (3CD) (1993) [FLAC] {Warner Bros.}\Disc 3\13 - She Moves On.wav

Pre-gap length 0:00:01.17

Peak level 100.0 %
Track quality 100.0 %
Test CRC 36192229
Copy CRC 36192229
Copy OK

Track 14
Filename D:\FLAC\Paul Simon - 1964-1993 (3CD) (1993) [FLAC] {Warner Bros.}\Disc 3\14 - Born At The Right Time (Live).wav

Peak level 100.0 %
Track quality 100.0 %
Test CRC D5739D9F
Copy CRC D5739D9F
Copy OK

Track 15
Filename D:\FLAC\Paul Simon - 1964-1993 (3CD) (1993) [FLAC] {Warner Bros.}\Disc 3\15 - The Cool, Cool River (Live).wav

Peak level 100.0 %
Track quality 100.0 %
Test CRC CE117496
Copy CRC CE117496
Copy OK

Track 16
Filename D:\FLAC\Paul Simon - 1964-1993 (3CD) (1993) [FLAC] {Warner Bros.}\Disc 3\16 - The Sound Of Silence (Live).wav

Peak level 100.0 %
Track quality 99.9 %
Test CRC C2C25824
Copy CRC C2C25824
Copy OK

No errors occured


End of status report