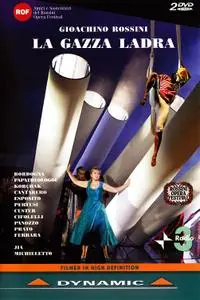 Lü Jia, Orchestra Haydn di Bolzano e Trento - Rossini: La Gazza Ladra (2008)
NTSC 16:9 (720x480) | Italiano (LinearPCM, 2 ch) | (Dolby AC3, 6 ch) | 6.56+6.64 Gb (2xDVD9) | 201 min
Classical | Dynamic | Sub.: Italiano, English, Francais, Deutsch, Espanol
The title La Gazza Ladra is translated as 'The Thieving Magpie', which as expected is a story based around the theft of some silverwear which a magpie has absconded for its nest, a crime which a servant girl is wrongly accused of. La Gazza Ladra is an "opera semiseria", a genre from Rossini's time which was used to define a drama with a happy ending in which the innocent victim, unjustly condemned, should be saved from the scaffold at the eleventh hour and the rascal persecutor punished.