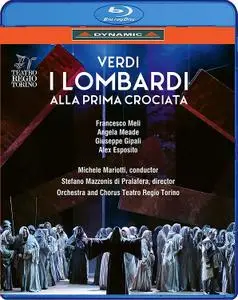 Michele Mariotti, Orchestra del Teatro Regio di Torino - Verdi: I Lombardi alla prima crociata (2018) [BDRip]
BluRay-rip | AVC | MKV 1280x720 / 2762 kbps / 29,97 fps | 140 min | 3,18 Gb
Audio: Italiano / AC3 / 6ch / 48.0 KHz / 480 Kbps
Classical | Dynamic | Sub: Italian, English, French, German, Japanese, Korean
I Lombardi alla Prima Crociata is an operatic drama in four acts by Giuseppe Verdi to an Italian libretto by Temistocle Solera. The work is based on an epic poem by Tommaso Grossi, which was "very much a child of its age; a grand historical novel with a patriotic slant." Verdi dedicated the score to Maria Luigia, the Habsburg Duchess of Parma, who died a few weeks after the premiere. "I Lombardi best encapsulates the spirit of the Italian people's desire for nationhood. One would be pleasantly surprised, full as it is, of rousing choruses and musical numbers of great beauty, with music wonderfully expressive and perfectly in accord with drama at times.