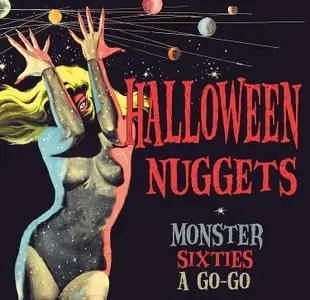 VA - Halloween Nuggets: Monster Sixties A Go-Go (2014)
Rock & Roll, Garage Rock, B movies, Horror | MP3 CBR 320 kbps | 03:31:49 | 496 MB + 5% Recovery
Label: RockBeat Records | #ROC-CD-3253 | Tracks: 99 | Rls.date: 2014
The folks at Rockbeat Records have gone deep, culling together nearly 100 ultra-rare, delightfully campy Halloween nuggets from the '60s on this well-curated three-disc set. Don't murder your next party with another tired spin of "The Monster Mash." Even the weakest of these tracks provides a greater thrill than that tired old platter. Weird it up with bands like M.R. Baseman & the Symbols, the Twelfth Night, Kenny & the Fiends, the Grim Reapers, and dozens more from the '60s garage heyday. Strewn between tracks are trailers and excerpts from various B movies and horror shows. As a Halloween set, this is priceless, and fans of '60s rock rarities will also want to take note.