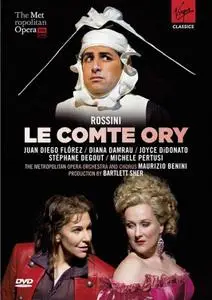 Maurizio Benini, The Metropolitan Opera Orchestra - Rossini: Le Comte Ory (2012)
NTSC 16:9 (720x480) | Français (LinearPCM, 2 ch) | (DTS, 6 ch) | 153 min | 4.14 + 4.21 Gb (2xDVD5)
Classical | Label: Virgin Classics | Sub.: Deutsch, English, Francais, Italiano, Espanol | Recorded: 2011
Le Comte Ory tells the story of a libidinous and cunning nobleman who disguises himself first as a hermit and then as a nun ("Sister Colette") in order to gain access to the virtuous Countess Adele, whose brother is away at the Crusades. The 2011 Met production was directed by the Tony Award-winning Broadway director Bartlett Sher, who in recent years has also staged Il barbiere di Siviglia and Les Contes d'Hoffman for the Met. Sher presented the action as an opera within an opera, updated the action by a few centuries and giving the costume designer, Catherine Zuber, the opportunity to create some particularly extravagant headgear.