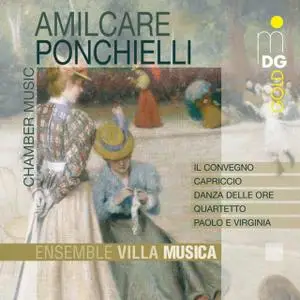 Ensemble Villa Musica - Amilcare Ponchielli: Chamber Music (2010)
WEB | FLAC (tracks) - 209 MB | 53:10
Genre: Classical | Label: MDG Gold
Newcomers to the music of the 19th century sometimes wonder why there are so few Italian compositions in genres of "absolute" music: symphonies, chamber music, piano sonatas. As the booklet notes for this release on the fine German audiophile label MDG point out, the reason is that the institutions supporting these genres were almost completely absent in Italy, whose musical life was organized around the opera. The exception was the municipal wind band, which served as a regional training ground for opera orchestra musicians. This album presents a group of all-but-unknown small chamber pieces for winds by Amilcare Ponchielli, best known for his opera La Gioconda and specifically for the Dance of the Hours instrumental interlude, known to pop fans as "Hello Muddah, Hello Fadduh."