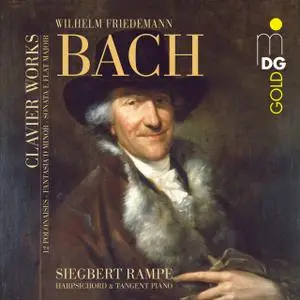 Siegbert Rampe - W.F. Bach: Polonaises (2009)
WEB | FLAC (tracks) - 436 MB | 01:07:18
Genre: Classical | Label: MDG Gold
Although finally welcomed into the classical canon – with some trepidation late in the 20th century, mostly among the cognoscenti, Wilhelm Friedemann Bach remains a bit of a cipher to many listeners, among the musical sons of Bach whom they've never heard anything from. The experts who love him attest to his high level of enigmatic eccentricity and his sense of stylistic separation from any other Bach son, and this echoes to some extent what Carl Friedrich Zelter remembered about him long after Bach's death; "As a composer he was driven by a need to be original, to distance himself from his father and brothers." But also, as Zelter continued, "he fell into fussiness, pedantry and futility."