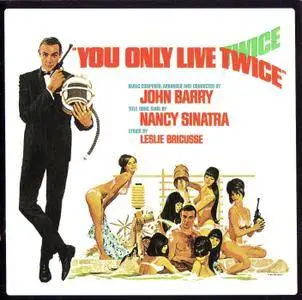 John Barry, Nancy Sinatra - You Only Live Twice: Original Motion Picture Soundtrack (1967/2003)
EAC | FLAC (Image) + cue.+log ~ 366 Mb | Mp3, CBR320 kbps ~ 178 Mb | Scans included
Soundtrack, Score | Label: EMI/Capitol | # 7243 5 41418 2 9 | 01:12:45
You Only Live Twice is the soundtrack for the fifth James Bond film of the same name. It was composed by Bond veteran John Barry. At the time, this was his fourth credited Bond film. The theme song, "You Only Live Twice", was sung by Nancy Sinatra, the first non-British vocalist of the series, with music by Barry and lyrics by Leslie Bricusse. The soundtrack has previously been available in two versions on CD – the first, a straight reissue of the LP soundtrack, and the second, an expanded reissue including several previously unreleased tracks.
You Only Live Twice, like most of the other James Bond soundtrack albums in the series during the 1960's, had more music than could easily be contained on one LP. This expanded, remastered reissue of the album contains an entire LP's worth of additional music, 35 minutes of material, although none of it is exactly a revelation. The best parts of Barry's score were represented on the original album, and although some of the best music reappears here as parts of the bonus tracks, most notably "Aki, Tiger, and Osato", there's nothing new here that registers that strongly. The annotation is very interesting, however, and the improved sound is a considerable virtue – in addition to which, You Only Live Twice" was always the least easily available of all the Bond soundtracks on CD, so it's not as though this will be an upgrade so much as an initial purchase for most people.



Bruce Eder, All Music Guide
When the entire James Bond musical catalogue turned up on remastered CD in 2003 - many fans got excited under their immaculately groomed tuxedos - quietly pawing their wallets in Soundtrack glee. I was one of those nerds and was/still am - giddily proud of it. I immediately ran out and purchased 1964's "Goldfinger" and 1971's "Diamonds Are Forever" on 2003 CDs - and this - for me the big daddy of them all - 1967's "You Only Live Twice" - so brilliantly scored by the mighty JOHN BARRY.

Dugout volcanic lairs, cars being dropped into the ocean from helicopter magnets, capsules being gobbled up in space by a man with a dodgy eye and a purring cat, the self-assembly gyrocopter Little Nellie in four suitcases and Japanese babes Kung-Fu-ing their way through a dozen ugly bad guys before their lentil breakfast. What's not to love? "You Only Live Twice" began the template for Bond that we've known and loved for more than 40 years and its music hasn't aged - only grown in stature.

Not only that - but there's also a huge haul of primo previously unreleased material made available for the first time here (most of it better than what was released). And like the other titles in this massive catalogue reissue series - DOUG SCHWARTZ has remastered the original master tapes for "You Only Live Twice" with real skill. Everything about the stunning Audio Quality on this CD rocks. Here are the Bond Sab details…

UK released March 2003 (February 2003 in the USA) - "You Only Live Twice (Original Motion Picture Soundtrack)" on EMI Capitol 72435-41418-2-9 (Barcode 724354141829) breaks down as follows (72:45 minutes):

1. You Only Live Twice (Title Song) - Sung by Nancy Sinatra; 2. Capsule In Space; 3. Fight At Kobi Dock - Helga; 4. Tanaka's World; 5. A Drop In The Ocean; 6. The Death Of Aki; 7. Mountains And Sunsets [Side 2]; 8. The Wedding; 9. James Bond - Astronaut?; 10. Countdown For Blofeld; 11. Bond Averts World War Three; 12. You Only Live Twice (End Title) - Vocal Sung by Nancy Sinatra
Tracks 1 to 12 are the album "You Only Live Twice: Original Motion Picture Soundtrack" - released July 1967 in the UK on United Artists ULP 1171 (Mono) and SULP 1171 (Stereo) and in the USA on United Artists UAL 4155 (mono) and UAS 5155 (Stereo). The Stereo mix is used throughout.

PREVIOUSLY UNRELEASED BONUS TRACKS:
13. James Bond In Japan; 14. Aki, Tiger and Osato; 15. Little Nellie; 16. Soviet Capsule; 17. Spectre And Village; 18. James Bond - Ninja; 19. Twice Is The Only Way

The 10-page booklet has affectionate, witty and informative liner notes from JEFF BOND (no relation) with Page 5 being a double foldout sporting an array of colour stills from the movie (Donald Pleasance as Blofeld, the Toyota 2000GT, Connery in Little Nellie etc).

But the big news here is the SOUND - this CD sounds utterly glorious. It opens with the ominous creep of "Capsule In Space" where Barry builds the music to a swirling climax - strings, wind instruments, the kettle drums - it all comes at you with such power and majesty as to be positively off-putting. It's followed by the wicked "Fight At Kobe Docks - Helga" where Bond encounters baddies on the ground and rooftops of warehouses. It starts out warm but then the bass and keys kick in and that brass refrain as Connery punches his way out of trouble (unbelievable clarity). "The Death Of Aki" is merely the theme music played in a Japanese style and again there's incredible depth in both the music and the transfer. Then you're clobbered with true cinematic genius - Barry's instrumental "Mountains And Sunsets" which literally conjures up the magic and glamour of Bond in your living room. Pure 007 comes in with "Bond Averts World War III" where all the themes we know and love about James come together in one climatic piece. Utterly brilliant…

As if the Soundtrack itself isn't the Georgie Best - you're hit with a wad of Previously Unreleased material from the original film that's been in the can for 40 years too long. "James Bond And Japan" lasts a fulsome 10:41 minutes and brings together all the best incidental music the movie has in a sort of mini Bond fest - menace and intrigue - warmth and beauty - danger looming - back to triumph - its just brilliant. But thrill of thrills is the brilliant 3:45 minutes of "Little Nellie" which will surely reduce most Bond devotees to a quivering wreck of nostalgia. As those plucked strings leads to big brass - it slinks along until you can see our Gyrocopter hurtling through the air being attacked - then you're hit with the "007" theme which is too brill for mere words - wow is the only response…

BLOFELD: "We are now impregnable!
Goodbye Mister Bond!"

Well he wasn't impregnable and James didn't go bye-byes. Open your heart to your inner 007 and get this Ernst Stavro of a CD into your Little Nellie. 'Improper advances' indeed…



Mark Barry, Amazon Top Contributor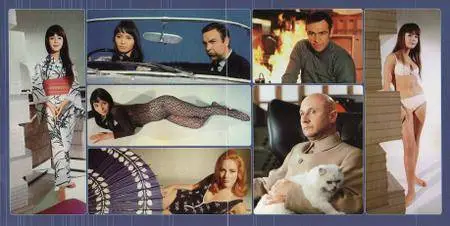 ~
John Barry at Allmusic
~
John Barry Website
~
John Barry at Wiki
~
Film at IMDB
~
Film at Wiki
Tracklist:
01. You Only Live Twice - Title Song (2:46)
Lyrics By – Leslie Bricusse; Vocals – Nancy Sinatra
02. Capsule In Space (2:42)
03. Fight At Kobe Dock - Helga (4:01)
04. Tanaka's World (2:05)
05. A Drop In The Ocean (2:58)
06. The Death Of Aki (4:20)
07. Mountains And Sunsets (3:10)
08. The Wedding (2:46)
09. James Bond - Astronaut? (3:30)
10. Countdown For Blofeld (2:38)
11. Bond Averts World War Tree (2:18)
12. You Only Live Twice - End Title (3:33)
Lyrics By – Leslie Bricusse; Vocals – Nancy Sinatra

Previously Unreleased Bonus Tracks:
13. James Bond In Japan (10:41)
14. Aki, Tiger And Osato (5:44)
15. Little Nellie (3:45)
16. Soviet Capsule (2:06)
17. Spectre And Village (3:46)
18. James Bond - Ninja (7:06)
19. Twice Is The Only Way To Live (2:50)
Exact Audio Copy V0.99 prebeta 5 from 4. May 2009

Отчёт EAC об извлечении, выполненном 12. сентября 2010, 17:05

John Barry / You Only Live Twice

Дисковод: TSSTcorpCDDVDW SH-S202H Adapter: 3 ID: 0

Режим чтения : Достоверность
Использование точного потока : Да
Отключение кэша аудио : Да
Использование указателей C2 : Нет

Коррекция смещения при чтении : 6
Способность читать области Lead-in и Lead-out : Нет
Заполнение пропущенных сэмплов тишиной : Да
Удаление блоков с тишиной в начале и конце : Нет
При вычислениях CRC использовались нулевые сэмплы : Да
Интерфейс : Встроенный Win32-интерфейс для Win NT/2000

Выходной формат : Внутренние WAV-операции
Формат сэмплов : 44.100 Гц; 16 бит; стерео


TOC извлечённого CD

Трек | Старт | Длительность | Начальный сектор | Конечный сектор
––––––––––––––––––––––––––––––––––-
1 | 0:00.00 | 2:45.72 | 0 | 12446
2 | 2:45.72 | 2:42.23 | 12447 | 24619
3 | 5:28.20 | 4:01.17 | 24620 | 42711
4 | 9:29.37 | 2:05.25 | 42712 | 52111
5 | 11:34.62 | 2:58.05 | 52112 | 65466
6 | 14:32.67 | 4:19.60 | 65467 | 84951
7 | 18:52.52 | 3:09.60 | 84952 | 99186
8 | 22:02.37 | 2:45.58 | 99187 | 111619
9 | 24:48.20 | 3:29.70 | 111620 | 127364
10 | 28:18.15 | 2:37.40 | 127365 | 139179
11 | 30:55.55 | 2:17.57 | 139180 | 149511
12 | 33:13.37 | 3:33.13 | 149512 | 165499
13 | 36:46.50 | 10:41.12 | 165500 | 213586
14 | 47:27.62 | 5:43.40 | 213587 | 239351
15 | 53:11.27 | 3:45.30 | 239352 | 256256
16 | 56:56.57 | 2:05.55 | 256257 | 265686
17 | 59:02.37 | 3:46.05 | 265687 | 282641
18 | 62:48.42 | 7:06.33 | 282642 | 314624
19 | 69:55.00 | 2:49.62 | 314625 | 327361


Характеристики диапазона извлечения и сообщения об ошибках

Выбранный диапазон

Имя файла C:\Torrent\Мои раздачи\James Bond Collection\05. You Only Live Twice (1967)\John Barry - You Only Live Twice.wav

Пиковый уровень 94.4 %
Качество диапазона 100.0 %
CRC теста 57D01A25
CRC копии 57D01A25
Копирование… OK

Ошибок не произошло


AccurateRip: сводка

Трек 1 точное извлечение (доверие 18) [C84C18DA]
Трек 2 точное извлечение (доверие 18) [0423803A]
Трек 3 точное извлечение (доверие 18) [E9EEE1EE]
Трек 4 точное извлечение (доверие 18) [62ABE878]
Трек 5 точное извлечение (доверие 18) [23337B33]
Трек 6 точное извлечение (доверие 18) [8411C606]
Трек 7 точное извлечение (доверие 18) [3A69A810]
Трек 8 точное извлечение (доверие 18) [AAAA2235]
Трек 9 точное извлечение (доверие 18) [CFBB776F]
Трек 10 точное извлечение (доверие 18) [C44B402D]
Трек 11 точное извлечение (доверие 18) [04E1E669]
Трек 12 точное извлечение (доверие 18) [05A080AF]
Трек 13 точное извлечение (доверие 18) [469FA9F1]
Трек 14 точное извлечение (доверие 18) [6FDCFE84]
Трек 15 точное извлечение (доверие 18) [62DC4D5F]
Трек 16 точное извлечение (доверие 18) [05EE6206]
Трек 17 точное извлечение (доверие 18) [3EF44A78]
Трек 18 точное извлечение (доверие 18) [2007A0E3]
Трек 19 точное извлечение (доверие 18) [CBC8BFC3]

Все треки извлечены точно

Конец отчёта
[CUETools log; Date: 27.09.2018 18:00:15; Version: 2.1.4]
[CTDB TOCID: r5Kw2_eWAFuhoJoux0XFgZN97A0-] found.
Track | CTDB Status
1 | (48/48) Accurately ripped
2 | (48/48) Accurately ripped
3 | (48/48) Accurately ripped
4 | (48/48) Accurately ripped
5 | (48/48) Accurately ripped
6 | (48/48) Accurately ripped
7 | (48/48) Accurately ripped
8 | (48/48) Accurately ripped
9 | (48/48) Accurately ripped
10 | (47/48) Accurately ripped
11 | (48/48) Accurately ripped
12 | (48/48) Accurately ripped
13 | (48/48) Accurately ripped
14 | (48/48) Accurately ripped
15 | (48/48) Accurately ripped
16 | (48/48) Accurately ripped
17 | (48/48) Accurately ripped
18 | (48/48) Accurately ripped
19 | (48/48) Accurately ripped
[AccurateRip ID: 002d61ea-028e3c23-1b110c13] found.
Track [ CRC | V2 ] Status
01 [c84c18da|4d82a817] (24+24/48) Accurately ripped
02 [0423803a|b6f6072a] (24+23/47) Accurately ripped
03 [e9eee1ee|f19411c8] (24+23/47) Accurately ripped
04 [62abe878|61fdc0df] (24+23/47) Accurately ripped
05 [23337b33|ac759ee3] (24+23/47) Accurately ripped
06 [8411c606|2cf5b240] (24+23/47) Accurately ripped
07 [3a69a810|ec05d3a3] (24+23/47) Accurately ripped
08 [aaaa2235|85b33c73] (24+23/47) Accurately ripped
09 [cfbb776f|34654b8b] (24+23/47) Accurately ripped
10 [c44b402d|58906a6a] (24+23/47) Accurately ripped
11 [04e1e669|7d7e11d4] (24+23/47) Accurately ripped
12 [05a080af|d69d273b] (24+23/47) Accurately ripped
13 [469fa9f1|3c24aad2] (24+23/47) Accurately ripped
14 [6fdcfe84|be86fb67] (24+23/47) Accurately ripped
15 [62dc4d5f|583923ac] (24+23/47) Accurately ripped
16 [05ee6206|94788aa1] (24+23/47) Accurately ripped
17 [3ef44a78|c71651bd] (24+23/47) Accurately ripped
18 [2007a0e3|36b24a0b] (24+22/46) Accurately ripped
19 [cbc8bfc3|6d0a4f93] (23+23/46) Accurately ripped

Track Peak [ CRC32 ] [W/O NULL] [ LOG ]
– 94,4 [57D01A25] [5D1F4118] CRC32
01 63,4 [D270BA48] [2CAC8AE5]
02 86,5 [42AD1E63] [F56EC2FF]
03 88,4 [8A5A9F68] [5AFDA02F]
04 44,2 [E110F504] [58D50EE3]
05 94,4 [2D7F8B19] [FC179836]
06 82,6 [3CDCCE97] [23C44244]
07 85,3 [CB32EE68] [6FB35C1F]
08 41,8 [5C5427BB] [C903D966]
09 84,2 [2AE56F24] [0947FFBA]
10 91,2 [1F636B86] [46558A6E]
11 78,9 [4FB01527] [1F698EA6]
12 73,3 [39BFBC4D] [724915D0]
13 94,4 [A078DD8A] [C79128C6]
14 87,6 [122997D1] [9625741B]
15 94,4 [FAC7B3AB] [247DBB14]
16 86,7 [A9612535] [18F07189]
17 94,4 [5689F318] [78875877]
18 94,4 [3AF1D18B] [C9E93131]
19 74,4 [9830B7BD] [E5D24E52]
foobar2000 1.2 / Dynamic Range Meter 1.1.1
log date: 2018-09-27 17:59:29

––––––––––––––––––––––––––––––––––––––––
Analyzed: John Barry / You Only Live Twice
––––––––––––––––––––––––––––––––––––––––

DR Peak RMS Duration Track
––––––––––––––––––––––––––––––––––––––––
DR9 -3.95 dB -15.36 dB 2:46 01-You Only Live Twice - Title Song
DR11 -1.26 dB -16.14 dB 2:42 02-Capsule In Space
DR11 -1.07 dB -18.26 dB 4:01 03-Fight At Kobe Dock - Helga
DR10 -7.08 dB -19.99 dB 2:05 04-Tanaka's World
DR11 -0.50 dB -15.67 dB 2:58 05-A Drop In The Ocean
DR11 -1.66 dB -19.44 dB 4:20 06-The Death Of Aki
DR11 -1.37 dB -16.83 dB 3:10 07-Mountains And Sunsets
DR11 -7.56 dB -21.61 dB 2:46 08-The Wedding
DR11 -1.49 dB -18.21 dB 3:30 09-James Bond - Astronaut?
DR10 -0.79 dB -15.84 dB 2:38 10-Countdown For Blofeld
DR9 -2.06 dB -14.47 dB 2:18 11-Bond Averts World War Tree
DR9 -2.70 dB -15.01 dB 3:33 12-You Only Live Twice - End Title
DR14 -0.50 dB -19.56 dB 10:41 13-James Bond In Japan
DR14 -1.15 dB -20.74 dB 5:44 14-Aki, Tiger And Osato
DR10 -0.50 dB -15.76 dB 3:45 15-Little Nellie
DR11 -1.24 dB -15.23 dB 2:06 16-Soviet Capsule
DR15 -0.50 dB -21.48 dB 3:46 17-Spectre And Village
DR12 -0.50 dB -16.45 dB 7:06 18-James Bond - Ninja
DR10 -2.56 dB -16.23 dB 2:50 19-Twice Is The Only Way To Live
––––––––––––––––––––––––––––––––––––––––

Number of tracks: 19
Official DR value: DR11

Samplerate: 44100 Hz
Channels: 2
Bits per sample: 16
Bitrate: 681 kbps
Codec: FLAC
================================================================================