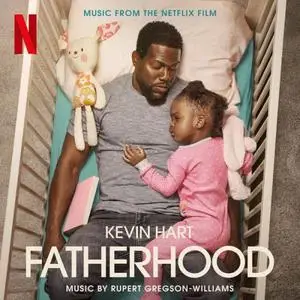 Rupert Gregson-Williams - Fatherhood (Original Motion Picture Soundtrack) (2021)
FLAC tracks | 33:02 | 151 Mb
Genre: Soundtrack / Label: Sony Classical
Rupert Gregson-Williams is a British composer of motion picture and television scores. His filmography includes Hotel Rwanda, for which he was awarded the European Film composer award, Hacksaw Ridge, Wonder Woman, Aquaman, Over the Hedge, Bee Movie, Made of Honor, Abominable, The Holiday, The Legend of Tarzan, and numerous films by Happy Madison Productions, many of which star Adam Sandler. His most notable works in television include Veep, Catch 22 and The Crown. Fatherhood is an upcoming American comedy-drama film directed by Paul Weitz from a screenplay by Weitz and Dana Stevens, based on the 2011 memoir Two Kisses for Maddy: A Memoir of Loss and Love by Matthew Logelin.
Track List:
01 - Rupert Gregson-Williams - Funeral Montage (1:47)
02 - Rupert Gregson-Williams - Trade Anything (1:12)
03 - Rupert Gregson-Williams - Maddy (2:03)
04 - Rupert Gregson-Williams - Let Go (1:38)
05 - Rupert Gregson-Williams - Goodbye Mothers (1:23)
06 - Rupert Gregson-Williams - Kid Poops a Lot (1:03)
07 - Rupert Gregson-Williams - Necklace (1:18)
08 - Rupert Gregson-Williams - Your Wife (1:30)
09 - Rupert Gregson-Williams - Dating Montage, Part 1 (2:00)
10 - Rupert Gregson-Williams - Dating Montage, Part 2 (1:35)
11 - Rupert Gregson-Williams - First Kiss (1:41)
12 - Rupert Gregson-Williams - Vibes Score (1:16)
13 - Rupert Gregson-Williams - Stitches (2:00)
14 - Rupert Gregson-Williams - She Needs Me (1:12)
15 - Rupert Gregson-Williams - Lucky Latte (1:01)
16 - Rupert Gregson-Williams - It's Just for a Short Time (3:08)
17 - Rupert Gregson-Williams - Matt Misses Maddy (3:58)
18 - Rupert Gregson-Williams - Smile (3:20)
ANALYZER: auCDtect: CD records authenticity detector, version 0.8.2
Copyright © 2004 Oleg Berngardt. All rights reserved.
Copyright © 2004 Alexander Djourik. All rights reserved.


FILE: 01 - Funeral Montage.flac
Size: 7614668 Hash: 02E0EB6F20BFA442798CAC337D1A8AB8 Accuracy: -m40
Conclusion: CDDA 100%
Signature: C9A42EEB8A9E6A957A03D58C3D5519E71EFF1B75
FILE: 02 - Trade Anything.flac
Size: 5307450 Hash: B9A9560135E560F86269108F351D3E3B Accuracy: -m40
Conclusion: CDDA 100%
Signature: BF26F79709011C8E6B766AC70C6B18E73EDEDE6E
FILE: 03 - Maddy.flac
Size: 10158915 Hash: F1AB09F358B5A4CB5761F7D94C12E435 Accuracy: -m40
Conclusion: CDDA 100%
Signature: 3E9C30368E659407545584D5C19BCD4FC2C0185A
FILE: 04 - Let Go.flac
Size: 7519576 Hash: 7CA03DE785D33CDCEF4EF7FE2F2A51AE Accuracy: -m40
Conclusion: CDDA 100%
Signature: 6AC8543B5A05B83B7406F9A715DE111F2138F16A
FILE: 05 - Goodbye Mothers.flac
Size: 7349534 Hash: A8AAE826E88365B279D91D9ABD86B9E2 Accuracy: -m40
Conclusion: CDDA 100%
Signature: 59E8005C8CFD2102C2FB24BB20778971CEBE3707
FILE: 06 - Kid Poops a Lot.flac
Size: 6019368 Hash: 6B25045087FB07CECCE4D8F0512EDF97 Accuracy: -m40
Conclusion: CDDA 92%
Signature: 44C923A39236B39A75A12FA25E8CDA9E03A6F9C3
FILE: 07 - Necklace.flac
Size: 7098854 Hash: 4469333FD05AC689A0C966BF0AABCB45 Accuracy: -m40
Conclusion: CDDA 100%
Signature: 8E33E5804DF8A36087B8683B2308E16036CB25CD
FILE: 08 - Your Wife.flac
Size: 6714955 Hash: 98074F7659AD49BD64E6B4DF6990B9FE Accuracy: -m40
Conclusion: CDDA 100%
Signature: 558A4EE9582ED9AB51A1BF851875DE5EB70C611D
FILE: 09 - Dating Montage, Part 1.flac
Size: 11462831 Hash: A5CB2D18A5DB84F73BF0029E1212ACFE Accuracy: -m40
Conclusion: CDDA 100%
Signature: 92A5C1FD59079DBAF8120F0E450DB44DEBA124C7
FILE: 10 - Dating Montage, Part 2.flac
Size: 7376854 Hash: E13960ACDAE3B5C88DB1B474B1E1F26A Accuracy: -m40
Conclusion: CDDA 100%
Signature: 0DD213D46B83B700E67C07C637A84034A9D3D31B
FILE: 11 - First Kiss.flac
Size: 7476157 Hash: 195AA6B14E8D92C97D236BFBBD25E672 Accuracy: -m40
Conclusion: CDDA 100%
Signature: 8F392751C2EEF0F1DC4B1924C6658F87ED87308B
FILE: 12 - Vibes Score.flac
Size: 6616230 Hash: C04BA7AE1104204FA51363E96D723E92 Accuracy: -m40
Conclusion: CDDA 49%
Signature: 07B4AAC9BB6D9869C8A938BF6122B23A86E3D714
FILE: 13 - Stitches.flac
Size: 8822240 Hash: ED11FC90DD0DDC694A13A12D0C7B3EDF Accuracy: -m40
Conclusion: CDDA 100%
Signature: 790D9DB0F316162C16D4DF0905D0CA8EF95F4799
FILE: 14 - She Needs Me.flac
Size: 5608538 Hash: E03ECB0343C016E27D2C0850D8CA9089 Accuracy: -m40
Conclusion: CDDA 54%
Signature: 160A69FD5FD59649A3325608931C73D28B69E258
FILE: 15 - Lucky Latte.flac
Size: 5927452 Hash: 78D9A1C5EE82ECAEBCEBA81EFDDFEDFF Accuracy: -m40
Conclusion: CDDA 100%
Signature: 12DFDC071B22A72D351CCA5F551B6FE099E7A250
FILE: 16 - It's Just for a Short Time.flac
Size: 12537626 Hash: A5735D0F0ECD9698C8B29E9D0F792504 Accuracy: -m40
Conclusion: CDDA 94%
Signature: BBEF7331FE10F4BA30F93269B600583DBDF29F2E
FILE: 17 - Matt Misses Maddy.flac
Size: 18185293 Hash: AA82FADBD3D91EB888A1F28C46589C6F Accuracy: -m40
Conclusion: CDDA 100%
Signature: 1BAF93315111D5E09D8C1E0F1D2D5671EB3672D4
FILE: 18 - Smile.flac
Size: 17345159 Hash: 1C17D6AEA8C1BE181DCA55AB6AFE8E3F Accuracy: -m40
Conclusion: CDDA 100%
Signature: DCDBF48E713A879E031DFAA2F8853573074B80EA