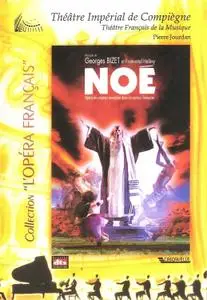 Pierre Jourdan, Théâtre Impérial de Compiègne - Georges Bizet & Fromental Halévy: Noé (2005)
PAL 16:9 (720x576) | Français | Dolby AC3, 2 ch | Dolby AC3, 6 ch | DTS, 5 ch | 7.77 Gb (DVD9) | 140 min
Classical | Kultur | Sub.: Français, English
Halevy's Noé is another one of those operas that is rather obscure, but doesn't deserve to be. One may criticise it for the story stretching slightly longer than it needed to be, and occasionally one can tell that it was left incomplete, and the music not having any memorable arias (similar problems with Clari), but the story itself is quite good, after all it is based on the biblical story of Noah and the music is beautiful, it is unmistakably Halevy but Bizet's (who was responsible for completing the opera) style does come through in the orchestration.