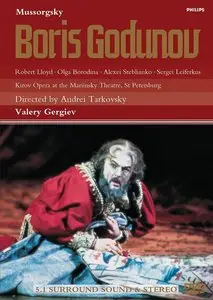 Valery Gergiev, Kirov Orchestra, Robert Lloyd, Olga Borodina - Mussorgsky: Boris Godunov (2002/1990)
NTSC 4:3 (720x480) | Русский (LinearPCM, 2 ch) | (DTS, 5 ch) | 7.22 Gb+6.67 Gb (2xDVD9) | 210 min
Classical | Philips | Sub: English, Francais, Deutsch, Italiano, Espanol, Chinese
Modest Mussorgsky's opera in prologue and four acts is performed by the Kirov Opera with performances from Olga Borodina, Alexei Steblianko and Sergei Leiferkust. Boris Godunov has obtained the throne of Russia by murdering the rightful heir Dmitry. An old monk, Pimen, witnessed this, and convinces his apprentice Grigory to avenge Dmitry's death. In the following years Grigory poses as Dmitry, raising an army against Boris, who is now convinced that he is being punished for the murder.