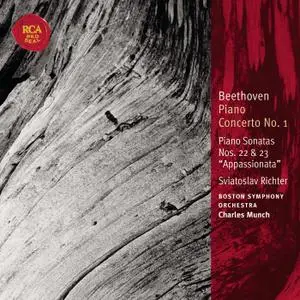 Sviatoslav Richter - Beethoven Piano Concerto No. 1, Piano Sonatas Nos. 22 & 23 (2004)
WEB | FLAC (tracks) - 362 MB | 47:58
Genre: Classical | Label: RCA Red Seal
These Beethoven performances were recorded in 1960 during Sviatoslav Richter's first tour of the United States, and they sound marginally fuller and more vivid here than in RCA's deleted Papillon series transfers. The C major concerto has a lot to recommend it. Richter's Olympian command and control of the keyboard, tonal solidity, and emotional reserve remind me of the Michelangeli/Giulini and Pollini/Jochum versions from nearly two decades later. Charles Munch's robust and powerfully projected accompaniment proves how underrated this conductor was (and still is) in the central German repertoire, although Szell's sharper accents and astringent textures better suit the music's witty subtext.