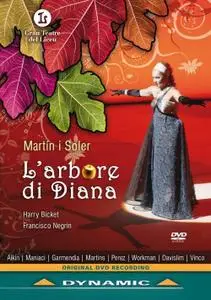 Harry Bicket, Orchestra Simfónica del Gran Teatre del Liceu - Martín y Soler: L'arbore di Diana (2010)
NTSC 16:9 (720x480) | Italiano (LinearPCM, 2 ch) | (Dolby AC3, 6 ch) | 7.42 Gb (DVD9) | 147 min
Classical | Dynamic | Sub.: Italiano, English, Francais, Deutsch, Espanol, Catalan
L'arbore di Diana (The Tree of Diana), which was staged at the Gran Teatre del Liceu in 2009, is a two-act opera buffa by the composer Vicent Martín i Soler with a libretto by the famous Lorenzo Da Ponte. The opera focuses on the temptation and joy of falling in love. Though the plot includes features borrowed from the pastorale and erotic comedy, it also had political intentions and endorsed the abolition of convents and monasteries decreed by the emperor.