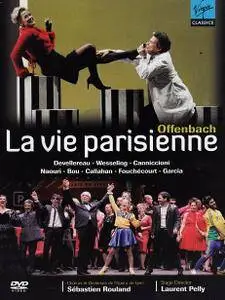 Sébastien Rouland, Chœurs et Orchestre de l'Opéra de Lyon - Offenbach: La vie parisienne (2008)
NTSC 16:9 (720x480) | Français (LinearPCM, 2 ch) | (DTS, 5 ch) | (Dolby AC3, 5 ch) | 7.61 Gb (DVD9) | 135 min
Classical | Virgin Classics | Sub: Francais, English, Deutsch, Italiano, Espanol
After La Grande Duchesse de Gérolstein, and La Fille du régiment, Virgin Classics develops its DVD catalogue with yet a new stage production by renowned director Laurent Pelly (his 3rd for the label) accompanied by his assistant Agathe Mélinand who again adapted the dialogues as in the other productions. Filmed in Lyons during the performances (18th December – 1st January 2008) the production and the cast re-enacted in our moderns times the satirical portrayal of Parisian life in the Second Empire. The performances were a hit: Laurent Pelly brought to Offenbach's operetta all the gusto and humour the subject calls for – his staging is wild and frenzied. La Vie parisienne was Offenbach's first full-length piece to portray contemporary Parisian life, unlike his earlier period pieces and mythological subjects. It became one of Offenbach's most popular operettas.