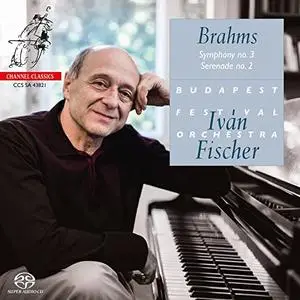 Iván Fischer - Brahms: Symphony No. 3 & Serenade No. 2 (2021)
FLAC tracks / MP3 320 kbps | 68:10 | 155 / 227 Mb
Genre: Classical / Label: Channel Classics Records
Founded in 1983 by Iván Fischer and the late pianist and conductor Zoltán Kocsis, the Budapest Festival Orchestra quickly became one of the world's more prominent orchestras. The handpicked young virtuosos who fill its ranks produce a beautiful sound and superior ensemble performances. Supported from the outset by the City of Budapest and the Hungarian Ministry of Culture, it quickly made a name for itself by attracting top conductors and soloists, and thanks to its proactive policy of recording and touring internationally.