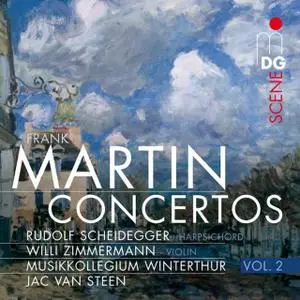 Rudolf Scheidegger, Willi Zimmermann, Jac van Steen - Martin: Concertos, Vol. 2 (2008)
WEB | FLAC (tracks) - 281 MB | 01:00:28
Genre: Classical | Label: MDG Scene
The works of Swiss composer Frank Martin don't rely on dramatic flash; they tend to seductively beguile with their profoundly intelligent sensuality. While they may never be hits on a pops concert, they reward attentive listening with their deep feeling and insight, given voice in a distinctly personal and expressive language. Polyptyque, one of the composer's final works, a concerto for violin and two small string orchestras, is made up of six images from the life of Christ, from Palm Sunday to the Ascension.