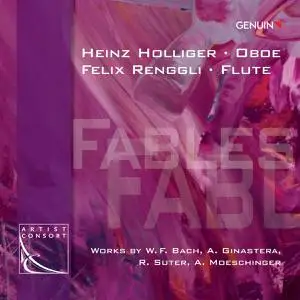 Heinz Holliger, Felix Renggli - Fables: Works by W.F. Bach, A. Ginastera, R. Suter, A. Moeschinger (2011)
WEB | FLAC (tracks) - 262 MB | 01:09:40
Genre: Classical | Label: Genuin
The literature of duets for oboe and flute, with no bass instrument, is not large, and in putting together an album's worth the veteran Swiss musicians Heinz Holliger (oboe) and Felix Renggli (flute) come up with a rather mixed bag of pieces. The good news is that they include some real finds and play them well. The three sonatas for oboe and flute of Wilhelm Friedemann Bach are taken from a group of six he composed at various times in his career, and you can see why this most Bachian of Bach's sons might have been attracted to the experiment. The outer movements of these sonatas are rigorously polyphonic, with the flute and oboe contributing textural variation in the manner of the different stops of an organ, but at a more intimate scale. It's a delightful effect.