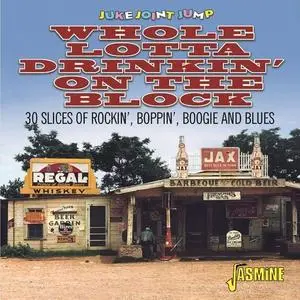 VA - Juke Joint Jump Vol. 1: Whole Lotta Drinkin' on the Block (30 Slices of Rockin', Boppin', Boogie and Blues) (2021)
FLAC tracks / MP3 320 kbps | 1:19:17 | 291 / 200 Mb
Genre: Rock, Blues, Rock & Roll / Label: Jasmine Records
Here are thirty slices of hot, rocking blues recorded and performed for just one purpose - dancing, getting down and having a real good time. This music was made for jukeboxes and specifically in African American areas in the Unite States be they rural or urban. The music on this compilation and its companion 'Juke Joint Jump - Boogie Like You Wanna' was recorded between 1944 and 1960. The urban juke joints or 'clubs' especially those in Chicago, were very influential in the rise of R&B across America during the 1950s and most of the big stars of blues performed regularly in these clubs and this is the era in which most of the music on these two volumes emanated. Despite the passage of time these 30 recordings rock with a vengeance that should satisfy anyone's dancing feet. So, just like they did back in the day, roll back the carpet, pour yourself a drink and just let the good times roll.