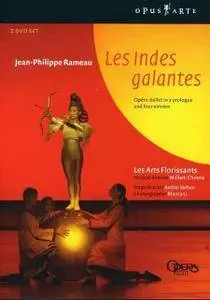 William Christie, Les Arts Florissants - Rameau: Les Indes Galantes (2005)
NTSC 16:9 (720x480) | Français (LinearPCM, 2 ch) | (DTS, 5 ch) | 244 min | 7,66+7,27 Gb (2xDVD9)
Classical | Label: Opus Arte | Sub: Deutsch, English, Espanol, Francais, Italiano | Recorded: 2003
"Described as an Opera-Ballet in four Acts, Les Indes Galantes was Rameau's biggest stage success in his own lifetime, and one can understand why from this spectacular production, staged at the Paris Opéra in 2004. The director, Andrei Serban, presents the piece with the sort of lavish effects and movement that would have delighted 18th-century audiences…Outstanding among the soloists are Nathan Berg as Huascar…Anna Maria Panzarella as Emilie and Paul Agnew as Valere, with Joao Fernandez memorably in drag as Bellone. The final curtain brings an exuberant encore after the credits, with Christie hilariously joining in the dance.