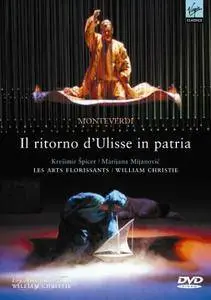 William Christie, Les Arts Florissants, Marijana Mijanović, Krešimir Špicer - Monteverdi: Il ritorno d'Ulisse in patria (2002)
NTSC 16:9 (720x480) | Italiano (LinearPCM, 2 ch) | (Dolby AC3, 6 ch) | 7.61 Gb (DVD9) | 174 min
Classical | Virgin Classics | Sub: English, Francais, Espanol, Italiano
Ulisse was one of the first operas to be written for the public stage, not for royalty. Monteverdi was in his seventies when he wrote it, yet it is a work of intense and youthful passion, as well as wisdom. At nearly three hours (in this version, anyway), it demands a lot from its audience, and seeing it at home via DVD is a great way to make its acquaintance.
This production dates from 2000; this particular live performance was recorded in the fairly intimate Théâtre de Jeu de Palme in 2002. The production is simple but eloquent.