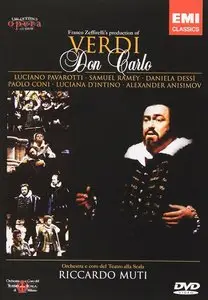 Riccardo Muti, Orchestra del Teatro alla Scala, Luciano Pavarotti, Daniela Dessi - Verdi: Don Carlo (2004/1992)
NTSC 4:3 (720x480) | Italiano (LinearPCM, 2 ch) | (DTS, 5 ch) | (Dolby AC3, 6 ch) | 7.02 Gb+5.46 Gb (2xDVD9) | 182 min
Classical | EMI | Sub: English, Francais, Deutsch, Italiano, Espanol
Those who know Zeffirelli's style won't be surprised by the conventionally lavish production, but it effectively evokes the atmosphere of religious oppression and personal antagonisms Verdi so unerringly depicts. The dark-hued, threatening setting fits Muti's energetic, rhythmically vital conception. He quickens the emotions in a peculiarly Italianate way, and throughout evinces a feeling for the colouring of the score. His reading is in turn a good background for some thoughtful and idiomatic singing.