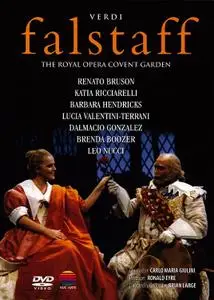 Carlo Maria Giulini, Orchestra of the Royal Opera House, Renato Bruson, Katia Ricciarelli - Verdi: Falstaff (2007/1982)
NTSC 4:3 (720x480) VBR | Italiano (LinearPCM, 2 ch) | 7.59 Gb (DVD9) | 139 min
Classical | NVC ARTS | Sub: English, Deutsch, Espanol, Francais, Italiano
When Carlo Maria Giulini returned to conducting public performances of opera after an absence of fourteen years, he chose for the occasion one of the enduring comic masterpieces - Verdi's Falstaff. The composer was almost eighty when he broke the six-year silence following the premiere of Otello, and startled the musical world by revealing his complete mastery of comic invention. Renato Bruson, the renowned interpreter of Verdi and one of the leading lyric baritones of the day, sings the title role.