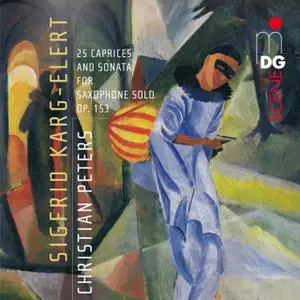 Christian Peters - Karg-Elert: Caprices (2008)
WEB | FLAC (tracks) - 290 MB | 01:13:36
Genre: Classical | Label: MDG Scene
These little pieces for saxophone, largely unknown even to saxophonists since their composition in 1929, may be viewed in several ways. The composer, the mostly Leipzig-based Sigfrid Karg-Elert, termed them "in primary respects higher studies for the development of new paths in technique and expressive means" for the saxophone. But saxophonist Christian Peters argues for their wider expressive significance. He himself wrote the booklet notes, which include a good deal of interesting biographical information (he was born simply Sigfrid, or Siegfried, Karg, but was urged by teachers to append his mother's maiden name to his surname to deflect "Semitic suspicions").