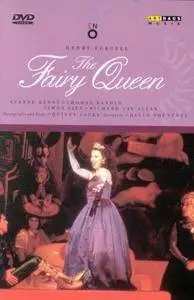 Nicholas Kok, Orchestra of the English National Opera - Purcell: The Fairy Queen (2001/1995)
PAL 16:9 (720x576) VBR | English (LinearPCM, 2 ch) | 6.94 Gb (DVD9) | 134 min
Classical | Arthaus Musik | Sub: Francais, Deutsch, Espanol
The new production of Purcell's The Fairy Queen launched in 1995 by the English National Opera (ENO) was received with great enthusiasm by both the public and musical press. This atmospheric production was prepared by David Pountney, Robert Israel created the stage set, Dunya Ramicova was responsible for costume design and Quinny Sacks was responsible for the choreography of the dance roles as well as the numerous breathtaking ballet scenes. Under the musical direction of Nicholas Kok, the English National Orchestra played a baroque music which was as crystal clear as it was expressively infectious.