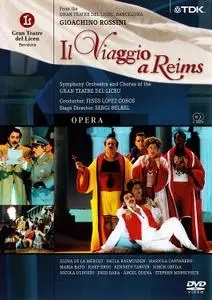 Jesús López-Cobos, Orquestra Simfònica del Gran Teatre del Liceu - Rossini: Il Viaggio a Reims (2004)
PAL 16:9 (720x576) | Italiano (LinearPCM, 2 ch) | (Dolby AC3, 6 ch) | (DTS, 6 ch) | 6.48 Gb + 4.33 Gb (DVD9+DVD5) | 164 min
Classical | TDK | Sub.: English, Deutsch, Francais, Espanol, Catalan, Italiano
Composed for the coronation of Charles X in Rheims Cathedral, this pièce de circonstance was to remain Rossini's last Italian opera. It contains some of the most inspired and brilliant vocal writing the composer ever produced. Most experts and analysts agree that this is an unconventinal opera, light and ironic, festive and exuberant, with a plot as simple as it is extrvagant, a work full of musical references which almost turn it, very subtly, into a "metaopera," or an "opera about opera."