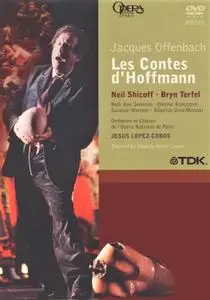 Jesús López-Cobos, Orchestra of the Opéra Nationale de Paris - Offenbach: Les Contes d'Hoffmann (2004)
PAL 16:9 (720x576) | Français | LinearPCM, 2 ch | Dolby AC3, 6 ch | DTS, 6 ch | 4.23 + 6.47 Gb (DVD5+DVD9) | 173 min
Classical | TDK | Sub.: English, Français
Seeking to exorcise the failure of his current love affair, the poet Hoffmann tells the tales of his three past loves - the doll-like Olympia, the high-class courtesan Giulietta, and the ambitious but delicate Antonia - and recalls how each was thwarted by the evil influence of his rival. Jacques Offenbach's opera is performed at the Paris National Opera, directed by Robert Carsen, and the cast includes Neil Shicoff (as Hoffmann) and Bryn Terfel.