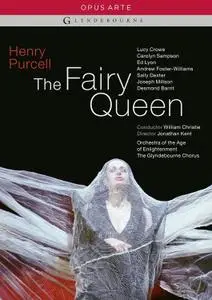 William Christie, Orchestra of the Age of Enlightenment - Purcell: The Fairy Queen (2010)
NTSC 16:9 (720x480) | English (LinearPCM, 2 ch) | (DTS, 5 ch) | 7.70 + 6.19 Gb (2xDVD9) | 230 min
Classical | Opus Arte | Sub.: English, Francais, Deutsch, Espanol
Jonathan Kent's spectacular production of Purcell's huge semi-opera is joyous, imaginative and witty Glyndebourne, with its intimate auditorium, provides the perfect setting for a drama which is partly spoken and partly sung. Based on an adaptation of Shakespeare's A Midsummer Night's Dream, the story is lavished with a brilliance that justifies this production's acclaim. Paul Brown's inventive designs, Kim Brandstrup's exquisite choreography, an excellent cast of actors and singers and outstanding playing by the Orchestra of the Age of Enlightenment under William Christie combine to make a seamless theatrical experience, here recorded in High Definition and true surround sound.