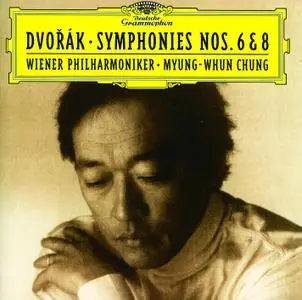 Wiener Philharmonic Orchestra, Myung-Whun Chung - Dvorák: Symphonies Nos. 6 & 8 (2000)
WEB | FLAC (tracks) - 336MB | 01:16:16
Genre: Classical | Label: Deutsche Grammophon
Myung-Whun Chung previously has proven his affinity for Dvorák on two occasions: an excellent recording of Symphonies Nos. 7 and 8 for BIS, and later with Symphonies 3 and 7 for Deutsche Grammophon. No, there's nothing wrong with your computer screen: he's already recorded Symphony No. 7 twice, and this disc gives us his second reading of No. 8, undoubtedly DG's response to millions of fan letters sent to their offices by love-struck teenage girls threatening suicide unless Chung's Vienna Dvorák cycle was allowed to continue. His recording of Symphonies Nos. 3 and 7 was never released domestically, by the way, leading us to speculate about what makes this disc more marketable than that one, assuming of course that such considerations have anything to do with DG's decision to schedule a recording for domestic distribution.