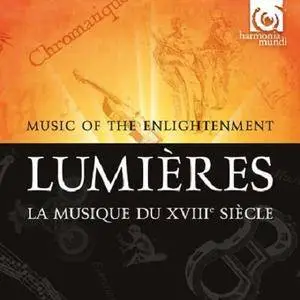 Lumières - La musique du XVIIIème siècle (29 CD), Part 07: Vivaldi, Telemann, J.S.Bach, C.P.E.Bach, J.C.F.Bach, Schobert, Kuhnau, Mondonville, Mozart, Haydn. Beethoven [2011]
EAC (flac, image, cue, log) | TT: 80.55+80.39+72.14 | Scans | 1.09 Gb
Classical | Harmonia Mundi | 2908601.30 | Rec: 1980-2006
The eighteenth century is probably the most extraordinary period of transformation Europe has known since antiquity. Political upheavals kept pace with the innumerable inventions and discoveries of the age; every sector of the arts and of intellectual and material life was turned upside down. Between the end of the reign of Louis XIV and the revolution of 1789, music in its turn underwent a radical mutation that struck at the very heart of a well-established musical language. In this domain too, we are all children of the Age of Enlightenment: our conception of music and the way we 'consume' it still follows in many respects the agenda set by the eighteenth century. And it is not entirely by chance that harmonia mundi has chosen to offer you in 2011 a survey of this musical revolution which, without claiming to be exhaustive, will enable you to grasp the principal outlines of musical creation between the twilight of the Baroque and the dawn of Romanticism.