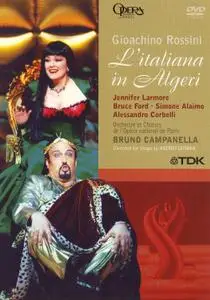 Bruno Campanella, Orchestre et Choers de l'Opéra National de Paris - Rossini: L'Italiana in Algeri (2007/1998)
NTSC 16:9 (720x480) | Italiano | LinearPCM, 2 ch | Dolby AC3, 6 ch | 7.83 Gb (DVD9) | 148 min
Classical | TDK | Sub.: English, Deutsch, Francais, Espanol, Italiano, Japanese
TDK presents a production of Rossinis LItaliana in Algeri by renowned opera stage director Andrei Serban and conducted by Bruno Campanella from the prestigious Opéra National de Paris. The excellent cast of singer-actors was led by international mezzo- star Jennifer Larmore who, with her unaffected contact with the audience, beautiful voice and excellent acting, is central to this staging. The American singer has acquired a reputation as a Rossini specialist, and is no stranger to inventive stagings of the composers comedies. However, the work may be named after the Italian girl, but her adversary Mustafà is just as dominant, and this production has one of the leading exponents of this gleeful role, the buffo bass Simone Alaimo.