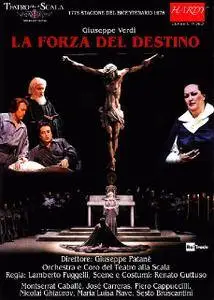 Giuseppe Patanè, Orchestra del Teatro alla Scala, Montserrat Caballé, José Carreras - Verdi: La forza del destino (2011)
NTSC 4:3 (720x480) | Italiano (LinearPCM, 2 ch) | (DTS, 5 ch) | (Dolby AC3, 6 ch) | 192 min | 5,68 Gb+7,16 Gb (2xDVD9)
Classical | Label: Hardy Classic | Sub: English, Francais, Espanol, Italiano | Recorded: 1978
Montserrat Caballé as Leonora is precisely what one would hope for. The voice is in near-pristine shape–the occasional attack on a loud high note early on can be vicious, but she sings with unusual commitment (not that the role has many nuances), glorious tone, and her entire arsenal of tricks: long-breathed phrases, diminuendos, high, floated pianissimo, grand chest voice. She even sings most of the words, rarely relying on "ah" sounds for high notes. The sound is huge and major-league and her comportment–acting is the wrong word–is regal. She sings the "Vergine degli angeli" with her back to the audience and the sound is as ethereal as you ever wanted it to be.