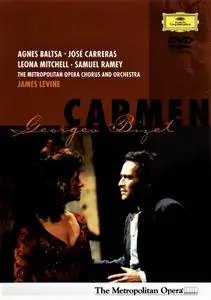 James Levine, The Metropolitan Opera Orchestra, Agnes Baltsa, José Carreras - Bizet: Carmen (2000/1987)
NTSC 4:3 (720x480) | Français (LinearPCM, 2 ch) | 7.25 Gb (DVD9) | 172 min
Classical | Deutsche Grammophon | Sub.: Francais, English, Deutsch, Italiano, Espanol, Chinese
James Levine's conducting of this work is magnificent. You can just see the passion that he brings forth for this opera. He is paired with a very talented group of singers in the principal roles. Both Agnes Baltsa and José Carreras are doing a brilliant job with both their singing and acting. They both have a stage presence that very few can beat. Agnes Baltsa possesses a crystal clear voice, but she can also belt if that's what it takes to make the final outcome more believable. José Carreras' voice contains so much beauty; it's full of emotions, sensual and with that irresistible hint of honey. Like Baltsa he can also sacrifize beauty to enhance his performance.