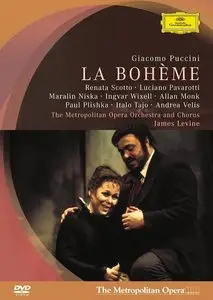 James Levine, Metropolitan Opera Orchestra, Renata Scotto, Luciano Pavarotti - Puccini: La Bohème (2005/1977)
NTSC 4:3 (720x480) VBR | Italiano (LinearPCM, 2 ch) | (DTS, 5 ch) | (Dolby AC3, 6 ch) | 7.71 Gb (DVD9) | 123 min
Classical | Deutsche Grammophon | Sub: Italiano, English, Deutsch, Francais, Espanol, Chinese
This was the very first "Live from the Met" telecast, and its availability on DVD will no doubt give rise to intense nostalgia, as it did for me. (How young everyone looked!) There's an authentic sense of occasion to this performance. It's one thing to play to a packed house, another to play to a nationwide television audience, and with so many eyes upon them, everyone involved in this Bohème rose to the occasion. It's by no means a perfect evening—what performance ever is?—but it's a treasurable one for anyone who cares about this opera, the Met, or the principal singers.