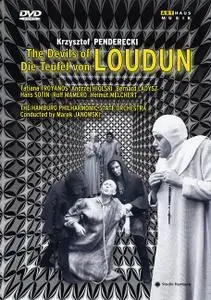 Marek Janowski, Philharmoniker der Staatsoper Hamburg - Penderecki: Die Teufel von Loudun (2008)
NTSC 4:3 (720x480) | Deutsch (LinearPCM, 2 ch) | 108 min | 7,14 Gb (DVD9)
Classical | Label: Arthaus Musik | Sub: English, Deutsch, Francais, Espanol, Italiano | Recorded: 1969
Penderecki's first opera "The Devils of Loudun" had its world premiere in 1969 at the Hamburg State Opera. This film adoption, recorded in the same year shortly after the premiere, reunified the original cast of this premiere – e.g. Tatiana Troyanos with an amazing and breathtaking interpretation of the humpy non Jeanne. Because of her sexual visions a priest, who doesn't know her, burns at the stake. The expressive music and the intensive camera shots result in a mix which is not for faint-hearted people. So it's no surprise that film director William Friedkin used the music by Penderecki in his movie "The Exorcist". If you like this movie, you will love this DVD!